By Ramona Duminicioiu – Eco Ruralis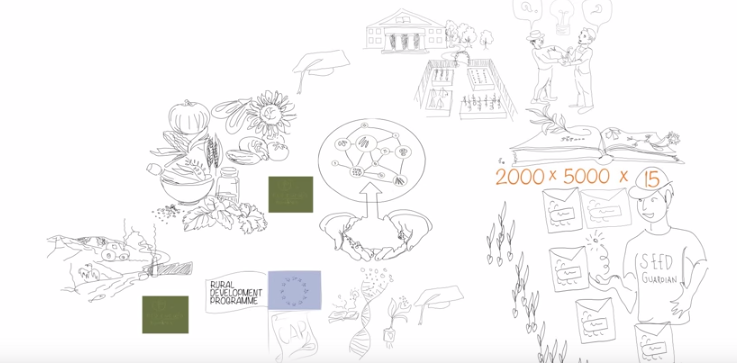 This was the first year peasants faced official restrictions in the selling of traditional seeds, imposed by the private administrations of local markets in the large cities. Most public markets are still tolerating the selling of traditional seeds for now. At the moment, the new legislation for local markets imposes higher bureaucracy for peasants and their products. In the Romanian seeds law, traditional seeds are not even considered as an option for commercialization.
 So how have peasants and civil society responded?
This summer was intense for seeds savers in Romania. According to many, 2015 was declared "the year of tomatoes", due to record productions of traditional varieties, registered across the country. But it wasn't just the hard work in the fields that made this season special. Seeds savers are cooking a master plan for more rights to seeds and better access to quality, healthy, traditional seeds.
Peasants get organized! 
Following a national call made by Eco Ruralis association, peasants from 8 different counties have met in Cluj Napoca for 2 days, between 25th-26th of July. The purpose of the gathering was to strengthen the collective capacity to work on seeds and to address the human rights factors behind this issue. Therefore, the participating peasants established common priorities for the next year, as it follows:
– to improve Eco Ruralis' traditional seed catalog, with a higher seeds variety;
– to collectively produce higher seeds quantities and diversity, at national level;
– to collectively distribute seeds a wider scale, focused on rural areas;
– to work together for a better national legislation on the right to seeds.
Seeds working group meeting – Cluj Napoca – Eco Ruralis seeds garden – 26 July 2015. Photo: Eco Ruralis
"Me and my family live from traditional seeds production. We feel that it's time to take action for our future. The government is wrong, pushing our peasant seeds outside the law. These seeds are our right, and we work hard for it! United as a collective we have a much better chance to succeed." declares Stela Zămoiu, from Dâmbroca village – southern Romania.
Picture 2: Seeds working group discussions – Cluj Napoca – 25 July 2015. Photo: Eco Ruralis.
 "The quality of our seeds in undeniable. The taste, the resistance to diseases, the capacity to adapt to climate change conditions, are all strong attributes of traditional seeds. The new Eco Ruralis seeds working group brings hope in my heart. I am confident that we will we develop traditional seeds production in the right direction.", added Cucu Petru, a peasant farmer from Bălțătești village- eastern Romania.
A new meeting for the seeds working group is planned for November, this year, at the occasion of Eco Ruralis' general assembly.
Sharing seeds and knowledge
In August, together with the Free Seeds – an initiative of the Romania in Transition association – Eco Ruralis organized a free seeds market; it took place in Rosia Montana, at the occasion of FânFest. FânFest is the largest civic event of Romania, with a history stretching back over a decade. Hundreds of packs of seeds were shared with locals and a large number of visitors to the festival, who showed a great interest in the work of the organizers. The seeds market was followed by a workshop on seeds saving and edible plants, held by Eco Ruralis and Semințe de Fericire.
Picture 3: Traditional free seeds market organized by Eco Ruralis together with Free Seeds initiative. Roșia Montana – 15 august 2015. Photo: Eco Ruralis.
Through spring and summer, Eco Ruralis members participated in many other events and visited farms in various villages, sharing seeds and information.
In June and August, seeds experts from Eco Ruralis held 3 workshops on the importance of traditional seeds in agrobiodiversity, for Civitas foundation. The workshops benefited from the participation of dozens of peasants from Harghita and Cluj areas. Also, Eco Ruralis offered consultancy and seeds for Civitas, to build 2 seeds gardens in Apahida and Odorheiul Secuiesc.
Two social gardens also grow vegetable gardens with seeds from Eco Ruralis. One is from northern region Satu Mare – being coordinated by Stea association and the other from the southern region Ialomița – also coordinated an association – Village Life.
Moreover, food producers from the alternative networks ASAT Romania and Cutia Țăranului grow vegetables from traditional seeds offered by Eco Ruralis. As a consequence, hundreds of consumers from Bucharest, Cluj, Timișoare and other cities, are enjoying high quality, healthy and sustainable products.
And last but not least, earlier this year, in February, Eco Ruralis had a major free seeds distribution, which resulted in over 1300 farmers and gardeners receiving over 6000 packs of seeds.
The outcome of Eco Ruralis' work, in cooperation with all these different groups and people, is the building of a very necessary base. Traditional seeds unite people and create a flow of information that have great potential to influence the legislation in place. Just like traditional seeds, peasants are still here, showing resilience to climate conditions and political pressures. While the government is implementing the new CAP, favoring land concentration, land grab and industrial farming, peasants are slowly and strategically building a movement around seeds – the basis of our food and agriculture.