High Natural Value Farming in Spain
Background:
"High Natural Value Farming Systems (HNVS)" in Spain is a pilot project initiated by World Wildlife Fund (WWF) and funded by the Spanish Ministry of Agriculture and Environment (MAGRAMA) and the European Agricultural Fund for Rural Development. (EAFRD). This pilot project aims at giving prominence to the low-intensity farming production systems which are at risk of being abandoned.
HNV farming involves traditional extensive agricultural, livestock and forestry practices which produce quality food and fiber while also benefiting the environment. Their role is very important in enhancing and maintaining Europe's biodiversity and landscapes as well as support rural societies in many remote and marginal areas. Meadows, pastures with herds, rain-fed orchards, semi-natural vegetation are some of their main characteristics.
The project:
This four year project led by WWF España aimed to show the potential of HNVS to contribute to the objectives of rural development policy.
In order to highlight and revitalize the HNVS, WWF has worked closely with local people in four pilot areas in Andalusia, Castile and León and Castile-La Mancha to promote good management practices for crops, pastures and forest areas. The results on the ground involved the creation of livestock pastures to prevent fires, the implementation of good practices in order to improve the environmental and financial situation of the rain-fed olive groves; the regeneration of "dehesas" (Mediterranean forest) and managing the spontaneous vegetation in cereal crops.
In each area there were many actors involved. For example, in North Cordoba, this meant olive producers through the Cooperative Olipe as well as pasture owners supported by experts on pastures management. In South Ciudad Real, there was a collaboration of environmental authorities, forest owners and shepherds. In East Segovia, farmers and experts on organic farming in arable crops worked together..
In addition, other actors are contributing to the training and capacity building such as the Fundación Entretantos (training on extensive grazing), Sociedad Española Agricultura Ecológica (Training on organic production of aromatic plans). While the Autonomous University of Madrid and Polytechnic University were also involved, developing the methodology of identifying the HNVS.
The environmental benefits derived from the HNVS project were included
conservation of the natural fertility of the soils.
protection of emblematic endangered species such as the Iberian lynx, theImperial Spanish Eagle or vultures such as the Egyptian vulture, dependents on extensive grazing management
the maintenance of protected habitats and landscape, as pastures or "dehesas"
the conservation of the good status of rivers and aquifers
adaptation and mitigation to climate change impacts
A socio-economic benefit was to maintain activity in farms with high risk of abandonment or intensification , especially in remote areas. Important too was the reinforcement of farmers role as custodians of HNVS and producers of public goods. These farmers preserve agricultural and forestry practices linked to tradition, culture and rural folklore, while engaging in capacity building. Training and capacity building was important in that sense.
The project tried to promote various innovative tools such as the methodology to identify the HNVS, green taxes proposal or using of extensive grazing against fires.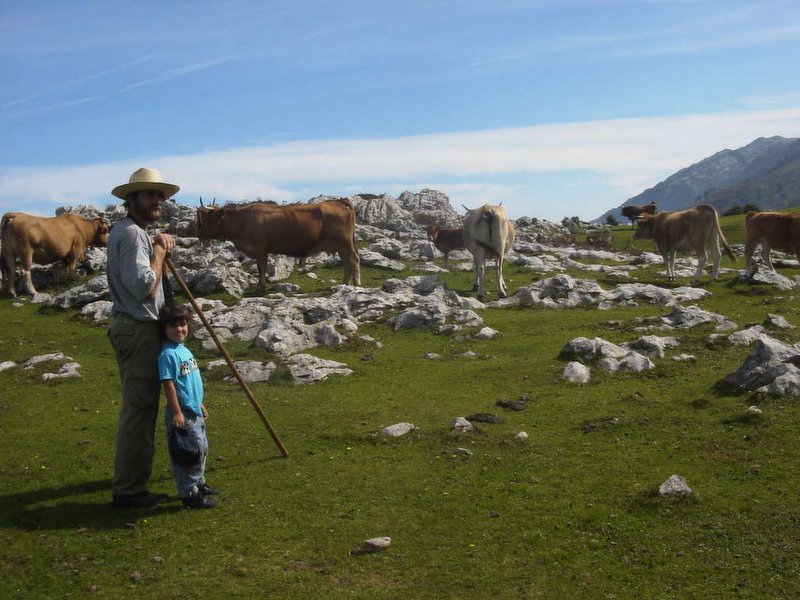 HNVS project and CAP:
This project was partly funded by EAFRD 2007 – 2013. But certain activities could be supported too by the new EAFRD programs (i.e. extensive grazing against fire, good farming practices in pastures, olive or arable crops, training etc). Nevertheless the decision to include this kind of measures in the new Rural Development Programs will depend on each Spanish Region (Autonomous Communities).
Notwithstanding delivering more public goods the conservation of these systems is endangered because of the low profitability which leads to abandonment on the poorer land and intensification on better land. Spain is the 4th most affected country in Europe for depopulation in rural areas. Despite representing 90% of the land, only 13% of the population lives in these areas.
Potential to scale this up in your county. Although this pilot project is focusing in four areas in Spain, there is a potential to multiplied in a national or even European scale. The key is to support managing practices that create HNVS.
Lessons learned:
It was imperative for the success of the project to involve all the relevant stakeholders (farmers, land owners, university, government administration, consumers, NGOs, scientific experts).
HNVS and the public good produced by them should receive more public funds. (EAFRD and CAP Pillar 1), but also they need the support of other actors (businesses, consumers etc)
Spanish government should recognize the value of these low-impact farming systems and distribute the public aid fairly based on the following principles: whoever conserves nature should receive aid (Public money for public goods) and whoever pollutes pays.
Sources:
Fundación Global Nature http://www.fundacionglobalnature.org/leguminosas/