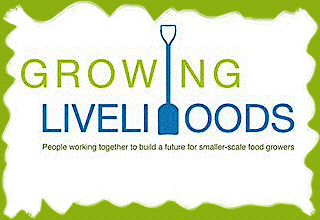 A pilot scheme to encourage new, local food growers has been launched across Britain and Ireland. Growing Livelihoods is a shared initiative by the Plunkett Foundation, the Carnegie UK Trust and the Land Settlement Association Charitable Trust. The year-long project will set out to develop new opportunities for career changers, young people and newcomers to the business of food production.
The original Land Settlement Association dates back to the 1930s and at its peak accounted for 10% of the UK's fresh fruit and vegetable production. At the launch of Growing Livelihoods, Kirsty Tait, from the Carnegie UK Trust, explained: "As an organisation that was heavily involved in the creation of the Land Settlement Association in the 1930s, we are interested at looking at ways that this type of approach, which was successful for 50 years, can be developed today."
Plunkett Foundation's Mike Perry recalled that working together had improved the livelihoods of small-scale good growers under the original Land Settlement Association scheme. "It is exciting that this year we will be working with modern food growers to help them explore how co-operation can help achieve sustainable livelihoods in small scale horticulture. We would welcome hearing from a range of people telling us how co-operation can work for smaller scale food growers – do get in touch."
The Plunkett Foundation helps predominantly rural communities to set up and run a range of co-operatives as a way of improving their lives. These include community shops, co-operative pubs, community food enterprises, farmers co-operatives and co-operative farmer's markets. The foundation was founded in 1919 by the pioneer of agricultural co-operatives, Sir Horace Plunkett.
The Land Settlement Association (LSA) was founded in 1934 in the depths of the depression to: "carry out an experimental scheme for the provision of rural small-holdings for un-employed persons from industrial cities." The organisation was wound up in 1983, and the LSA charitable trust draws upon its modest residual assets to support objectives connected with the association's original purpose in combining production horticulture and co-operative rural enterprise.
Over the 50-year lifespan of the Land Settlement Association scheme, over a thousand families carved out a career as food growers and some co-operative businesses started during this time continue to trade today. Given that the UK now imports three quarters of its fruit and vegetables, any sustainable home-grown production is to be welcomed with open arms.
Manchester growing opportunity
For people who want to find out what growing food means on the ground, the Kindling Trust is offering an open evening on September 15  for people in the Manchester area. For those who want to take the idea further, there is a four-day organic vegetable growing course.
The Kindling Trust runs the UK's first incubator farm project, FarmStart, which introduces people to the business of growing and selling food locally. Those who start on certified organic Abbey Leys farm with a small land allocation in a supportive environment are known as TestCroppers: they are able to learn and develop their horticultural and business skills on certified organic land. As their activity develops, they have the opportunity to take on more land and become FarmStarters.
More:
Manchester has a lot going for it when it comes to land access and organic farming/agroecology. There are  a comprehensive range of actors interacting holistically. And that's how a strong agroecology should work. These interconnected groups include the above plus  Feeding Manchester and Manchester Veg People. See this blog post by Arc2020's Communications Manager Oliver Moore for more.
More
You could work for Feeding Manchester! Applications for the position of FarmStart Co-ordinator close 12th September.
More on agroecology:
Arc2020's take on agroecology
Arc2020's posts on agroecology
Arc2020's agroecology project
More from Peter Crosskey