By Oliver Moore
Edited 13.50 CET 20/03/2017
As the ECHA maintain "that the available scientific evidence did not meet the criteria to classify glyphosate as a carcinogen, as a mutagen or as toxic for reproduction" we take a look at how closely European politics and industry work together on pesticide regulation – and what this means.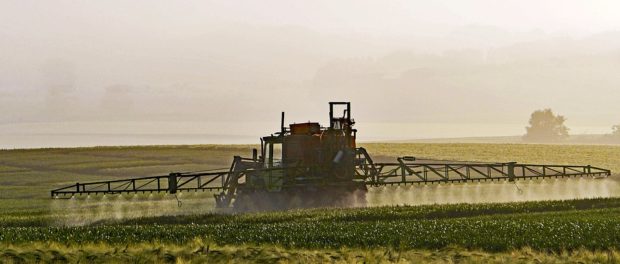 As expected, the European Chemicals Agency's (ECHA) Committee for Risk Assessment (RAC) has refused to classify glyphosate as a carcinogen. The ECHA maintained that glyphosate is "a substance causing serious eye damage and being toxic to aquatic life with long-lasting effects" in their opinion, published last week. However the RAC concluded "that the available scientific evidence did not meet the criteria to classify glyphosate as a carcinogen, as a mutagen or as toxic for reproduction."
The process now is for what is called the "adopted opinion" to be editorially checked, then sent to the European Commission. This then feeds into the process whereby the Commission and Member States renew glyphosate approval later in 2017.
Pesticide Action Network expressed dismay at the ECHA opinion "Today's opinion from the European Chemicals Agency (ECHA) – that glyphosate does not present an unacceptable risk to human health – is not only a huge disappointment, but also a complete abandonment of the precautionary principle. It puts the health and wellbeing of millions of EU citizens at risk."
In the build up to this opinion, the month of March saw the pressure rising on the pesticide issue. Monsanto were accused of ghostwriting papers on roundup cancer risk (Yahoo Finance March 14 2017) while the UN Special Rapporteur on the right to food issues a report which suggested that agrochemicals do not guarantee food safety and are toxic to health and environment (Pesticide Action Network March 8th 2017).
On March 7th, Greenpeace exposed what it saw as "potential conflicts of interest and transparency concerns" in the ECHA.
"The chair of the ECHA committee, Tim Bowmer, worked for two consultancies in the chemical sector for 20 years, including as business development manager and senior account manager. His contract with the organisations ended the day before he started his employment as chair of ECHA's Risk Assessment Committee." the organisation pointed out.
The letter, signed 20 health and environment organisations, also stated that
We are concerned that several members as well as the Chair of the Risk Assessment Committee appear to have a conflict of interest, according to ECHA's own criteria. ECHA states that a conflict of interest arises "where the impartiality and objectivity of a decision, opinion or recommendation of the Agency, including its bodies, is or might in the public perception be compromised by an interest held by, or entrusted to, an individual working for the Agency".1 Interests that could interfere with ECHA's work include employment by a "business, consultancy, research institution or other enterprise whose funding is significantly derived from commercial sources". ECHA's assessment of conflicts of interest explicitly takes into account current interests as well as "those that existed during the last 5 years preceding the assessment"
For its part the ECHA retorted with its own letter, refuting the allegations:
Regarding your concern about ECHA employing staff from industry, as a matter of principle, we do not exclude potential staff members with a background in industry or any other stakeholder organisation. We believe that practical experience from all aspects of our work adds to our understanding, effectiveness and efficiency. But clearly, any potential conflicts of interest need to be managed and this is why we have in place a policy on conflicts of interest which ensures that potential conflicts are identified and managed appropriately….the scope of such declarations is very wide and covers all private interests held, including those of close family members
The ECHA also refuted that their Chair and two Committee members had a conflict of interest in the same letter. See below part of the two organisation's twitter exchange on the topic.
As we've covered here extensively, the approvals process has become a long running debacle, with what was supposed to be a 15 year approval reduced to a recommended seven and then just 18 month, in lieu of this month's ECHA opinion.
When it comes to pesticides and EU regulations, the ECHA are not alone in being dogged with conflict of interest controversy. There has long been controversy over revolving doors between pesticide manufacturers and various EU regulators in Brussels, which Corporate Europe Observatory (CEO) and others have revealed over time.
Indeed both the Ombudsman and the European Parliament have expressed such concern over recent years. In 2012 The European Food Safety Agency (EFSA) were reprimanded by the EU Parliament for their industry links; while concerns continued to be expressed despite changes. As CEO reported in 2014:
Parliament had postponed the agency's budget discharge in 2012 because of conflicts of interest scandals and asked to the agency to reform. However, Corporate Europe Observatory (CEO)'s report "Unhappy Meal", published in October 2013, revealed that some 59% of EFSA's scientific panels members still had direct or indirect links to companies whose activities fell under EFSA's remit. In other words, the report shows almost two thirds of EFSA's panel scientists still have conflicts of interest and cannot be considered independent from the sector they are regulating.
In 2016, the Ombudsman expressed concern with the Commission's own processes: "the Commission's practice (known as the confirmatory data procedure) of approving the safe use of an active substance before it gets all of the data necessary to support that decision." This practice "appeared to constitute maladministration" according to Ombudsman Emily O Reilly.
It is worth pointing out that the ECHA's letter to Greenpeace March 8th states the following: "The European Court of Auditors audited ECHA's policy and procedures in 2015 and found that we had implemented all their recommendations from the 2012 special report on conflicts of interest."
So while the systems in place to prevent the appearance of a revolving door between industry and the regulators are routinely strengthened, it appears the Ombudsman and MEPs keep finding issues with the how close industry and the regulators are to each other.
Glyphosate has been especially controversial since the World Health Organisation's International Agency for Research on Cancer (IARC) found, in March 2015, that glyphosate probably causes cancer.
A major concern – and point of difference between the IARC and many other regulators – is the range of expertise taken into account. The IARC only accept peer reviewed publications in coming to their conclusions, while others – such as the EFSA and the ECHA – take unpublished industry papers into account too. As can be seen in the twitter exchange above and elsewhere, such as in this ECHA explainer video, or in this IARC factsheet, all organisations back up their approach. These different approaches, inevitably, impact on the outcomes.
Neither the EFSA not the ECHA claim that glyphosate causes cancer.
Whatever about differing approaches and their relative merits, what is certainly troubling is the pressure IARC scientists have come under.The IARC has, since March 2015, found itself somewhat unexpectedly and uncomfortably in the public – and corporate – eye.
"Some scientists who had contributed to the Monographs Volume 112 Working Group informed IARC they had been approached by interested parties (including lawyers representing Monsanto…) and asked to release private emails as well as draft scientific documents related to their work on the Monographs. In light of the interests at stake, including ongoing lawsuits in the USA against Monsanto, the scientists felt uncomfortable releasing these materials, and some felt that they were being intimidated."
The glyphosate saga will run for some time. In the meantime, the question must continue to be asked – how freely will the revolving door swing between industry and regulators? And what are the implications citizen trust in EU institutions?
More
All ARC2020 articles on pesticides
Glyphosate: IARC Got It Right, EFSA Got It From Monsanto (Jennifer Sass, Senior Scientist with Natural Resource Defence Council November 2015)
NEW: Monsanto Weed Killer Roundup Faces New Doubts on Safety in Unsealed Documents (March 14 2017)
Pecticides: redressing the balance (Guy Watson of Riverford organic farm March 17 2017)
EFSA – A new path for pesticide assessment (16 March 2017)