At the end of February 2012 journalists at one of the biggest Polish TV network TVN  presented evidence of industrial salt – obtained as a waste by-product of calcium chloride production and containing dangerous carcinogens – being sold wholesale to the food industry as edible salt in Poland.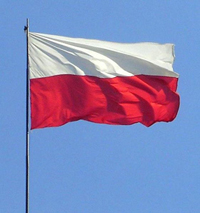 According to TVN, over a period of as long as 10 years, three Polish businesses have been purchasing 1000 metric tons of industrial salt per month. The salt, labeled as a waste product only to be used for de-icing roads or in chemical industries, was bought from one of the largest fertilizer producers in Poland – Anwil S.A. After repackaging, it was resold as edible salt to hundreds of meat and fish processing plants, bakeries and wholesalers.
Laboratory tests have confirmed the toxicity of the salt – Justyna Klimkiewicz, a toxicologist, told TVN24 that industrial salt could be dangerous if consumed. Ms. Klimkiewicz said industrial salt contains dioxins, which accumulate within the body and after several years can cause tumors. "These substances are also dangerous for pregnant women, and specifically to the fetus as they could cause birth defects, and even miscarriages," Ms. Klimkiewicz added.
An investigation has been launched and five suspects arrested by Poland's Central Bureau of Investigation (CBŚ) but Polish health authorities refused to release any information about which food processing plants bought the unedible salt, or the products that have been contaminated as a result. "There is no doubt that something bad was going on in there, however, for now we do not have all the information about the effect this could have had on the quality of the food products, and ultimately people's health," Prime Minister Donald Tusk told journalists at a press conference.
Reactions in Europe
The Czech Republic has announced a temporary ban on imports of Polish salt. Czech Agriculture Minister Petr Bendl said that "Poland provided too little information on the Polish companies which introduced industrial salt into food rather than edible salt." Czech food producers have since warned consumers against purchasing Polish food products.
"Polish food products are healthy and safe. We will not allow our efforts [to promote Polish food] to go to waste due to the activities of a few crooks and criminals," Agriculture Minister Marek Sawicki said in a statement, but again refused to name food products containing the industrial salt.
On March 2, Danish Ministry of Food, Agriculture and Fisheries issued a warning and advised avoiding Polish food products because of the scandal.
Polish consumers are reportedly demanding that a list of companies that bought industrial salt for use in food be made public. But a prosecutor in the city of Poznan said this could interfere with the ongoing investigation into the use of the industrial salt. Only when the accusations are filed in court will such information will be made public.