From 16th to 19th October 2012 over 1,000 representatives from non-governmental organisations and citizens from Europe and Asia, joined together in Vientiane, Laos for the 9th Asia Europe People's Forum (AEPF9).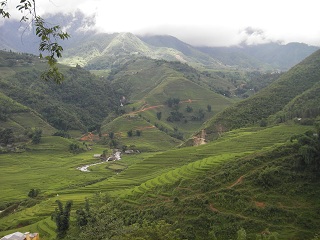 Under the title "People's Solidarity against Poverty and for Sustainable Development: Challenging Unjust and Unequal Development, Building States of Citizens for Citizens", the AEPF9 tackled four major themes:
Universal Social Protection and Access to Essential Services
Food Sovereignty and Sustainable Land and Natural Resource Management
Sustainable Energy Production and Use
Just Work and Sustainable Livelihoods.
In terms of sustainable land management, two main workshops took place focusing on "Understanding Land Grabbing" and "Land Resistance". The presentations revealed the complexity of this global issue: from the violent evictions of Cambodian peasants from their land for the benefit of European sugar companies (e.g. Tate & Lyle have evicted more than 700,000 people who rely on subsistence farming to make way for sugar plantations), to more "legal" grabs of land happening in Romania, where almost 10% of the agricultural land is already foreign property, all under the "common-market" policy of the EU.
The outcomes of the 9th AEPF were presented as the civil society recommendations at Asia-Europe meeting (ASEM) which took place at the beginning of November on Don Chan island in the centre of Laos. It is worth noting that in able to allow the construction of 50 villas and two conference centres, the authorities moved 102 families who once lived on the island and worked its green paddy fields. The new facilities were used for this and future summits. EU foreign ministers will benefit from the fruits of their labours: a showcase conference centre designed to allow Laos to host international summits. By staying in villas built on seized land, EU ministers were the unwittingly participants in a system that impoverishes ordinary people. But they are used to it.
Romanian authorities have a history of giving up fertile agricultural land to foreign companies or Romanian "fat-cats", all to the detriment of small scale, diverse, economically sustainable and environmentally sound agriculture. Land sovereignty is not yet on the agenda of the Romanian Government, large-scale farms benefiting from the majority of the subsidies given. At present 51% of the €6 billion yearly subsidies coming into Romania go to just 0.9% of farms, while a total of 70% of Romanian farms are considered ineligible for subsidies of any kind. We are witnessing the "legal" disappearance of small scale farming and thus the takeover of the more accomplished land-owners, all with the help of EU subsidies.
Although the two scenarios are different, their results are the same: governments and multinational corporations transforming vibrant and diverse rural landscapes into vast and empty agricultural factories producing standardized, poor-quality food. Their success or failure depends on our everyday choices regarding food and the ones who produce it. Let's make the right one!