A hundred members of the French peasant organisation Confederation Paysanne (Conf') occupied the head office of Cargill France last month, covering the front of the building with their own message to those in power. The banner reads: "Stop TAFTA (TTIP)/CETA. Hollande, Juncker, Obama: don't hand over peasants and citizens to the multinationals!"
The protest preceded an EU-Canadian summit in Ottawa on Friday. After seven hours at Cargill's office block in the Saint Germain en Laye, the Conf' occupiers secured a promise of a meeting this week (starting September 29) with France's secretary of state foreign trade Matthias Fekl. Since the other part of Fekl's portfolio is tourism and promoting France, the recently-appointed German-born junior minister should be receptive to the Conf' message.
The objectives can be summed up as defending jobs; protecting food sovereignty, defending peasant agriculture and life beyond urban centres. In the wake of civil society's mobilisation to thwart a multilateral World Trade Organisation no-holds-barred free trade structure, the Conf' argues, the European Union has set in train a series of so-called free trade bilateral agreements: "They wanted to hand over agriculture and food production to the unbridled forces of liberalism."
While presenting these trade agreements as a necessary remedy for the economic crisis, the European Union has suggested that they will magically increase the European GDP and create jobs. The Conf' rejects this specious argument, pointing to the real world impact on jobs, democracy and the environment for Mexico in its toxic trade deal with the US. In this case, 20 million jobs were promised, but in fact estimates start at over 600,000 jobs lost and climb upwards.
Not surprisingly, then, transatlantic trade talks have been carried out in deepest, darkest secrecy, despite Karel de Gucht's assurances to the European Parliament that the negotiation process was transparent. He even went so far as to advise MEPs not to read the CETA text: "It's pretty dry stuff, I don't think EU citizens are going to be interested and I don't think even you [MEPs] should read it."
This attempt to bluster his way out of a tight corner shines a light directly on the one thing that de Gucht cannot conceal: multinationals already have more power than they should be trusted with. For an executive to seriously suggest that corporate interests should be promoted at every turn in the legislative process is as offensive as it is anti-democratic. Take Cargill, for example, which was targeted by the Conf' because it is the world's largest food and agriculture business.
In August, this global corporate octopus announced earnings (aka profits) of USD 1.87 billion on revenues totalling USD 134.9. The next largest food business in the world, Nestle announced 2013 sales of about 96 billion USD, but with margins of around 15% is proportionally more profitable than Cargill. However, Cargill invests in upstream capacity and infrastructure, whereas the book value of Nestle's brand portfolio may well inflate the value of its assets and its profitability in conventional terms.
For the Conf' members occupying the Cargill France head office, they are clear about what Cargill does in France: operating 21 production sites across France, Cargill carries out the trituration of 30% of oilseed rape, sunflower and soya milled in France, as well as accounting for 80% of the agrifood tonnage passing through the port of Brest, which handles one million tonnes of agricultural raw materials every year (eg soya, maize, barley and wheat). Some 10% of the French cereal crop is bought and traded on by Cargill France, which also operates a chicken nugget factory supplying 3,000 McDonalds outlets across Europe, made with poultrymeat supplied by subsidiaries of Sofiproteol.
Just in case the name Sofiproteol should ring a bell, the president is Xavier Beulin, who also happens to be president of the French national farmers' union federation FNSEA. In addition to fast food, Sofiproteol works with Cargill on biofuel production.
To cover all its bases in Brussels, Cargill has about 60 full-time lobbyists in the Belgian capital and is a member of about 30 lobbying bodies at EU level. The Conf' adds that no less than 93% of the TTIP preparatory meetings held by the European Commission took place with representatives of corporate interests or, at the very least, their lobbyists. This is the commercial end of a very long conduit that literally links the four corners of the world. The story is not without corporate skeletons in the cupboard, as Greenpeace still bears witness to deforestation in Brazil and makes the link with livestock holdings in Europe.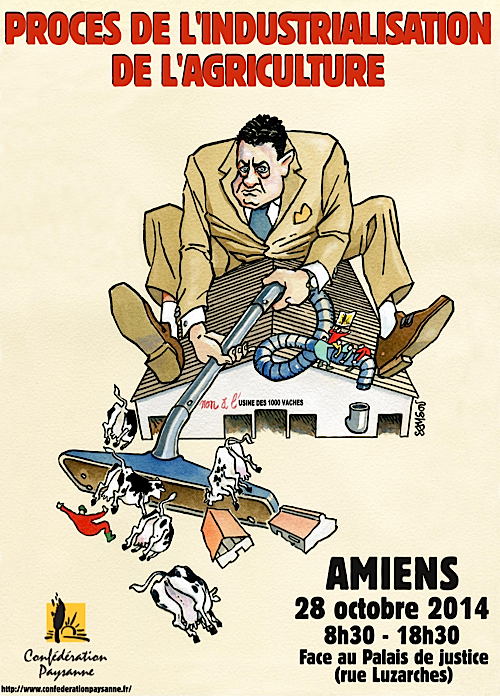 At which point the Conf' is back in action, mobilising this time in a long-running battle against the Mille Vaches (1000 cows) megadairy just outside Abbeville in the Somme valley. Standing alongside the local campaign group Novissen, opposition to this methane and milk factory extends far beyond the 110 kilometre radius within which the 40,000 tonnes of residual muds from an industrial scale 1.3 megawatt methane digester are to be spread.
The planning authorisation requires the digestate to be spread over thousands of hectares in a chalk-based landscape. This has sparked fears that the Somme estuary will be at risk of "green tides" like those encountered in Britanny, where agricultural runoff sparks massive marine photosynthesis that clogs estuaries with banks of toxic, rotting seaweed.
On October 28, nine Conf' members face a tribunal hearing in Amiens, which will hear earlier charges against them in a bid to criminalise union activity and let the environmental wreckers wriggle off the hook as the supposed victim. Needless to say, they will not be alone in their hearing: Conf' members from as far away as Bordeaux, Strasbourg and Lyon will be crossing the country to bear witness to the real crime that is being perpetrated at Milles Vaches.
More:
Arc2020 report in September on 1000 vaches
Arc2020's dedicated TTIP section
More from Peter Croskey