Farms have to be viable economically to survive and indeed thrive. Nevertheless, as the years pass, it's worth thinking about how the farming life is lived. Stress, workload, debt – how do these impact on wellbeing?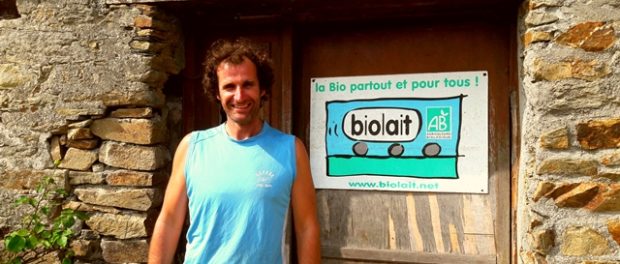 In Brittany recently at a European agri-food policy meeting with ARC2020, our team visited a farm where it seemed lifestyle and making a living were both optimised.
This farm, an organic dairy farm run by Paul-Gildas Dréno was quite close to the sea, which presented its own challenge. The grass growing season is a little shorter, while the dry land also has the added complication of higher levels of salt due to this proximity to the sea. This means he adds 10 tonnes of compost per hectare in autumn to help with soil and grass quality.
The co-op he is a member of – Biolait – sets its own organic milk price of 45c a litre. There are now over 1000 members, supplying 170 million litres of milk. Growth in organics in France – both production and consumption is extraordinarily fast, and Bioliat member is rising rapidly too.
While he farms 150 hectares, he only owns 30 of them. I wondered about the logic of this: his father started farming organically here in 1992, and he took over in 1998. This seemed like a long time to be paying the dead money of rent.
It turns out that the rental market for agricultural land in France operates in a very specific way. The price is set by a third party, based on agreed evaluations. So Paul knows year on year what his rent will be – typically 100 euro a hectare. And at 45c a litre, 100 euros per hectare is very affordable. Milking is twice a day, while collection is every third day.
Read: Lessons from France's Organic Dairy Sector (Biolait contribution to ARC2020 #milkcrises debate)
Because of both organic certification and the land quality, his stocking rate is 0.8 per hectare. He carries 65 Saler and Normandy cows, while he also grows 70 hectares of maize. While he does sell on some animals for beef young, the price is poor for organic beef compared to dairy in France – "they want it white" he tells me, referring to the French preference for veal.
He grows his own feed, employing a three crop rotation of maize, grass and combi crop – "I trust what grow" he says, referring to some feed contaminations and controversies in recent years.
Another peculiarity to the French system is the amount of machinery available via a co-op called CUMAs. He avails of this for numerous tasks on the farm – far more than would be the case in many member states, where farmers tend to want to own their own (even if in fact the bank owns it). Each regional CUMAs typically own dozens of machines.
Local farmers are upscaling with technology in ways Paul is ambivalent about – "I'm not against technology, but you should not be dependent on it. Then the company owns you."
Examples included a local dairy farmer using drones to herd his cows for their daily milking; another is robot milking, which organic farmers in Ireland like Pat Mulroney are also employing.
"I could go into debt and upgrade the milking to use a robot" he states in his quite dark milking parlor, with plenty of cobwebs above. "But, instead, I employ someone. I'd rather give the money to a person than a bank" he says, matter of factly, in that unique shrug-of-the-shoulders-way French men can do.
Later that weekend, I spotted Paul again, by the coast where the white yachts lined up as the river met the sea. He was walking arm in arm with his wife, smiling.
I suppose the work life balance is working out for the milk man from Brittany.
This article was written by Oliver Moore, ARC2020's Communications Manager. A version of this article also appears in the Irish Examiner's farming newspaper, print edition.