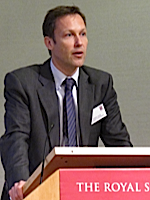 The next round of Common Agricultural Policy reforms face some intractable problems, warned Gwilym Jones, international and legal adviser in commissioner Ciolos' cabinet. Speaking at the Westminster Food and Nutrition Forum in London last week, Jones listed food security, accompanied by price volatility; deep hardship in farming incomes; the  current age of the farming population and environmental challenges.
However, for EU agriculture to be competitive also means sustainable soil and water quality. There are soil quality issues with 45% of the EU's farmland, Jones observed. "Enhancing competitiveness means building environmental competitiveness," he declared.
Even though preliminary negotiations have started, the European Commission has not stopped listening, he added. The EU's largest policy must also meet taxpayers' expectations: "CAP spending must be seen to be well spent and fairly spent."
National Farmers' Union president Peter Kendall urged a CAP budget that was "…more agricultural and more common." He pleaded that British farming was "tied up in knots" by administrative measures and could be foregoing significant food production capacity in the coming years.
Country Land and Business Association president Harry Cotterell described the CAP as a "one size fits all" policy. In his haste to distance himself from recoupling, he let slip that the notion that creating employment on farms would mean "…creating inefficient farms." This was challenged during questions by Patrick Krause, chief executive of the Scottish Crofting Federation, who accused him of resurrecting the mindset of the Clearances.
DEFRA negotiator Martin Nesbit reminded those present that DEFRA does not view large farms as deserving causes of CAP payments, adding that DEFRA wants to move away from direct payments. "Paying people to be competitive can have the opposite effect," he observed wryly.
Asked in a subsequent question about what constituted competitiveness, Nesbit replied that transferring funds from Pillar I to Pillar II to invest in skills would build resource competitiveness. Answering another question, Nesbit added that DEFRA had no employment target on its CAP position.
In further questions, Jones noted that for the European Commission greening puts conditions on receiving public funds. It was a matter that: "…public subsidy requires policy support and taxpayers' money."