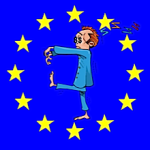 "Europe is sleep-walking into a GM soy catastrophe," warns GM-Free Cymru. The campaign has recontacted European health and consumer policy commissioner John Dalli to remind him that there is a growing body of "prima facie evidence of a severe problem associated with the import and use of GM soy."
The group also also warns of the associated problem of glyphosate residues in feed and straw litter. Spokesman Dr Brian John told ARC that the EU had an "extraordinary overdependency" on imported GM soy.
"It is the Commission's responsibility to consider both the direct and indirect effects of using this lethal combination of GM soy plus residues in the livestock industry of Europe." The EU imports nearly three quarters of all its vegetable protein requirements, most of which is fed to livestock.
GM-Free Cymru accuses the EU of "turning a blind eye" to some of the health and environmental issues associated with the GM soy use in European farming. Dr John wrote to commissioner Dalli: "…in some cases at least, GM soy and [glyphosate] residues in the animal feed supply are associated with health damage and reduced fertility in breeding sows and with deformed piglets in numbers that were never seen before the introduction of these materials into the feed chain."
From a scientific point of view, the case of Ib Borup Pedersen reported here might be described as anecdotal. But, says the letter, neither Pedersen nor fellow Danish farmer Sigurd Christensen "…need learned scientists to tell them that toxic effects were occurring, since a change-over to non-GM soy immediately resulted in reduced health problems, greater breeding success, lower medication costs, and increased farm profitability."
GM-Free Cymru requests: "…urgent steps to instigate an in-depth study of the causes of the toxic effects observed by Mr Pedersen and Mr Christensen." The case for that is based on "…a string of peer-reviewed scientific publications, which we and others have repeatedly brought to your attention."