Parliamentary elections marked the end of a difficult year for Romania. The elections brought a new Government, and with that little hope for change towards a more sustainable and just agriculture in the country.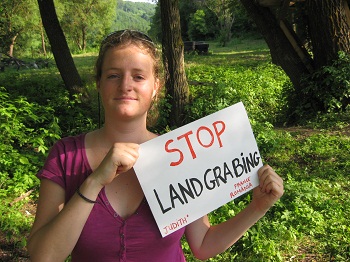 As the new Government program is unveiled, millions of  peasants, young farmers and concerned citizens are discovering plans that directly threaten their existence and leave them without support in the face of international investors and large businesses waiting to get a head start in the race for  large-scale land and water grabbing.
The Government Plan, presented at the beginning of this year, proposes measures for land consolidation and a reduction in farm numbers. This will lead to the disappearance of peasants, and a transfer of land to the hands of large landowners, and foreign and domestic corporations who are imposing a business-oriented agriculture, that does not take local communities into account. This includes the health risks of the agrochemicals they use to control the unstable industrial production system and the swift environmental degradation for which they are directly responsible.
To make matters worse, Prime Minister Victor Ponta, announced late last year that his adviser on strategic problems was none other than Wesley Clark, owner of BNK Petroleum – responsible for developing large-scale shale gas extraction in Poland, and a strong supporter of genetically modified organisms and industrial developments in agriculture and mining.
Willy Schuster, co-president of the peasant association Eco Ruralis and member of ARC2020 stated: "Is this the future we envision? Selling our lands and our treasures bit by bit, condemning peasants, the backbone of the Romanian society to death? I don't think so. Citizens, peasants and urban dwellers likewise voted with hope and the new Government proves that business can go on as usual in the past twenty years. We have to give agroecology and peasant farming a chance, we have to make radical changes in our national vision in order to assure our sustainable growth and sovereignty. The changes we make today will define our future successes or failures!"
Willy Schuster and Attila Szocs will be travelling to Berlin on 17th January to present and discuss the situation of land grabbing in Romania with panelists from the NGO, investment and farming world. The event is a part of a program known as Grüne Tage (Green Days) being organised by the team at Markt Halle Neun, in cooperation with ARC2020, Meine Landwirtschaft and Slow Food Youth Network. Find an outline below! For more information please contact Kate or Steph at ARC2020.