While Japan continues to drive the high-tech smartification of agriculture, what is the role of digitalisation for a diversified, agroecological family farm in a rural part of Hyogo Prefecture? Matteo Metta writes this report from Hashimoto Farm in Ichijimachō to share his observations on how digitalisation fits into the everyday life of this small-scale, mixed organic farm, as well as digitalisation's role in the context of the increasing socio-ecological threats faced by the village, from typhoons and landslides, to depopulation and societal ageing.
1. Agroecology and diversification in Japan: feet on the ground
In mid-October 2022, I had the great pleasure to volunteer for Hashimoto, a family farm located in Ichijimachō, one of the many valley-based communities among the mountains of Hyogo Prefecture, Japan. The farm is run by Shinji-san and Keiko-san. This couple is remarkable. Hard working, kind, peaceful and positive people. Very generous. It is not surprising that many woofers or organic trainees prolonged their stay for months longer than they expected.
The Hashimoto family is composed of four members: Hashimoto, Keiko and their two sons who now live outside the farmhouse. Volunteers, woofers, researchers, practitioners and interns from all over the world come here to work in exchange for learning organic farming in a Japanese rural setting. The 1.2 hectare farm is scattered in many disjointed plots. It is certified under the common organic certification (JAS). As an organic farm, they produce and directly sell any sort of local vegetables and rice. They rear chickens too, an important element for closing the organic nutrient cycle between the soil, human consumption and plants. Some of the seeds sown on the farm are locally selected, saved and exchanged with other farmers, while others are bought from the market. When organic seeds are unavailable, Shinji-san resorts to conventional ones. Besides farming and direct selling, the farm hosts and provides training and organic farming educational activities to school children, young people and adult farm workers.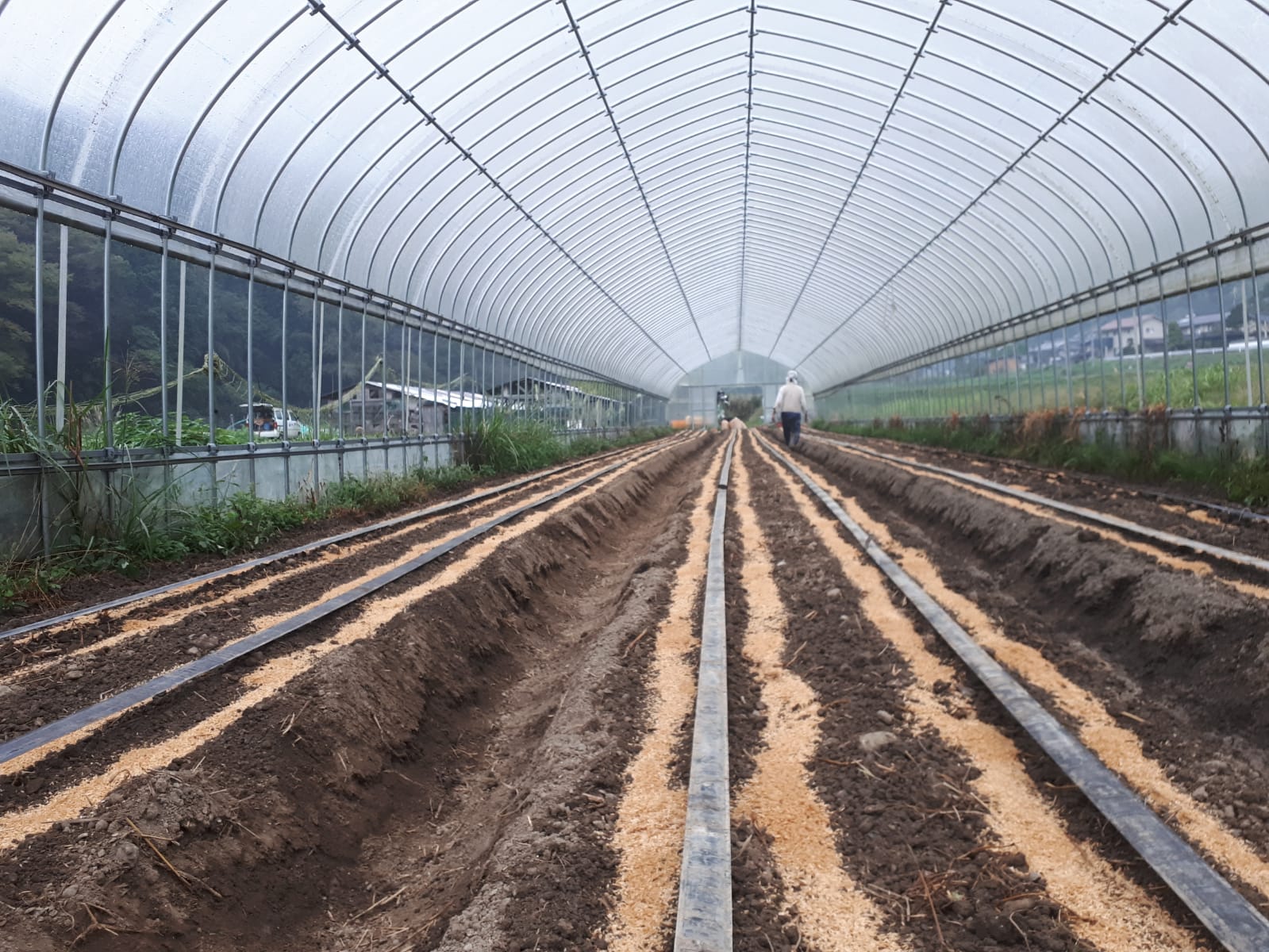 Shinji-san believes that Japanese farmers, society, policy makers, science and technology providers should embrace the agroecological movement, which encapsulates organic farming but stretches beyond it. While organic farming helps to harmonise and focus agriculture and trade on standards across the world, he thinks that these are not enough to defend small-scale farming and rural diversification, seed diversity, soil fertility, labour conditions and peasants engaged in healthier local food supply chains. "The agroecological movement in Japan needs committed young people and fresh energy. As organic farming is increasingly captured by global, capital and efficiency driven agri-food chains, we need to constantly push for progressive actions that protect agroecology principles and practices".
Hashimoto is co-chairman of the recently established Association of Western Japan Agroecology (AWJA) and board member of the Japanese Organic Agriculture Association. For years, he was also the Japanese representative of IFOAM International, brokering between national and international organic actors before quitting this role, which was too demanding for a full-time farmer.Additionally, Shinji-san is a member of the Tanba Seed Network. This organisation was established to protect regional traditional seeds before they disappear. However, it is not engaging in seed saving activities today, focusing instead on the promotion of an organic free lunch programme in public schools.
Shinji-jan strongly believes that Japanese rural areas need action NOW with the dedicated support of researchers, farmers, policy makers and technology providers. There is no more time for business as usual and cheap talk among closed circles. "The fact that for almost 20 years, there are always the same faces and people advocating for a change towards organic and agroecology clearly means that things are not moving well in Japan. More and more people show interest and sympathy to agroecology, but I always ask myself: So What? What do we actually change? How does research and sympathy get translated into concrete action?", remarks Shinji-san heading home after a long working day to attend a Zoom presentation by a Japanese PhD researcher on agroecology in the USA.
2. Digitalisation from rural perspectives
As part of my PhD research, I was accepted by Shinji-san to volunteer for this farm, which is an interesting example to explore when seeking to understand how digitalisation unfolds in agriculture from Japanese rural perspectives. Coming from a rural sociologist background and studying digitalisation specifically in diversified farms, I believe we should look at deeper conditions and issues that are built into these farms and rural areas facing the digital transformation, like geography, climate and gender, or the generational division of labour between farming and other agricultural functionalities like food processing, direct selling, hosting or caring.
As displayed in the above picture, every week, Keiko-san and Shinji-san receive paper material from consumer cooperatives in their post box. The order form is filled out by them and then scanned by an operator of the two consumer-cooperatives in which they are enrolled. Coming from the historical Teikei system in Japan, based on voluntary workers arranging direct selling channels to take the burden away from farmers, consumer cooperatives are quite common organisations dealing with purchasing and selling of many products that are not easy to sell or buy by the geographically scattered Japanese rural households (e.g., fish, food ingredients, household items). Consumer cooperatives are owned by the consumers themselves, and the profits and decisions are equally shared by the members.
There are plenty of these cooperatives in Japan. One of them is Coop-Kobe, one of the largest consumer cooperatives in the world. "Sometimes consumer cooperatives are so successful that small business shops are squeezed and concerned about their power", explains Shinji-san. Hashimoto Farm is a consumer member of these cooperatives. Direct selling strongly depends on logistics and delivery. Large consumer cooperatives like Coop-Kobe have full capacity and control over these activities, whereas other smaller consumer cooperatives can rely on third-party delivery companies, like Yostuba.
The operators of these consumer cooperatives regularly pass by the member households to deliver the produce, but also to collect the new paper-made order forms, scan them and send the information to a central logistic system, which prepares the free-of-charge deliveries to the households' doors once a week. Keiko explained that this delivery system is essential for many old people and rural households located in hilly and mountainous areas, yet the process is still too paper and energy demanding. She thinks that online or email-based communications would make things easier. Not surprisingly, Yostuba has developed also an online ordering platform, like many other consumer cooperatives that are transitioning towards a more digitalised system.
"In Japan, many older rural households or dwellers really struggled with the widespread use of laptops and smartphones, which are the basic devices for the digital economy. Only new generations or people who had the chance to learn the western alphabet letters and handle PC keyboards were apt to adopt digital tools. With a stronger than ever rural depopulation and youth drains from rural to cities, these aspects are another reason explaining the huge digital divide on urban and rural areas in Japan. That's why we still keep both analogue/paper and digital systems in parallel."
2.1 Farm information system and management: does digital make sense?
The farm work at Hashimoto is based on the family self-employment and the short-term labour of volunteers, woofers and people who visit and stay in the farm to learn organic farming by working. Despite the flow of workers and activities ongoing on the farm, much of the information and data produced (e.g., number of eggs per day) is encoded, transmitted and stored via paper materials.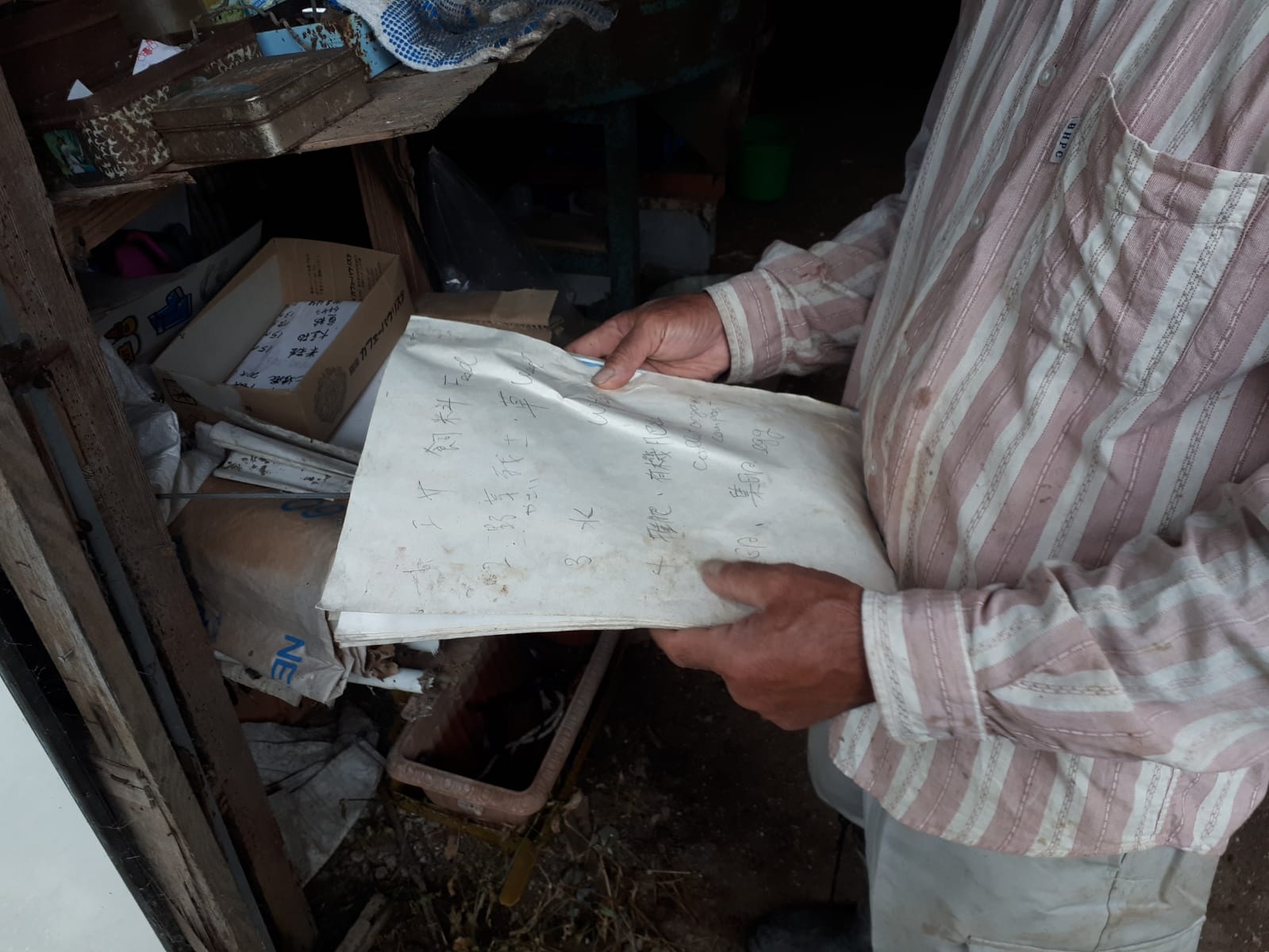 Based on my own farm observations, there are many factors that can explain this light/analogue system instead of a structured/digital way to record and manage farm data in Hashimoto. These include:
The enormous amount and diversity of micro-scale daily tasks performed by Shinji-san, arranged in the agroecological serendipity that follows the rhythm of seasonal and biological cycles.
The diversity and short-term stay of workers on the farm, which require simple and light data recording tools for people of any age, gender or ethnic background.
The time and space needed for learning, thinking, asking questions and observing complex relationships, instead of recording and inputting data.
The type of agricultural production (organic lettuce, beans, peppers, eggs, Chinese cabbage, radish, tomatoes) which, contrary to conventional farming, livestock or dairy, does not require mandatory recording of chemical inputs, feed, veterinary, quality and food safety parameters.
2.2 Is Hashimoto Farm direct selling digitally?
Weekly open farmers' markets (called "marché" in Japan) are not common in this remote village of rural Japan. Bigger discount shops or supermarkets can provide a variety of goods, including food products. Although some of Hashimoto Farm's produce is used for self-consumption or donated annually to local charities for children and single mothers in need, the farm income depends on the selling of their organic produce mainly through two direct sale channels:
Consumer cooperatives are quite advantageous for farmers because they can reach bigger and more stable food demand from the whole prefecture instead of just the village and spend less time and energy physically attending local markets. Except for placing the exact demand of requested food in the box, the rest of the supply chain activities is in the charge of the consumer cooperative (receiving orders, food collection, assemblage of food boxes for each consumer, box delivering, billing, transferring payments, etc.).
Even if both cooperatives offer online means for consumers to select their products, much of the communication and transactions with consumers and farmers are still based on paper, phone calls and fax. Although this system might mean spending less hours inputting digital data, learning how to use a computer and relying less on external skills to maintain or repair any possible errors or damage, some of the limitations mentioned by Keiko-san about this direct selling system are:
Asynchronisation: the weekly orders made by the consumers through these two consumer cooperatives might not be automatically synchronised with the stock available on the farm.
Material and energy costs: paper is still circulating in these transactions, which often requires also expensive physical deployment of the operators or fax messages.
Overall, this farm-to-consumers' door delivery system has been running for many years and is proven within the specific social, demographic and geographical conditions of rural Japan. Yet, this system is not error-free, e.g., mismatching order-farm stock, mismatching consumer quality expectation and farmers' explanations of product defects, etc.
To overcome the situation whereby a consumer's order is sent to the cooperative but the farm cannot dispose of the requested amount, in 2020, together with two younger farmers Hashimoto created a producers cooperative to expand the offering and reach higher flexibility to meet consumer demands. Here is their Facebook group. The development of this small agricultural cooperative shows how socio-economic relationships might be rearranged to meet market or technological changes.
Weekly orders received by fax and sale invoices are mostly recorded on paper, but then re-inputted in a digital format into the fiscal system of the Japanese authorities. "Of course, it would be easier to record our sales on an Excel file or deal exclusively with email or online platforms, but we need to confront ourselves with the reality of where we live. For certification and fiscal reasons, we still need to show the written invoices and the record keeping book to the inspector. This means that we would need to repeat this data twice, on paper and on the computer. We often skip the computer because Keiko feels more comfortable with the paper record keeping book".
3. Digital agriculture from agroecological and rural perspectives
"Digitalisation, as many technological innovations, is inevitable. We need to make it useful for us though. The problem is not the technology per se, but the system in which we live." This is the point repeated many times by Shinji-san during my farm stay. Living for more than 30 years in this rural village after travelling the world, Hashimoto highlights how the internet can be beneficial for fulfilling simple needs such as reading news, connecting with other agroecological movements and people in the community and abroad, attending farmers' zoom meetings without driving in the night and in mountainous areas, or buying products and books that cannot be retrieved in the village.
Many of the developments of digitalisation in agroecological farms depend on, or reflect, the conditions of Japanese rural areas (which include depopulation, ageing, high exposure to wilderness, floods, landslides). This is far from the mainstream imagery of high-tech Japanese agriculture. With a tone of sarcasm, Shinji dreams of drones and robots able to dissuade wild animals like foxes or weasels from killing their chickens or ducks. While the whole Ichijimachō is surrounded by electric fences, farm produce and rural households are constantly exposed to the incursion of wild boar, monkeys, deer, and sometimes bears searching for food. Unfortunately, these situations, and the increasingly frequent climate disasters like typhoons and landslides, are some of the priorities that farmers like Hashimoto have to solve if their livelihoods are to be safeguarded. Preventing or understanding these problems can be an important technology, policy and research area to steer digitalisation towards resilient links between nature and rural areas. At the same time, working on sustainable digital agriculture should mean diving into the everyday reality of these farmers before they disappear, and understanding the unique circumstances and priorities they face to produce healthy and organic food with their available resources and capabilities.
As an agroecological farmer selling certified organic products, digitalisation also means mobilising society to protect agriculture from the growing leeway of smartification and intensive farming, which already started with the deregulation of pesticide spreading techniques in Japan. For instance, Ichijimachō is one of the few Japanese communities forbidding the use of helicopters to spread pesticides. The area is also active in seed saving and organic farming training programmes. Given the low share of organic farming in Japan (0.2–0.5%), Shinji expects that technological, but also educational and societal solutions will be found to increase the amount of local and organic food produced and consumed in Japan.
Demographic aspects are also strongly intertwined with the current state of digitalisation in Japan (low rate of farm generational renewal, super aging society, youth drain towards cities). "I believe everybody should follow their own passion and interest, regardless of their age, gender, race. We no longer have to expect that farm succession is a matter of blood or parental connection. We should welcome new people and prepare the best conditions for new generations if they want to enter agriculture and live in rural areas. But we cannot be blind and believe in a liberal thinking based on "freedom of choice", while the current economy and educational system in Japan is creating the structural conditions that restrict or set the career and life trajectories of thousands of workers away from agriculture and rural areas", remarks Hashimoto while having breakfast during my last day in the farm. 
This article is part of our 'Rural Perspectives on Digital Agriculture' initiative, a research project led by PhD Matteo Metta. 
More Rural Perspectives on Digital Agriculture
Rural Japan | Diversification and Digitalisation on a Dairy Family Farm