In Italy, the future of agriculture could be dominated by women. Preliminary 2010 census data, issued in July 2011, showed that the number of Italian farms had decreased by 32.2 percent in the previous decade, but fewer women than men had decided to throw in the towel.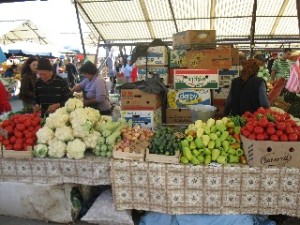 Andrea Segrè, dean of the faculty of agriculture at the University of Bologna, declared that women are finding "lots of space" in multi-functional areas such as agricultural tourism, farmers' markets, organic farming and direct sales. Agriculture schools across Italy have also seen an increase in enrollment by women.
Ms Longhin, who runs a dairy farm in Campagna Lupia, near Venice, stated that the involvement of women in multi-functional agriculture has helped society in important ways "like food security, rural development and the safeguarding of the natural landscape." In addition, farms in Italy have begun offering day-care services in rural areas "where there isn't a lot of support for working mothers".
The Italian experience is by no means unique, but the female farm work force is significantly higher here compared to the rest of Western Europe. According to the most recent Eurostat figures available, from 2007 Italy had a female farm labour force of 1.3 million, well ahead of comparably-sized European Union nations such as France and Germany, neither of which reached even 340,000. In Spain, a more traditional agricultural country, there were only 660,000 female workers, half those of in Italy.
Agriculture Minister Mario Catania said in an interview that the economic crisis had sharply diminished public spending, meaning that "there are no resources to put on the table" for female farmers. In any case, Mr Catania said, earmarking money according to sex is "not simple to enact." Italy would do better, he said, to improve family services like day care to help more women join the work force.
However, the lack of resources is not the only problem. Veronica Navarra, president of the Italian Observatory for Female Enterprise and Labor in Agriculture, a government-run organisation, asserted that "the world of agriculture in Italy used to be very male-oriented, but now there's been a reversal," thanks in part to a few institutional and grass-root networks that offer both financial and moral support to women.
Women are vastly under-represented at a political and institutional level, as reminded by Susanna Cenni, a member of the Democratic Party who sits on the agricultural committee of the lower house of Parliament.
Ms Lauretti, a small farmer practicing multi-functional agriculture in Pontina (Lazio) opened a five-room bed-and-breakfast here, crafted from a hulking barn that once housed 20 dairy cows. But before she could get a loan to do the work, she said, her husband, who works for the state railroad, had to offer a guarantee, "even though I owned the land and the house."
Original article: "Growing Beyond the Fields" by Elisabetta Povoledo, the New York Times, January 3, 2012.