Thousands of angry dairy farmers poured into central London on Wednesday 11th July to demand a fair price for their milk. They were protesting over successive cuts imposed unilaterally throughout the summer by processors.
They answered the call to an emergency conference organised jointly by the National Farmers' Union (NFU), Farmers For Action and the Tenant Farmers' Association, an unprecedented show of unity by the industry. There are nearly 11,000 dairy farmers in the UK and about one in four had put their work to one side to come to the capital.
The latest round of cuts means that soon many will earn less than 25p/litre for milk that costs 30p/litre and more to produce. The farmers' demand to processors is the restoration of price cuts made this year so that they stand a chance of covering their production costs.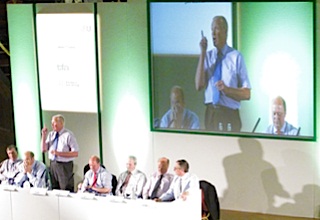 Militant farmers are setting a 21-day deadline to establish, otherwise direct actions will be engaged during August and the Olympic Games. Farmers For Action leader Dave Handley told disbelieving broadcasters after the conference that there would be action, even if he did not tell them what form it might take in advance.
Securing significant movement in a short time is a challenge. NFU dairy chairman Maunsel Raymond left the conference platform so preoccupied by the 21-day crisis deadline and the risks to his members' businesses that he was unable to talk to ARC about his recent appointment to the presidency of the COPA COGECA committee.
A subsequent NFU statement from his brother and NFU deputy president Meurig Raymond backed the membership: "The price cuts must be rescinded by August 1. If this doesn't happen, then we will support and facilitate targeted demonstrations outside processors and retailers."
It came with a commitment to enlist the British public: "We will also mobilise the public with a concerted consumer campaign to help them understand the crisis facing the dairy industry and we will be asking them for their support with this campaign."
The roots of the problem are clear to the NFU leadership: "All this co-ordinated action will be designed to put pressure and bring shame on the retailers and processors who have caused this crisis in the British dairy industry."
Meurig Raymond has not ruled out a negotiated settlement: "We are still hopeful of agreement on a voluntary code of best practice in contracts, to bring some balance to the relationship between farmers and processors, but before long we have to ramp up our lobbying of Parliament to introduce statutory powers."