Land grabbing is an issue UK prime minister David Cameron wants to address by advocating transparency during the UK presidency of the G8. As part of the preparations for a G8 planning meeting in London on June 15, the Director General for Policy and Global Issues at the UK aid and overseas development ministry DFID, Michael Anderson, spoke to a consultation meeting organised by the Enough Food for Everyone IF project.
This 150+ stakeholder campaign is challenging the UK government to use the G8 presidency to take action on land grabbing, aid to agriculture and nutrition, tax dodging, and transparency, in order to help ensure that there is enough food for everyone. The message is simple, as the IF alliance makes clear in one of its campaign videos.
A former human rights lawyer, Anderson explained that he had "…six weeks to finalise the agenda…" and that it was "…not about taking cheque books, but [finding] strong win-win" solutions. Instead of preaching, he added, the G8 agenda should promote transparency.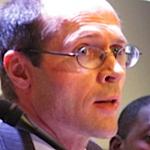 The basis of the political agenda was challenged by Olivier De Schutter, the UN Special Rapporteur on the Right to Food, who found the framing "…off target." There would be no solution to the evils of land grabbing, he explained, without proper support and commitment to small-scale farming.
The purchasing power of a global market is "ill-matched" to the resources of small farmers around the world, De Schutter added. The economic activity generated locally by small farming has "large multiplier effects" and it "…can better preserve the environment and make a direct contribution to food security."
The consequences of institutional blindness on the day to day results of land grabbing are real but overlooked: a thousand or more people at a time are displaced in land grabs, according to Actionaid Kenya program manager David Barissa. He added that the phenomenon had surged since 2008, when global grain prices peaked.
European businesses are actively engaged in land grabs, Barissa reminded his audience, including 30 or so UK-based companies. The harm done was exacerbated by biofuels: "Europe has no room to grow biofuels… yet people go hungry around the world…" as a consequence of corporate biofuel projects. Confrontations over land in recent years have already generated hundreds of deaths among small scale farmers: the populations they support are at greater risk than ever before.
Data on land deals is as incomplete as it is scarce. What little emerges is sufficiently shocking to make transparency a basic requirement. When checking a company declaration for the licensing of 92,000 hectares, Barissa found that the true figure was more than double the declared area. And when government, at any level, licenses land to foreign corporations for as little as two euros/hectare for a year, something is clearly very wrong. The G8 leaders need to develop policy that values small-scale farming, but this is unlikely to be a trade policy in isolation. Cameron's good intentions could even start a good deal closer to home, too. Small-scale farming is better equipped to feed the world than its corporate industrial counterpart: feeding people is not a numbers game.