The agricultural sector in Northern Ireland depends on EU funding for 85% of its income, disbelieving UK parliamentarians learnt from the province's farmers' leaders. What do farmers' representatives think of Brexit?
Just before Westminster went into recess for Easter, the president and chief executive of the Ulster Farmers' Union (UFU) appeared before the UK parliament's Northern Ireland Committee to give evidence on the EU referendum.
"…the market is not delivering," UFU president Ian Marshall told the committee. "If you dig a bit deeper in the Northern Ireland figures and look specifically at a situation last year, you will see that £236 million was received as a direct support payment and the total income from farming was £183 million. Therefore, in real terms the industry did not make any money last year, so that is a huge concern for us as we go forward in the absence of guarantees and perhaps uncertainties." UFU ceo Wesley Aston added that this was a sustained pattern, "…typical for this last number of years."
The UFU met prime minister David Cameron after he completed a round of talks in Brussels, but received no assurances on UK support for agricultural funding. "It is not just solely about economics; there is more to it than that. On balance, in the absence of any compelling reason for agriculture to leave the European Union, we feel that it is better for the minute, given the circumstances and the knowledge we have, to stay. That is the official position," explained Aston.
Certain members of the committee used the occasion to push aggressive Brexit positions, but met with a measured, level response. Asked if the UK government would support the farming sector in the event of a Brexit, Marshall responded: "The concern is that historically there has not been a track record of supporting agriculture, irrespective of which political party was in control or in government. In the absence of the guarantees, we have huge concerns about what this potentially could look like."
Aston added: "There certainly have been instances historically where the UK, under EU rules, could have provided direct support to its farming industry, such as the decision that was taken in Brussels earlier this week by the Agriculture Council, where they allowed state aid to be provided. I daresay that, based on the historical track record, we do not expect the UK to provide any money to any parts of the UK farming industry."
Questioned later about what the UK government would do for its farmers, Aston declared: "We were fortunate enough that the prime minister visited Northern Ireland a few weeks ago and we organised a farm visit for him. We had a private meeting with him and a number of other industry players before the farm visit. We specifically asked that question: were we to remain within the European Union, what guarantees do we have that we will continue to have funding? His answer was that he will not be the prime minister by the end of the negotiations and, equally, he could not commit for a further [future] government."
Agricultural exports have always been the bedrock of the island of Ireland's economy. Marshall explained it thus on behalf of his members: "Market access is key for Northern Ireland because we export so much of what we produce, so it is hugely important that we have market access and a wide variety of market access, both to the European Union and to new and emerging markets. I sit on our Agri-Food Strategy Board. Part of its remit is to look at new and emerging markets and to give the province a wider portfolio of products to sell to the rest of the world and to get and gain access to those markets." The results do not match election cycles: "It is not a fast-track process; it is a long, slow and arduous process built on trust and building relationships."
The committee also struggled to grasp the idea that the UK is only 62% self-sufficient in food production. The more so since the bulk of the gap is filled by EU trading partners. Asked whether consumers would benefit, Marshall's answer was restrained: "That is a hard call, because the reality is that the difficulty we have at the moment in the UK is that we have to deal with food deflation, with food becoming cheaper and cheaper for consumers on an annual basis. That is a huge concern for farmers. Any change or seismic shift in trading arrangements could potentially throw some of that out of kilter. That being said, our food stuffs are traded in the UK through five big multiples. 70% of what we trade in food goes through those multiples. We are also concerned that any change could ultimately increase the cost of food, which is historically cheap at the moment."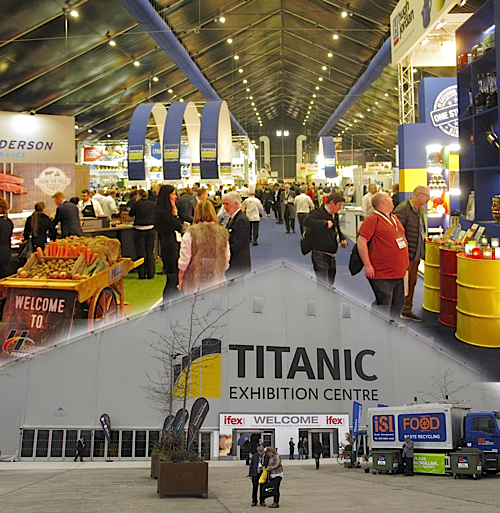 To get a wider view of the trading impact of a potential Brexit on the Irish food industry, ARC2020 visited IFEX in Belfast, which was attended by exhibitors from both sides of the border. On both sides of the border, any mention of Brexit was viewed with concern: Maxine Hyde looks after business development for chutney maker Ballymaloe outside Cork and described the prospects of servicing UK multiple retailer accounts as a "nightmare"; while family bakery The Yellow Door in Portadown exports 60% of its output beyond the UK – Gary Dougan spoke   of the trepidation that the possibility of a Brexit provoked within the family.
Sergio Furno, director and affineur for Cashel Blue cheese in Tipperary had just returned from receiving an award at the Paris Salon du Fromage. Exports are growing across Europe and beyond: the prospect of a Brexit worries him, yet he is resigned to being an onlooker. So, too, is Connemara Food Ventures ceo James Cunningham, who innovates with seaweed.
The problem then, is that the UK has replaced any notion of a food production policy with a food procurement industry and with it any notion that geography matters. Northern Ireland food producers well aware of their predicament, whatever the Brexit preferences of Northern Ireland Secretary of State, the Aristocrat Theresa Villiers.