A Commission proposal to restrict the use of Fipronil – an insecticide recently identified as posing an acute risk to Europe's honey bee population – has today (July 16) been backed by Member States.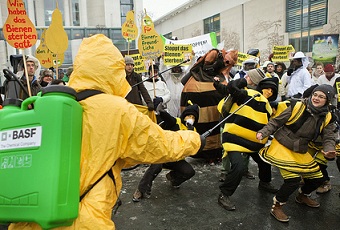 In the vote held during the Standing Committee on the Food Chain and Animal Health, 23 Member States supported the restriction, 2 Member States voted against and 3 Member States abstained. Spain and Romania voted against. Slovakia, Czech Republic and the UK abstained.
The Commission proposal was made after the EFSA identified Fipronil as harmful to bees in May this year.  The announcement followed previous risk assessments published in January which declared three pesticides (all neonictonoids) as scientifically-proven to be harmful to bees. A ban on all three was supported in April 2013 (following substantial NGO campaigning).
Tonio Borg, EU Commissioner for Health said "A few weeks ago, in the aftermath of the restriction on use of neonicotinoids, I pledged to do my utmost to protect Europe's honey bee population and today's agreement with Member States, not only delivers on that pledge but marks another significant step in realising the Commission's overall strategy to tackling Europe's bee decline."
Find the Commission Press Release here
Further reactions and news: