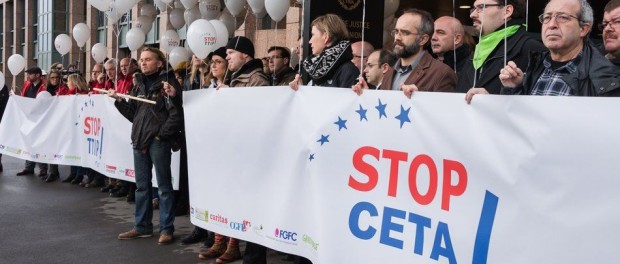 Yesterday, most of the EU-Canadian free trade agreement known as CETA (Comprehensive Economic and Trade Agreement) provisionally came into force. It's provisional because should even one of the 28 EU member states refuse to ratify it—the deal could collapse*. "Most of the agreement" will be implemented except certain key parts to which both member states and the European Union must legally consent. These key parts are namely investment protection and the Investor Court System (ICS). The ICS is a controversial provision that gives Canadian or EU investors the right to directly sue the other party should they feel that state action has undercut their expected profits. Until the 28 member states say "yes" to CETA including these investment-related provisions, corporations cannot use the investor rights enshrined in the agreement. Moreover, without unanimous ratification from EU member states—the rest of the agreement which goes into force today may have to be terminated.
One would think that implementing CETA now without a corporate court is good news. Yet, CETA stealthily packages several other controversial elements that leave a bitter taste for European Food and Agriculture. Institute for Agriculture and Trade Policy (IATP) Europe, Greenpeace and the Canadian Centre for Policy Alternatives (CCPA) have just launched three briefing papers that outline why CETA's deregulatory provisions undermine European food safety standards, Europeans' desire to know where their food comes from and their aversion for cloning.
As the summary of the papers states, the EU rules under threat include:
Restrictions on the use of genetically modified organisms (GMOs), growth hormones, and antimicrobial chemical rinses in producing meat.
Country of origin labelling (COOL) rules for meat and other food products.
Future restrictions on cloning animals and their offspring, and their labelling and traceability in the European food system.
Now, the ball is in the court of every member state parliament—from Spain to Poland, Italy to Estonia, France, Germany and 22 other countries and some regional parliaments such as Wallonia in Belgium.
Agribusiness corporations have lobbied hard in favour of CETA. However, this is European citizens' final chance to compel their parliamentarians to reject CETA in favour of a more people, animal and planet-friendly food and agriculture system! The timing for national ratification depends on each member state and thus could take several more years. This gives time to civil society in each EU country to mobilize against ratification.
The European Commission, Council and Parliament have all failed to acknowledge that CETA offers U.S. companies a backdoor entry into the EU, thereby ignoring the integrated structure of meat and animal trade between U.S. and Canadian agribusiness. They have thus condoned the further opening of the European market to foods made with much weaker standards that are detrimental for European consumers and family farmers. Member state parliaments should not make the same mistake. They must reject CETA.
This article first appeared on the IATP website
*It is also the case that regions within member states could potentially scupper CETA ratification, as was seen earlier this year with the Walloon region in Belgium.
Read the briefing papers:
Summary: CETA: European Food and Agriculture Standards Under Threat
1. CETA, Regulatory Cooperation and Food Safety
2. How CETA Can Endanger Country of Origin Labelling (COOL)
3. CETA and the European opposition to cloning