In what has been a dramatic few days of high level diplomatic wrangling, walk outs and crisis meetings, the Belgian region of Wallonia appears today (Monday) to be holding firm to its position that it will block ratification of CETA. Will Wallonia cave to the enormous pressure its under? And what's next for the EU and CETA? Article includes text of Wallonia CETA parliamentary resolution.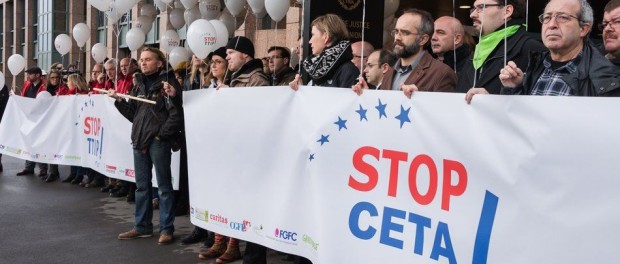 NEW: Walloon Parliament resolution on CETA – full text – translated into English (added 21.07 on 25/10/2016)
On Friday, what has been described as a pressure tactic occurred in the seven year EU-Canada Comprehensive Economic and Trade Agreement (CETA) negotiations. Canadian Trade Minister Chrystia Freeland walked out of the CETA talks, declaring it "impossible" to make a deal with the EU.
Intense diplomatic efforts over the weekend saw the Walloon parliament given until late Monday (today) to pass CETA, before a potential signing ceremony on Thursday.
However, politico reports today that André Antoine, the speaker of the Walloon parliament, claims it is not possible to comply with the EU's ultimatum to end the region's objection to the EU-Canada trade deal by the end of the day.
Politico said "Antoine said Wallonia wanted "transparency and democracy to be respected" in negotiations for the Comprehensive Economic and Trade Agreement (CETA)."
The Guardian reports today that "European Council president Donald Tusk, who chairs the collective body of the EU's 28 national leaders, will speak to Belgian prime minister Charles Michel by late on Monday, an EU source told Reuters, so that Canadian prime minister Justin Trudeau can decide whether to fly to Brussels for the signing on Thursday."
The Wallonia parliament is considered well informed on CETA. It has, for 18 months, numerous discussions on CETA, including Canadian trade negotiators and business lobbyists. Below see the text of the Wallonia Parliament resolution (Original text in French) emphasis added.
"The Parliament of Wallonia:
– Acts having received a draft Joint interpretative declaration on the Comprehensive Economic and Trade Agreement (CETA) between Canada and the European Union and its Member States on 5 October 2016
– Has examined the said declaration at the meeting of the Joint Committee on International Relations with the Parliament of the French-speaking Brussels on October 10, 2016 where all the political groups have expressed themselves;
– Reaffirms its demands contained in its resolution of 4 May 2016 and considers that the proposed interpretative statement does not address them, its eventual effect remaining legally uncertain and the Treaty is not substantially modified.
Calls upon the Government Wallonia:
to maintain its refusal to give the delegation of full powers to the Federal Government for the signing of the agreement CETA between the European Union and Canada;
2. to act with the Federal Government to advocate at the European institutions that all legal means are used to meet the requirements expressed in the resolution of 27 April 2016 and initiate a real process of transparent, democratic and inclusive negotiation;"
Original text (in French) : nautilus.parlement-wallon.be/Archives/2016_2017/MOTION/606_2.pdf
"RESOLUTION on the Comprehensive Economic and Trade Agreement (CETA)
adopted on 27 April 2016, Original text (in French) : http://nautilus.parlement-wallon.be/Archives/2015_2016/RES/212_5.pdf
The Parliament of Wallonia,
Asks the Walloon Government,
to act towards the Federal Government to:
Solicit the opinion of the European Court of Justice (ECJ) on the compatibility of the agreement with the European Treaties on the basis of Article 218 (11) TFEU to prevent that an agreement incompatible with the European Treaties would be concluded and not to ratify the agreement as long as the ECJ has not given this opinion;
To argue in the Council for the CETA be qualified as a mixed agreement, which implies that Member States must agree;
To refuse any provisional implementation of the CETA but wait that all national ratification procedures be conducted in order to hear the voice of European citizens, before a possible entry into force of the Agreement;
To give priority, in the CETA, to a dispute resolution mechanism from state to state based on existing public courts;
not to grant full powers to the Federal Government for signing the CETA between the European Union and Canada; [this means 'to refuse the signature of CETA by Belgium']
act towards the European institutions to ensure that all trade agreements concluded by the EU with third countries require compliance with the following red lines, which unfortunately are not complied with in CETA:
The inclusion of a clause on human rights, and legally binding and suspensory, to ensure the full respect of EU standards in the field of fundamental rights;
The addition of a legally binding general clause applicable to all agreements to ensure the full respect and without ambiguity of the UNESCO Convention on the Protection and Promotion of the Diversity of Cultural Expressions;
The establishment in the agreement of a principle "agricultural exception" like that of cultural exception – which may be invoked if the increase in imports of a product may cause significant harm to the achieving the following objectives: food security, protection of life and rural societies, the protection of nature and biodiversity;
The inclusion of binding standards on sustainable development to support efforts in the fight against climate change by ensuring that no trade agreement leads to an increase in greenhouse gas emissions and can have "carbon neutral, or positive";
The adoption of "positive lists" in the field of liberalization of services specifically mentioning which services are open to foreign companies and excluding services of general interest and services of current and future general economic interest so that national authorities and , if any, local authorities retain the full right to execute, organize, finance and deliver public services to ensure that European citizens universal access to public services;
The possibility of including social and environmental clauses in public procurement and to focus on short circuits;
The inclusion of cooperation mechanisms for strengthening financial and banking regulations, exchange of data and the fight against fraud and tax evasion;
The inclusion of a specific chapter for small and medium enterprises, including provisions to facilitate their access to trade;
Conducting independent detailed impact studies for each Member State and an assessment of the competitiveness of sectors with a focus on economic and regulatory effects of these agreements on SMEs;
The opening of these agreements to other partners who could join a plurilateral negotiation on the basis of clear and predefined conditions to gradually reach a multilateral framework within the World Trade Organization;
The implementation and compliance with binding provisions of labour rights;
The inclusion of labour environmental standards that are not restricted to the chapters on trade and sustainable development, but also found in other parts of the agreements, such as those devoted to investment, trade in services, regulatory cooperation and public procurement;
Respect of the precautionary principle as enshrined in Article 191 of the Treaty of Rome as a fundamental principle of the European Environment Protection Policy, Health and Consumers;
Transparency in the negotiations of future free trade agreements, given the stakes, must always give rise to the necessary information to democratic control."
More
The Great CETA swindle (Corporate Europe Observatory Oct 18th 2016)