Oliver Moore in Ostrava at 16.00 CET 17.09.2016
150+ people from 20+ countries are attending Urgenci's third European CSA gathering in Ostrava this weekend. ARC2020's Oliver Moore is one of them. Here's his account of the story so far. 
(Above: ARC2020's Oliver Moore reads out the CSA Declaration for Europe for the first time in Ostrava, 17.09.2016)
A Community Supported Agriculture (CSA) declaration for Europe has been adopted at the 3rd European CSA meeting, held in Ostrava 16-19th September.
The Declaration makes reference to "claiming our right to define our own food and agricultural systems" in its preamble, while emphasising the "practical inclusive solutions" CSA offers.
The Declaration defines CSA as "a direct partnership based on the human relationship between people and one or several producer(s), whereby the risk, responsibilities and rewards of farming are shared, through a long-term, binding agreement".
Over 18 months, encompassing dedicated meetings in Milan and Berlin, as well as many conference calls and the all-important national consultations, this CSA Declaration was developed in what was a very participatory process.
Guiding principles and a Build-Develop-Empower section made up the final two parts of the four part declaration. (Check out Urgenci's website and facebook pages for updates, including a downloadable CSA Declaration.)
150+ participants from 27 European countries have come to Ostrava for three days to strengthen and further develop CSAs and CSA networks in Europe.  Farmers, activists, consumer groups and more, from an array of approaches and styles of CSA have worked on a huge number of important areas. These range from access to land, alternative ICT models for CSA, low income and refugee access to CSA and food sovereignty, farmer to farmer workshops, participatory guarantee systems, advocacy, networking, training and many more topics, some developed spontaneously, others planned.
CSAs from around Europe were encouraged to bring and share, from seeds and literature to posters and photos. A small selection of these inspiring posters are below.
From Andalusia in Spain

From Romania
From Estonia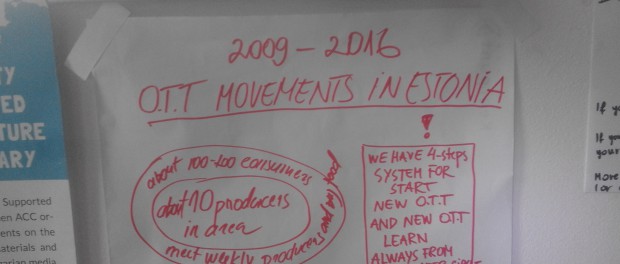 From Austria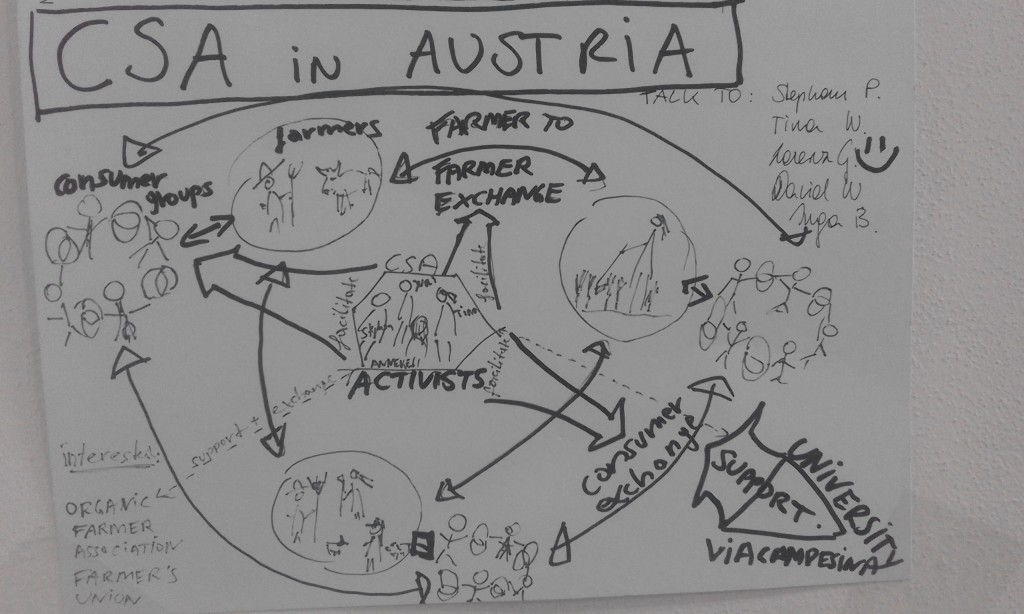 Upcoming later Saturday and tomorrow Sunday, the event will feature a healthy dose of Gurella gardening, a colurful march through downtown Ostrava, yet more great food from local farmers and cross pollination of ideas for practices.
You could even print your own tee-shirt or bag on the spot!
let's finish for now with these inspiring words from the adopted declaration:
We are a grassroots movement: we believe that the power of CSA is in a pragmatic, everyday action and face-to-face relationships. We are connecting with each other, with the farmers in our communities and with the living soil beneath our feet: this is our Common Ground.