33,000 citizens – including 160 tractor driving farmers – made their way through the winter streets of Berlin on Saturday to tell the world – food is political! #EssenIstPolitisch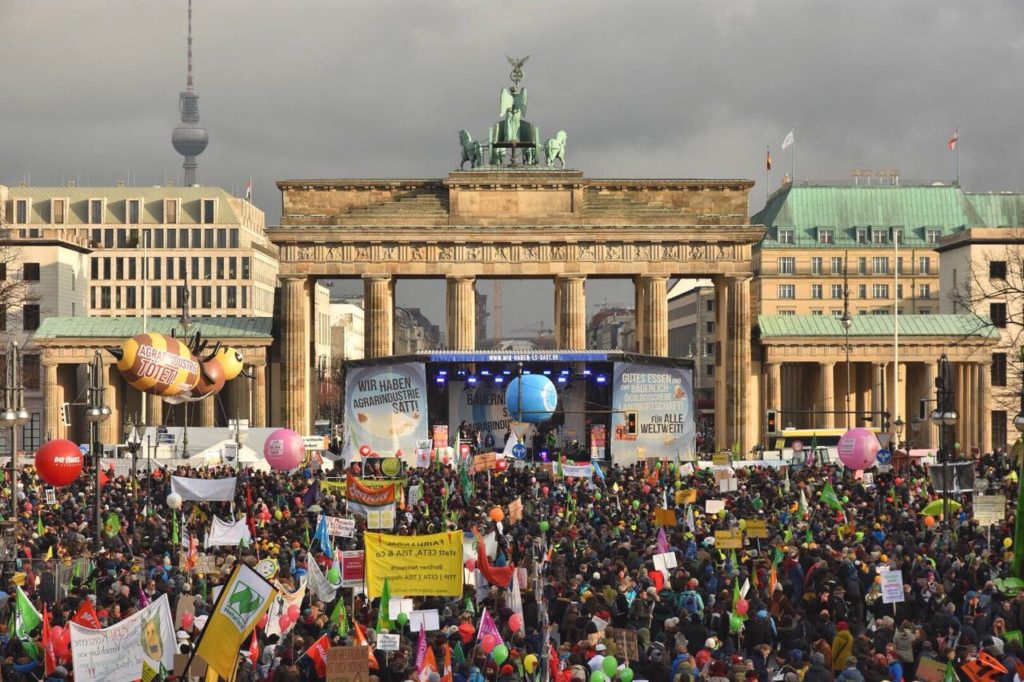 This year's Wir Haben Es Satt (We are fed up) demonstration featured a wide and colourful array of people from a number of food farming and environmental perspectives.
This year's focus was on farmers – loss of farmers and small scale farmer's rights, and land access. Highlighted also were GMO free food, refugee solidarity, animal welfare, food sovereignty, fair trade, bee friendly agriculture, climate and environment, CAP reform for rural and ecological improvements.
Some creative posters were on display as even, which sometimes fused incongruity and poetry, humour and solid, tactic props. Campact's birds, bees and butterflies were especially popular.
"Never again Minister Schmidt" was a popular chant as the people snaked their way around town, to the sounds of jazz bands and drummers, and in particular the percussive pounding of pots and pans, which punctured the stark cold Brandenberg air.
Minister Schmidt's Agriculture Ministry's decision to vote for Glyphosate at European level. Schmidt voted for glyphosate, despite the Ministry for Environment opposing this. Typically, when two ministries differ, Germany adopts a neutral position. Schmidt went against this, which was a scandal in Germany.
"Agri-industry kills" was a common refrain, as was "insect Armageddon", the latter in reference to the recent research which suggested ¾ of all the flying insects of Germany have disappeared in just a few decades.
#WHES18 #berlin pic.twitter.com/2lsz1LtdDu

— ARC 2020 (@ARC2020eu) January 20, 2018
ARC2020's special contribution was to bring French Senator Joel Labbé over to speak, and, moreover to continue on his advocacy and indeed policy work. Labbe was the driving force behind the successful banning of herbicides from public use in France. This means that public parks, schools forests and other areas are no longer treated with these agri-chemicals in France. Further restrictions are coming in in the coming months and years.
Now the French Senator is working to have his achievement introduced into different EU member States, including Germany.
NEW
Meet Senator Joel Labbé – Driving Force Behind French Herbicide Bans