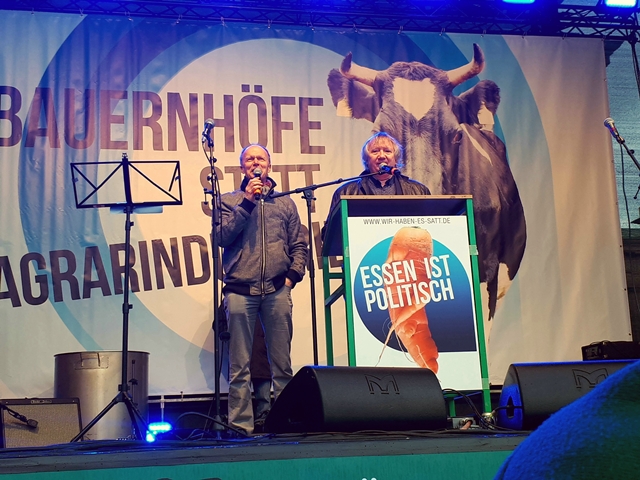 Glyphosate and the widespread use of herbicides in general remains a hot topic for European citizens. Senator Joel Labbe was the driving force behind the progress France has made with regard to restricting the use and availability of these substances. Public places – schools, parks, forests, roadsides – are no longer treated with herbicides, while more restrictions are coming in in 2019. ARC2020 has worked with Labbe to help bring his work to the European stage. Below we share an exclusive interview we conducted with him, as well as a translated version of the speech he gave at wir haben es satt 2018.
Interview with Joel Labbe
ARC22020: You have come to Berlin with a message: Stop Glyphosate and all pesticides. You have spoken at the demonstration of thirty thousand people opposing industrialisation of farming. Moreover, you met German members of the Bundestag. How were the reactions? Do you think your initiative will be echoed on the other side of the Rhine?
Joel Labbé: I was invited to come to Berlin by Samuel Feret of the European Agricultural and Rural Convention called ARC2020. He said it would make a difference if I spoke to the German alliance "My Agriculture" at the yearly demonstration during the "Green Week" which is the big commercial exhibition of the food industry in Germany, and also to meet German members of Parliament. I had very warm welcome and stimulating meetings. It was my chance to explain the new law in France, which bans the use of pesticides in public spaces since last year and the ban in private gardens from next year. The members of Parliament were interested to launch a similar law in Germany. I started my European tour in Germany and I want to visit more member states so that we launch a European movement to stop pesticides everywhere. I am ready to come back to Berlin very soon with a delegation of mayors who already apply the law in France in order to convince our German colleagues to join us in our effort. The initiative is important to preserve biodiversity and public health in Europe.
ARC2020: As mayor of your town in Bretagne you were able to show that villages and towns can do without pesticides to keep public space free of weeds. People being elected on a local level are they sufficiently involved in the discussion about the use and dangers of pesticides.
Joel Labbé: Since I am mayor of Saint Nolff in Brittany from 2007, I have applied the no pesticide practice. When I was elected Member of the French Senate in 2011, already 10% of Commune in France applied this practice. Before we could adopt the law as it exists today for the entire French territory we had to do a lot of pedagogical work and publicity in order to create a majority in the French Parliament. This was only possible because local communities, at the beginning in a minority were already convinced that without pesticides they could manage public spaces. Now one year after the law has passed the National Parliament there is a majority carrying this approach. The elected members on all levels also feel that they do what the public expects them to do.
ARC2020: At the demonstration of "Wir haben es satt!" – (We have had enough!) you spoke to the crowd expressing your wish of creating a civic movement across Europe to ban all pesticides. How far do you think this dream may come true in all towns, gardens and in farming so that we can live without pesticides and eat healthy food?
Joel Labbé: I was really impressed by this powerful demonstration of people and generations from all walks of life. They are demanding not less than what we are striving for in France: banning Glyphosate but also pesticides in general. They demand simply sustainable farming, organic farming, and healthy food. I believe we have in France the same potential to mobilise civil society on those issues. However, for the moment farming and food policies are still under heavy pressure from the interests of the agro-industry. I believe in a powerful mobilisation of civil society for substantial change of these policies. In addition, I believe this can happen as a powerful European movement, which is so much needed in our times.
This was the positive message I wanted to get across to the people at the historic place of the Brandenburg Gate in Berlin and to the members of Parliament and in German Bundestag. I was moved and encouraged during my visit to Berlin that we can make it happen. Our demands may sound utopian. But they are realistic. I am sure I will be back in Berlin soon to help making our dream come true!
Speech by Senator Joel Labbe at Wir Haben Es Satt 2018 (translated into English)

The French parliament adopted a law, at my initiative, the 6 of February 2014. Thus, since 1 January 2017, public persons – the State, local and regional authorities and public bodies – can no longer use chemical pesticides to maintain green spaces, forests or public highways. Some had already taken this approach for many years, as shown in the information report produced by the Senate Delegation on Local and Regional Authorities and Decentralisation entitled "Local and Regional Authorities Commit to the Climate" (no. 108, 2015-2016).
This law will also prohibit the sale of plant protection products to private individuals from 1 January 2019. Before 1 January 2017, around 10% of the total volume of plant protection products used in France was for such non-agricultural purposes.
The products usable in organic farming, those who are recognised as biocontrol, basic substances and traditional preparation are not forbidden by the legislation.
Yet, reducing non-agricultural use of plant protection products has a triple bottom line: Health issues are our first concern as we now know how dangerous acute exposure to such products can be from a dermatological and respiratory perspective. Users are often poorly informed and fail to protect themselves adequately against the dangers of such chemical products and tend to use them in excessive quantities. The report drawn up by our colleague Ronan Dantec on the draft legislation aiming to better control the use of plant protection products in France noted that "on a long-term basis, a collective valuation by the [medical research institute] INSERM published in June 2013 underline[d] the existence of a link between occupational exposure to pesticides and certain adult pathologies including Parkinson's disease, prostate cancer and other cancers such as non-Hodgkin's lymphoma and multiple myelomas"
Our second concern is for the environment as these products very often have a significant role to play in water contamination. Water does not respect borders and, as such, these problems are transnational and encountered by every country which uses plant protection products
Our final concern is economic as biodiversity provides significant services for our ecosystems. The value of domestic and wild pollinators alone is estimated to be some €153 billion per year. Damage to biodiversity costs between €1,350 billion and € 3,100 billion per year.
This regulation was just the first foot in the door, and after many years of struggle we succeed to adopt the total ban of neonicotinoids, those famous bee killers pesticides, in a great law to support biodiversity.
After the big scandal of the re-authorization of glyphosate by the European Union, (I know that makes you angry too), the french government, has committed to forbid the glyphosate before 2022.
We must ensure that this French initiative is extended to the whole of the European Union under its environmental and public health protection competences. Furthermore, the European Union's work should not be limited to within its borders but must also be part of an international drive to generalize control over the use of plant protection products. This is the aim of the European resolution we adopted in the french senate in april 2017.
Until we could have a general legislation across all the European union we encourage each member state to adopt legislation on the same model in order to ban pesticides from public spaces, urban areas, and private gardens, forbid the use of neonicotinoids and glyphosate ! We must act now ! We have waited too long!
More
Below French President Emmanuel Macron appears to role back on his commitment to ban glyphosate by 2020 (25th January)