On 25th April, following years of pressure from agri-businesses, a bill was approved by Brazil's Lower house of Congress which could significantly weaken the principal law protecting the Amazon rainforest in Brazil – the Forest Code. The bill, which can still be vetoed by the country's president, Dilma Rousseff, will open up vast areas of currently protected land to farming, with devastating consequences for the environment. With just a few weeks to go before delegates descend on Rio for the UN Conference on Sustainable Development, pressure from environmental groups and civil society is mounting on the government to stop the bill. On May 25th, Dilma Rousseff vetoed parts of the new Forest Code but fell dramatically short of the demand to completely veto the new law.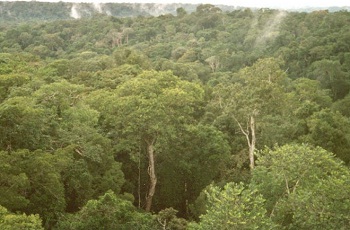 According to a Greenpeace campaign, the proposed changes to the Forest Code would lead to the loss of rainforest area equivalent to 47 million football pitches. This includes so called forest belts which prevent cultivation close to riverbanks and hilltops, put in place to reduce mudslides. The bill will also provide amnesty to those who deforested illegally before 2008.
The changes are being backed by large landowners, insisting they will help ease what they call an unfair burden placed on small-scale farmers. Small farmers organisations however remain opposed to the new Forest Code. In reality only large land owners will benefit, using the land to boost production of cash crops to export to the global market.
The Soy Factor
In recent years, global demand for soy has rocketed. Brazil is one of the world's top producers. Soy, a crop high in protein, is used to feed livestock and support cheap meat production, especially outside of Latin America. US companies dominate the soy industry in Brazil, with a number of large corporations exporting soymeal to Europe. Trading companies have a crucial role in controlling the entire production process. Farmers depend on them to provide credit and supplies of fertiliser and pesticides. These companies also manage the logistics, arranging storage, transport and processing (see What's Feeding our Food, Friends of the Earth 2008).
The impact of soy production is catastrophic. Vast (mechanised) soy monocultures devastate  tropical ecosystems, accelerate climate change, wipe out biodiversity, destroy soil fertility, pollute water and displace communities. They also inhibit local populations from feeding themselves , thus increasing food insecurity.
Civil Society Reaction
The date for making a decision on whether or not to veto the bill was set for May 25th. In the run up to what the New York Times describes as a 'defining moment of her presidency', Dilma Rousseff faced large-scale pressure and anger about the bill – from both the national and international community. More than 269,000 Brazilians have signed a citizens' initiative (an official petition to the government) for a new Zero Deforestation law to protect the forest, whilst almost 2 million people have signed a petition launched by Avaaz. Greenpeace International also designed a letter campaign demanding her to veto the Forest Code Bill and launched a video (see below).
The president has now blocked 12 parts of the new law and added 32 modifications to the text. The administration is due to reveal full details of the modifications in the near future. See more on the story here: http://www.greenpeace.org/international/en/press/releases/Dilma-delivers-vague-announcement-of-new-Forest-Code/