Following an awkward stand-off, the informal meeting of the Agriculture Ministers saw the Council, Commission and Parliament come together again on agreed terms to try to push for CAP reform to be substantially completed during the Irish presidency.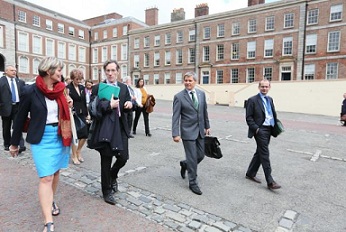 As previously reported on ARC, late April saw a distinct lack of progress: the failure to agree a MFF (Multi-Annual Financial Framework), upon which CAP depends for funding, and the fact that the Parliament and Council Presidency failed to meet being the two most serious examples.
On Tuesday, Irish Minister for Agriculture, Food and the Marine, Simon Coveney welcomed the engagement of the Parliament:
"Two very notable things happened at our gathering over the last two days. For the first time, the European Parliament engaged in direct discussions with Agriculture Ministers on important issues that are of concern to us all. They did so in a very open and constructive way, which I and my Member State colleagues warmly welcomed. And that in turn facilitated a very useful and comprehensive Council debate, informed directly by the points arising from the discussion with the Parliament."
The discussion with the European Parliament took place on Monday morning, when the Council was joined by the Chairman of the Parliament's Committee for Agriculture and Rural Development, Paolo De Castro, the rapporteurs on each of the four CAP reform dossiers, and the co-coordinators from each of the Parliament's political groups.
De Castro and the rapporteurs outlined their positions on key issues, while Ministers were then given an opportunity to state their concerns and to have a dialogue with the Parliament to identify potential areas of common ground.
It has been reported in the Irish press that Minister Coveney's "approximation", or external convergence, to distribute direct payments within Member States, may be accepted, but that a high minimum payment is still being pushed by the Commission.
The upcoming farm council in Luxembourg on 24th and 25th June is considered crucial in the process.