A new study commissioned by the European Environmental Bureau (EEB) and carried out by the Institute for European Environmental Policy (IEEP), has suggested that the greening of the Common Agricultural Policy (CAP) is on course to end in failure by allowing farmers to secure European funding while not taking measures to protect the environment.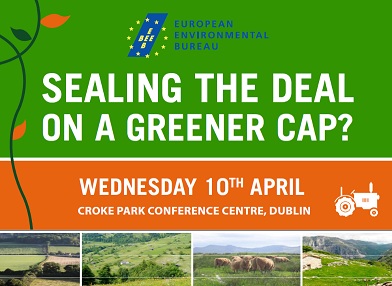 Launched at the EEB event – Sealing the Deal on a Greener CAP? – held on April 10th in Dublin, the report evaluates how a proposal supported by Agriculture Ministers under which farmers would be considered 'green by definition' could work on the ground. It examines five countries: Ireland, France, the Netherlands, Poland and Spain, and assesses in broad terms the degree to which existing certification schemes for farm products (involving environmental requirements) or voluntary measures under agri-environment schemes could be considered to be 'equivalent' to the package of three compulsory greening measures proposed by the Commission in October 2011.
The study concludes that while equivalence may sound like a sensible and practical option in theory, the practical issues with its application are likely to lead to far greater administrative complexity and cost, both for Member States and within the Commission and with little additional environmental benefit.
Find the full news story on the EEB website here
Find a four page briefing of the study here