For years, Romania has been a playground for foreign investors. Drawn by the vast amounts of available land, along with prices lower than in the rest of Europe, more than 700 000 hectares of land are now owned by foreign investors.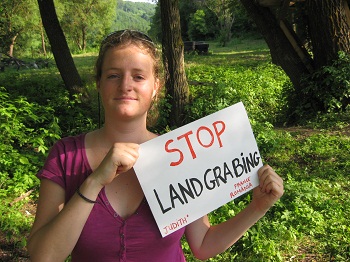 The current state of play in Romania is only adding to the likelihood of this process continuing. Land fragmentation, the vulnerability of peasants and weak rural development are all contributing to a mass rural exodus: Many fields are not cultivated. The current ultra-liberal regulatory and political framework are also supporting this phenomenon.
Seduced by the financial gain of leasing or selling their land, many landowners don't hesitate in signing contracts with agricultural companies. For example, in Aiton, a village in Cluj County, a single Romanian company is responsible for the cereal crops sowed on the majority of the land. In the village of Dudestii Vechi in Timis County, an Italian company has had a monopoly on land for 10 years. Frequently bought or leased for a minimum price, the land is then cultivated using intensive methods. This widespread phenomenon takes the land from the farmers and weakens rural communities, installing a barrier for all alternative development initiatives. The intensive agriculture practices on these lands destroy ecosystems and pollute the waters. On a local, national and European level, land grabbing threatens small scale agriculture and food sovereignty.
Observing these aspects, organisations campaigning for the rights of small farmers in Romania want to see a change in the political and regulatory perspectives to make rural areas attractive to the active population. They are also calling for local authorities, the Government and the new Common Agriculture Policy to stop this phenomenon and encourage small-scale, diverse farming: 'the only viable solution for a sustainable rural development based on responsible organic principles'.
Noting a lack of information on this issue, the small farmers association Eco Ruralis decided to investigate. A report on land grabbing in Romania, based on two specific cases will soon be available in Romanian, French and English.