On 19th January 2013, a huge demonstration against industrial agriculture (Wir haben es satt – We've had enough) will take place in Berlin. ARC2020's Good Food Good Farming campaign is supporting the event and inviting all those who took part in the Good Food March this summer, to join us at the event to MARCH AGAIN!!
So why Germany's capital? For the past few years, the International Green Week (the world's biggest fair for food, agriculture and horticulture) has been held at the International Conference Centre in Berlin. The event sees all EU agricultural ministers, as well as other key players in the CAP reform such as Commissioner Ciolos, come together in the city.
Why January? In 2013, Interntional Green Week is taking place from 18 – 27 January. Recent political events also make the date important.  Last month,  the EU Parliament's Committee for Agriculture announced that is has postponed the date for the final vote on CAP reform to January 23. As a result, the demonstration will happen just days before MEPs must decide on their standpoint.
Who is taking part? Last year, approximately 23,000 people attended the event. With the CAP debate hotting up across Europe, it hoped that 2013 will be a truely international event. The new EU-wide strong network from the Good Food March also provides an opportunity to mobilise across the EU….
The event will bring European citizens to come together to show policy makers responsible for the future of EU food and farming policy, not to mention German Chancellor Angela Merkel,  that we demand change for better! We are calling on all those who want to see a green and fair reform of the CAP to come to Berlin to join an international demonstration.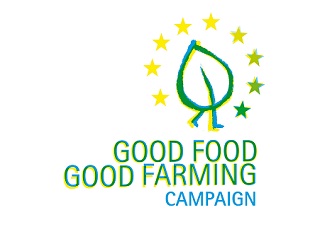 For more information see the Good Food Good Farming campaign website or the offical Wir haben es satt website (in German).