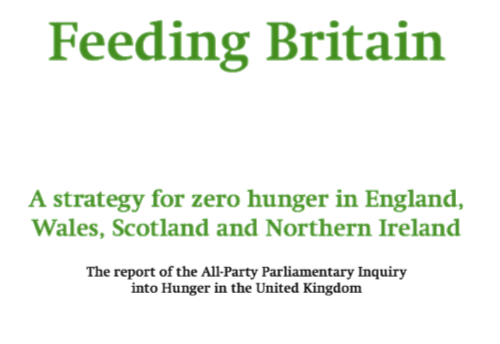 An inquiry by the All-Party Parliamentary Group on Hunger in the UK, co-chaired by Tim Thornton, the bishop of Truro, reported on the use of food banks in the UK just before Christmas 2014.
The bishop observed that householders often lacked access to social contact: "We have received lots of evidence to show that many of the normal and natural connections between people, in families, extended or otherwise, in neighbourhoods and even more widely than that no longer exist."
This links to a generalised finding by the Trussell Trust, Child Poverty Action Group, Oxfam and the Church of England in Emergency Use Only, a report on the rising use of food banks in the UK published around the same time. It also found that food bank users generally faced some form of acute crisis. Many were not aware that they could have applied for emergency payments under the Local Welfare Assistance Scheme, since welfare advisers had not mentioned the possibility.
"The acute crisis that led the people we interviewed to have to turn to food banks was set against a backdrop of complex, difficult lives. It was common for food bank users to have experienced ill health, bereavement, relationship breakdown, substantial caring responsibilities or job loss. Many lived on constantly low incomes. People with mental health problems appeared to be particularly at risk."
Up to one in three food bank users in the study were awaiting benefit awards to be decided: "…additional administrative data shows that around a third of food bank users reported claiming a benefit which had not yet been decided. In County Durham, less than half (47%) of food bank users who reported waiting for benefits said they knew they could apply for a short-term benefit advance (STBA), only 26% of had done so, and only 9% had been awarded the advance."
Problems with tax credit payments, made to parents working in low-paid jobs, were frequently a source of problems for food bank users, too. "Problems with tax credit payments had led to dramatic reductions in income for some interview participants, causing real hardship because they had previously been relied upon as a significant proportion of income."
Researchers identified a number of frequent problems among food bank users: illness; difficulty obtaining or proving educational qualifications or skills; problems with housing; isolation or lack of family support and debt.
More on Food Banks in the UK: 
The stats: 163% increase in use of Trussel Trust food banks 2013 to 2014 in UK
I finally used a food bank (Slugger O 'Toole Jan 25th 2015)
Food banks: MPs call for fresh inquiry into scale of UK food poverty (Guardian Jan 22th 2015)
Record numbers use Scottish food banks (BBC Jan 16th 2015)
Tory councillor Mark Winn says food banks only used by 'those with drug, alcohol & mental health problems' (Independent Jan 4th 2015)
Government dismisses study linking use of food banks to benefit cuts ( Guardian November 19th 2014)
More from Peter Crosskey