By Anastasiya Volkova of GEN (Global Ecovillage network) Ukraine
The Green Road of Ecovillages is a network of ecological communities and permaculture centers that give shelter to refugees from Ukraine. Some of the displaced people are now elsewhere in Ukraine, others outside Ukraine. It was born organically on the basis of an existing network and due to the incredible inner solidarity and international support developed into a beautiful project that has all its chances to become an example of sustainable development. We wrote about the first three months of the project and now will see what are the achievements and new challenges.
Ukraine | the Green Road of Ecovillages – Communities that Protect
From a sprint to a marathon
The first months were one big shock for everybody: ecovillage people that opened their doors for other people, refugees that were coming with one bag and had to adapt to simple living in the countryside, coordinators that were working day and night to run the project. Everybody hoped in their rush that this nightmare would soon end.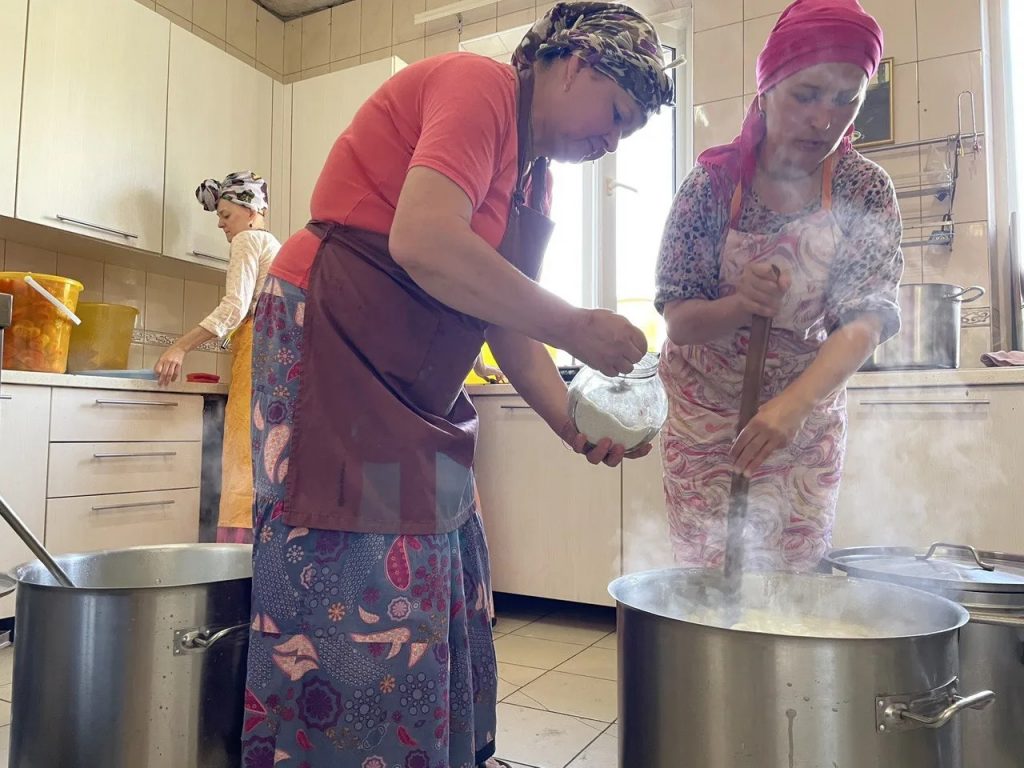 But despite the incredible resistance of Ukrainian people the Russian aggression did not stop and has transformed into a long lasting exhausting war.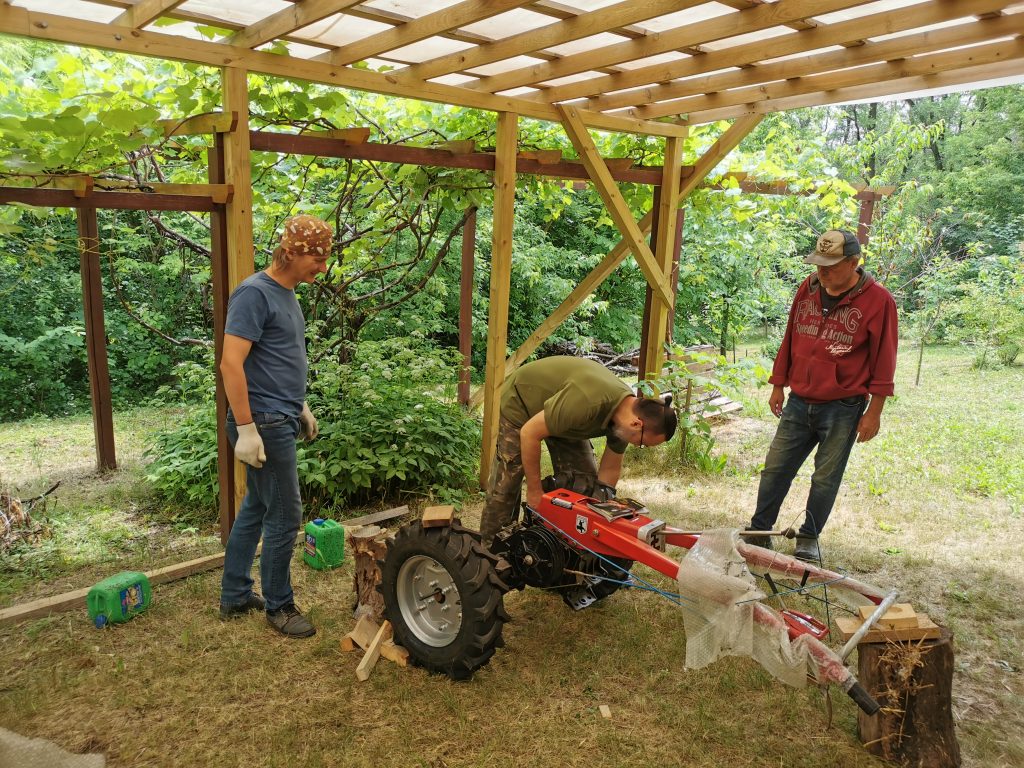 When the first basic needs for hosting people like mattresses, stoves, food etc were covered, it became clear that we have to think about long co-living and cooperation of ecovillage people and their new neighbors.
Food security, improving infrastructure, and entrepreneurship became priorities of the Green Road.
Growing and preserving food – some figures
35 greenhouses were bought to the locations of the Green Road. It was done with the help of donations from all over the world. These greenhouses became not only sources of greens and cucumbers for the communities but also meeting points for hosts and guests and opportunity to work together.
10 two-wheel tractors and hand cultivators and a number of implements for tractors went to the ecovillages and permaculture centers that have enough land to work on and that is a great contribution to their future as food growers.
Gardening tools were bought for refugees to facilitate their work in the vegetable patches.
A number of tanks for harvesting rainwater were provided to water the gardens and greenhouses.
Several family farms got equipment for milking animals and cheese production.
Dehydrators went to a number of communities for common use to dry fruit and vegetables for winter.
All this is an incredible support that will allow people to feed themselves and to establish new productions systems.
Improving infrastructure
Electric and gas stoves for cooking, fridges and washing machines, kitchen gear – basic things that make life easier for refugees, especially for women with children. Chainsaws for cutting wood, tools for repairing houses and making furniture – making life easier for men in the ecovillages who now have to take care not only about their families but also about new neighbors.
Water pumps for wells – more than 30 of them were cleaned and are being used now.
We are still far from covering all the needs but already gave great support to the communities of the network.
For tools and important investments provided by GEN Ukraine the priority is common use: when it can serve a lot of people and not one family. Like one cement mixer for the whole ecovillage or one grass mower for several neighboring houses. Like this, the culture of sharing and common infrastructure is being introduced in Ukrainian ecovillages.
Common spaces and preparing for winter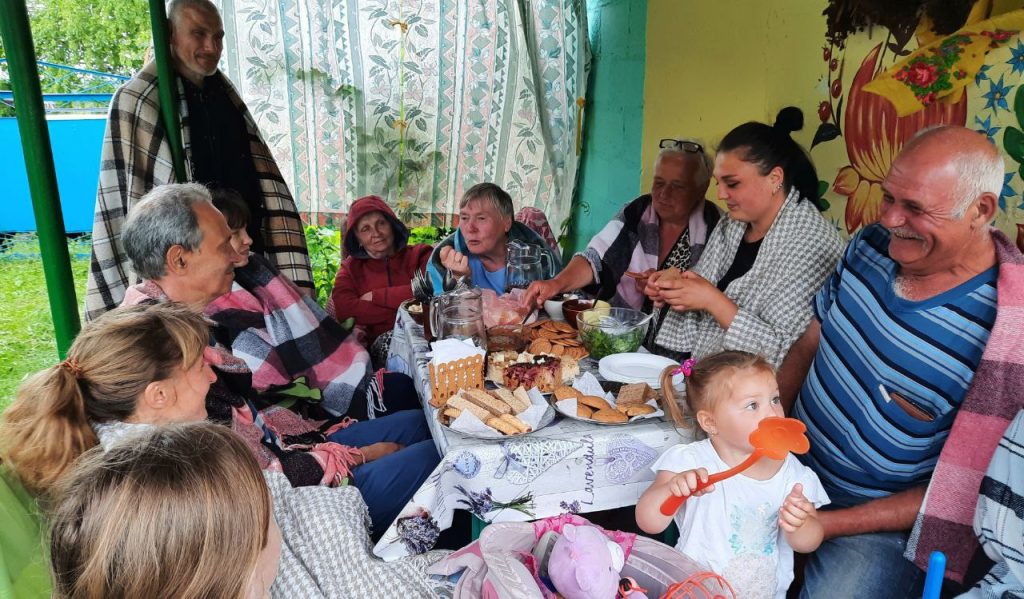 One of the priorities of the project now is building common houses and common kitchens in the communities. These are places where ecovillage people and refugees can spend time together. It helps integration of refugees into communities and their rehabilitation. For the same purpose playgrounds for children are being installed.
It is clear now for everyone in Ukraine that the coming winter will be hard. The escalation of Russian attacks is being predicted, lack of fuel and problems with electricity are being feared.
With the help of donations the organisation is now supporting the purchase of wood for heating the houses.
The big issue is that a lot of old houses are not ready for winter: they need isolation, new windows, running water, sewage systems. We try to help but can't cover all the demands.
A number of communities have decided to build or restore common houses that will be able to host more people in one place in case of new waves of migration in winter.
Children summer camps and rehabilitation weekends
Several locations launched with GEN Ukraine support summer camps for children from displaced families. Camping in the countryside, hiking, sitting by the fire, communication with animals and care from the hosts are the best psychological support that helps children to forget the stress of the war.
GEN Ukraine provided tents, mattresses and sleeping bags, pots to cook on fire and the ecovillages offered their time and skills to make these camps happen. Also a number of locations organised rehabilitation weekends for displaced families and volunteers when people could spend time in the countryside gardening or making some crafts.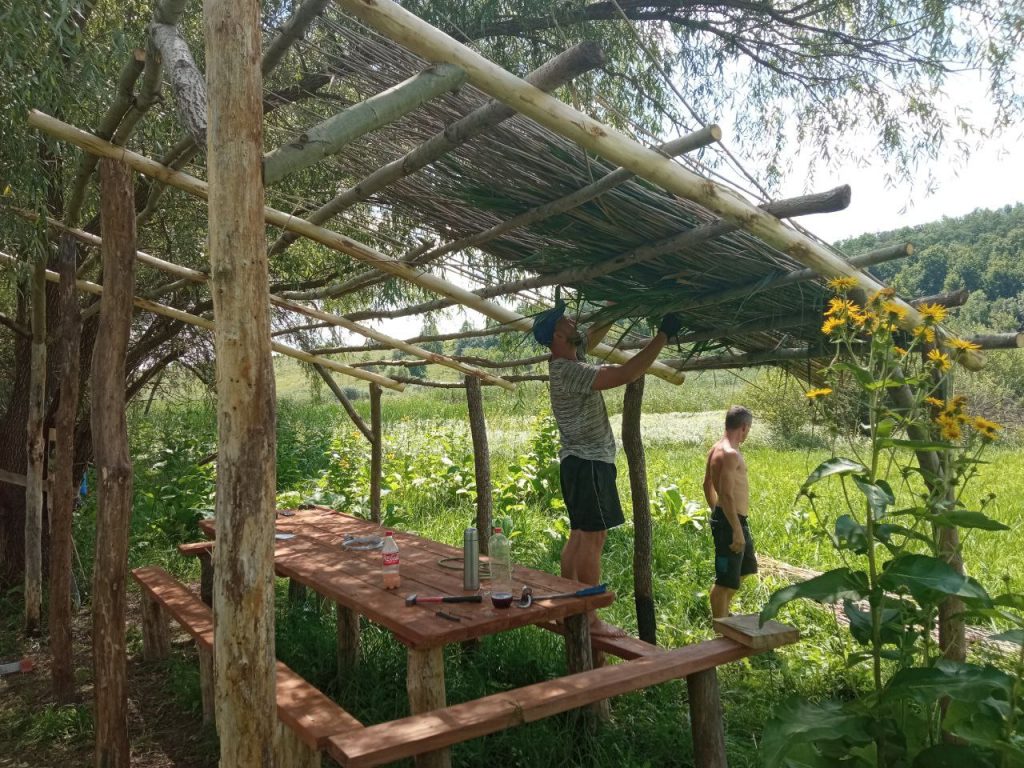 Bicycles for ecovillages
The specifics of the ecovillages in Ukraine is that they are often situated in ordinary villages and have big distances between the houses. And the roads are far from being good in Ukrainian villages. That's why GEN Ukraine launched a project of bicycles for ecovillages. We are collecting used bicycles in Denmark and the Netherlands and sending them to Ukraine as humanitarian aid. Then we repair them and send to the ecovillages.
A repair shop was created in the city of Lviv where came representatives of several ecovillages to learn how to repair bicycles and now they will be able to open repair shops like this at home. We even went further and learned how to transform an ordinary bike into an electric bicycle rather cheaply and that can solve the transport issue in the countryside.
Danish-Ukrainian friendship
GEN Ukraine has been cooperating with the network of Danish ecovillages since 2018. And these were Danish friends that were the first to react and support the project of the Green Road. Two trucks with humanitarian aid were sent for the locations. With mattresses, clothes, food, household appliances, tents and sleeping bags. One Danish charity organisation provided more than 60 used laptops for online schooling of children and remote work of displaced adults. This summer a GEN Europe gathering took place in Denmark and Ukraine came with a big delegation to represent the project. This event was a mutual enrichment for both sides.
Sustainable future
There are still many practical issues in the ecovillages that need financial support and the project continues collecting donations. But at the same time we feel optimistic about the future of our network. And the ecovillages and permaculture centers have all their chances to become examples of sustainable solutions: growing and processing organic food, natural building, green energy, recycling and sharing. The project showed its resilience in conditions of the hard war times and will be able to share this knowledge after the victory.
You can support the project with donations:
PayPal: zalevskim@gmail.com Personal transfer by https://wise.com: EUR into UA 4731185605364501 Zalevskyi Maksym zalevskim@gmail.com or other variants on our website. We are also inviting volunteers to come and help us in construction and garden works. For any questions you can contact us at genukraine2018@gmail.com
More on Ukraine