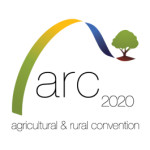 ARC2020 PRESS RELEASE – FOR IMMEDIATE RELEASE
We reject the Council ambush on greening – a reform without greening has no meaning!
An à la carte EU farming policy will weaken the common principles and increase the distortions among Member States
Brussels 02/05/2012 – EU Member States must work decisively to build on the European Commission's greening proposals. The Agricultural and Rural Convention (ARC2020) is alarmed at attempts by a number of national governments to tear apart the proposed enhancements to environmental protection in a reformed CAP by putting forward watered-down, weak and empty alternatives to mandatory "Greening". In many areas this would make environmental quality lower than before the reform and go against the desire of citizens[i] for sustainable, clean and healthy food systems.
ARC2020 calls on EU national governments to ensure that the greening component, proposed under the CAP for 2014 – 2020, is fully equipped to decisively steer European food and farming towards full sustainability by 2020. "Without this urgently-needed paradigm shift, it would be an empty, meaningless reform" said Véronique Rebholtz, Coordinator of ARC2020.
A number of Member States, led by Germany, are advocating to broaden the current greening proposals, allowing national governments to choose different approaches. These proposals include an option to transfer a mere 10% of direct payments to agri-environmental measures under the second pillar and to open up the eligibility criteria for greening payments. "This is an attempt to maintain the status quo in agriculture and to further green-wash the new CAP", said Véronique Rebholtz.
It is crucial that the greening component under the first pillar truly supports the transition away from unsustainable models of agriculture fostered through the CAP by improving the environmental performance and increasing the social and economic resilience of EU agriculture. Successive reforms of the CAP over the last decade have brought about important, but incremental change to European farming policy.
Speaking on behalf of the ARC2020, Samuel Féret said "The European Commission's greening proposals are signs of a small step to tie direct payments comprehensively to environmental protection and realise a paradigm shift in European agriculture and food towards 2020. The greening component must offer all EU farmers a simple, well-designed package of greening measures including the protection of permanent pastures, better crop rotation and the development of agro-ecological infrastructures".
He added "National governments should work proactively to build upon the Commission's proposals to ensure the long-term ecological, social and economic viability of European farming and rural areas".
-ENDS-
[i] Eurobarometer: http://ec.europa.eu/agriculture/survey/2010_en.htm