On Sunday, a big group of us gathered on the SpeiseGut farm, right on the bank of the Havel river in Berlin, to plant the seeds that will bring the newest 2000m² field to life.
If you're not familiar with our 2000m2 project, it is based on the idea that if you were to divide the global surface of arable land by the number of people on the planet, we would each get 2000m². It is on this piece of land that everything Mother Earth supplies you with must grow: wheat, rice, potatoes, fruit, vegetables, oil, sugar…not to mention all the animal feed that does not stem from meadows and pastures. On top of that we also need to grow cotton for our clothes, tobacco for smokers, "bio" gas or diesel, and other so-called renewables on our field.  The idea in looking at global resources through this lens is to creative a more digestible tool for thinking about the food we eat: both our levels of consumption and methods of production.
On the first German field, we decided to plant a representation of the global situation scaled down to 2000m² (and adapted slightly to match the climate).  A few weeks ago, we plowed the field so that it was ready to go.  On Sunday, assisted by this surprise early spring in Germany and a breezy 19°C day, we made a day of planting the seeds, turning it into a little garden party; we were very happy with how many people turned up to help out on the field.  Planting together made for fun work, and after the global field had been planted we shared soup and chatted in the sun about the next steps for this project.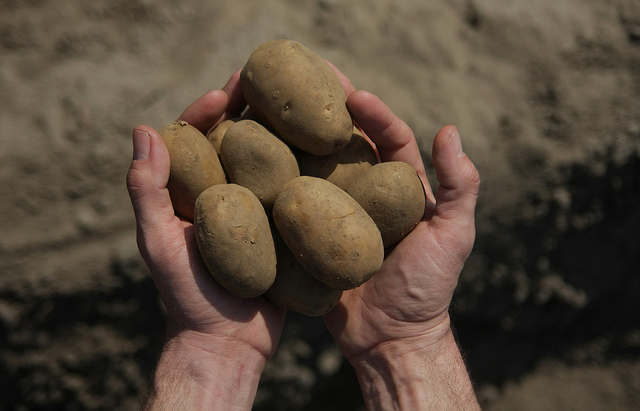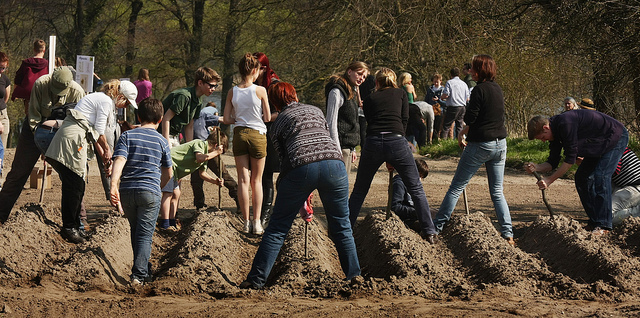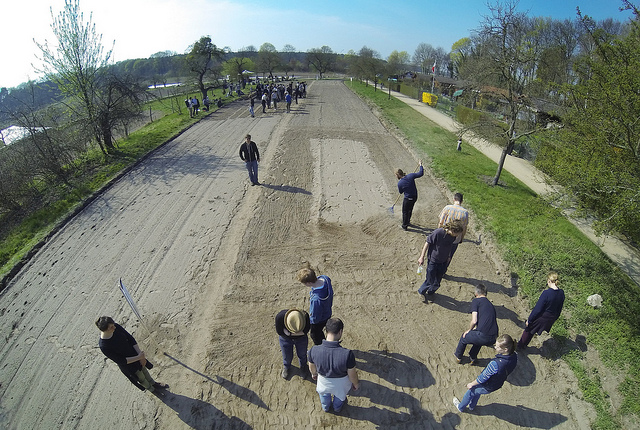 We also set up a table for making seed balls to keep mini-farmers happy and occupied.
Before the big Planting Day, our friends Ida-Johanna, who runs the 2000m2 project in Sweden, and Pavlos Georgiadis, sent us these messages from their respective fields.  We look forward to seeing how things differ on the three fields this summer.
See also: