The Irish government, who as part of their hosting of the EU Presidency, are also hosting the Hunger, Nutrition and Climate Justice conference, is being accused of extraordinary hypocrisy by Irish and other NGOs.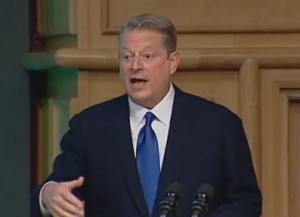 The Irish Food Sovereignty Working Group, along with NGOS Friends of Earth Ireland, Trócaire, Oxfam and Christian Aid organised a free, open to the public event last Monday called "Climate Justice Begins at Home" to coincide with the invite-only high level conference.
Speakers on the panel included Maanda Ngoitiko, a Maasai Pastoralist and Land Rights activist from Northern Tanzania, Cecilia Kibe Muthoni, the co-ordinator for the Kenya Climate Justice Women Champions, John Brennan, an Irish Organic farmer and Molly Walsh, a Campaigner with Friends of the Earth.
"We believe that climate justice must start at home and that this means developed countries like Ireland taking responsibility for reducing our emissions." A particular focus on the event was "what climate justice really means in terms of sustainable agriculture, food sovereignty and land use" the organisers said in a statement.
Ireland recently brought in a climate bill with no meaningful targets, while its agriculture sector alone is predicted to radically increase emissions even by 2020.
Friends of the Earth Campaigns Director, Molly Walsh, commented "Climate Justice is fundamentally about rich countries taking responsibility for causing climate change and doing their fair share to stop it running out of control."
Without a 2050 target for emissions reductions the Government's support for climate justice is empty rhetoric. If the Government is serious about climate justice it will put back into its draft law the 80% target that has been present in all previous climate change Bills.
"Today's conference is discussing the critical issue of how smallholder farmers in the Global South cope with the climate change we have caused. But hosting this important event is not enough to make Ireland a leader on climate justice. Climate justice begins at home.
"What will make Ireland a leader on climate justice is passing a Climate Change Bill with strong emissions reduction targets."
Meanwhile, all relevant Irish ministers have been waxing lyrical, with all the Stanislavski earnestness they could muster, at the Hunger Nutrition and Climate Justice event.
Irish Environment Minister Phil Hogan, speaking at the event, pointed out that "sadly it is the poorest countries with agriculturally dependent economies which are the most affected despite them having done the least to cause the problem." He still manages, however, to take credit for "working hard to advance the technical negotiations on climate change at UN level."
This theme of unfortunate others was continued by a queue of Ministers: "Climate change is already having a devastating impact on those who suffer most" Irish deputy Prime Minister (Tanaiste) Eamon Gilmore said, somehow continuing: "what is involved is rights, justice and equity".
These and other ministers have shared stages and polite glasses of wine with everyone from Al Gore to actual climate change victims at this event. That the latter must return to an encroaching disaster after the event is a matter of shameful fact.