NEW: Listen to Oliver Moore of Arc2020 talking on Irish national Radio show Countrywide  about the event (@ 12.46mins)
Dozens of food and farming NGOs converged on Brussels to take part in the first day of the Good Food, Good Farming conference. More than 200 delegates were addressed by Dilyana Slavova, president of the section for agriculture, rural development and environment of the European Economic and Social Committee (EESC). She welcomed the input and involvement of civil society in an ongoing discussion of European agricultural policy.
DG Agriculture director economic analysis Tassos Haniotis reminded his audience that "…markets don't pay for the environment," least of all in a sector like agriculture.
Organic farmer and vice president of the Poitou Charentes Regional Council Benoît Biteau warned farming in Europe is over-dependent on oil for both the nitrogen applied to crops and warned that "…exhausted soils can no longer stock carbon."
Patrick Holden, founder of the Soil Association and head of the Sustainable Food Trust told his audience that organic farming had been "ghetto-ised" and that farmers needed to be able to make a business case for sustainable food production with sustainability metrics. "We need a food change plan to shift the benefits of change."
Erik Mathijs, chair of the fourth SCAR Foresight Report made the case for "agroecology 2.0" and "ecological intensification" to meet future challenges.
Olivier de Schutter warned of the multiple lock-ins that go with current food production models: the cost of doing nothing was "enormous." Innovative alliances were not possible because of the multiple systemic crises across Europe, he added.
Four workshop streams spent the afternoon discussing the ways forward for restoring sustainability to European agriculture. These were themed around trade, CAP, sustainable diets and natural resources.  Each saw committed and innovative thinking, with visions outlined for better food farming and a living countryside, as well as specific suggestions for progress.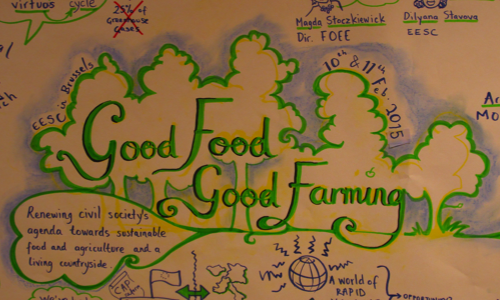 Day two will see the four workshop facilitators come together to report back from their workshops, as well as the synthesis of the progress made at the conference towards improving upon a draft roadmap circulated prior to the event.