As politicians pack up for summer, ARC2020 is turning its attention to the international summer camp taking place in Wietze, Germany at the end of August.  With just four weeks to go until kick off, preparation is gaining momentum. Across the country, buses and bike tours heading to the event are being finalised; and actions to mark the run-up to the event already taking place. Elsewhere, the number of confirmed international guests continues to grow.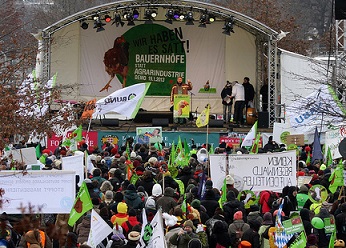 From August 29 – September 1, just a couple of months after Europe's Agricultural Ministers announced a deal on the future of the EU's Common Agricultural Policy (CAP) and only weeks before the general election in Germany, thousands of people are set to descend on Wietze in Lower Saxony to demand a change to our current food and farming system. The event is being organised by the team at Wir Haben es Satt, who also organised the demonstration in Berlin at the (cold) beginning of the year.
But why Wietze?
Wietze is home to the largest poultry slaughterhouse in Europe, and can be seen as a symbol of the type of farming that is destroying our environment, polluting communities, producing food we can't trust, putting our health at risk and displacing small farms. With plans to expand, the slaughterhouse – built with €6.5 million of taxpayers' money – could eventually see 430,000 chickens killed every day.
Why an action camp?
On Saturday August 31, a day of action will take place in Wietze. This will include a demonstration and a human chain around the slaughterhouse. With such a large and diverse set of participants expected, it seemed crazy to miss a great opportunity to get together, share ideas and discuss the future of our common fight. As a result, a series of side events before and after the main day have been organised.
On Friday 30 August, a full day of workshops will take place, hosted by representatives from food and farming movements across Europe.  This will be followed by the increasingly popular action against food waste: the DISCO SOUP. On Sunday 1 September, there will be time for follow-up discussion and reflection. Evening entertainment including films and live music/DJs will be on offer every evening from Thursday to Saturday.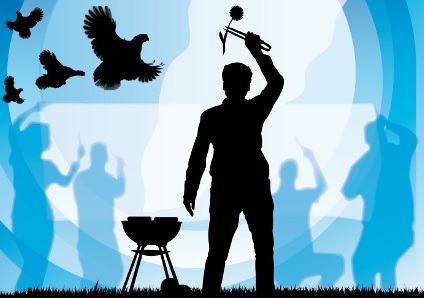 What's happening in the run up?

Last week, campaign group CAMPACT, launched 'Grillen gegen die Agrarindustrie' (grilling the agricultural industry). The initiative is encouraging people to organise sustainable barbeques to raise awareness of the action camp, and demonstrate that tasty alternatives to cheaply produced meat is possible. The action is proving to be a HUGE success, with over 500 events already confirmed. Find a map showing them all here.
How can you get involved?
Join us! If you would like to join us in Wietze, for one day or the whole event, don't hesitate to get in touch! 
Help us tell people about the event:
Find all information in English here on the offical Wietze pages: http://www.wir-haben-es-satt.de/start/english/