Rural area's resilience to crises, the foreboding security situation, the need for solidarity and the need for better structures, strategies and supports dominate the rural people's Declaration of Kielce, released at the end of the four day European Rural Parliament (ERP).
The Declaration is also noteworthy for critiquing "the economic paradigm of unlimited growth" but also for its absence of a representation for young people, who made up a dynamic part of the 350 participants in attendance.
Polish native and Agriculture Commissioner Janusz Wojciechowski addressed the opening session, referring to the essential role rural areas play for Europe's resilience. Participants at the ERP were drawn mainly from local action groups, government and policy workers, NGOs, and unaffiliated youth. Forum Synergies were instrumental in enabling a strong youth presence, at an event which saw the European Rural Youth Parliament integrated into the main ERP programme, and also a Rural World Café.
This 5th ERP was again organised by ELARD – European LEADER Association for Rural Development – an association for rural development, representing local action groups (LAGs) in Europe. Prepare (Partnership for Rural Europe) and ERCA (European Rural Community for Alliance) are co-initiators of ERP, while the Polish Rural Forum (local LAGs) hosted this 5th Gathering.
Future of Europe at European Rural Parliament – Sufficiency, Integrated Policy, & Rural Action
Kielce Declaration
The Kielce Declaration initially focuses on the positive aspects of rural Europe, as a resilient, solution-focused place with activities "promoting social wellbeing, enabling cooperation, education, support to community leaders and building trust" all of which "can help decrease tension."
Read, download the 5th European Rural Parliament (Kielce) Declaration
"There is a need for "critical local services, infrastructure and economic development, and for young people, minorities and migrants."
A "genuine rural agenda" needs to involve "devoting appropriate funding" and include "rural development within the broader political framework. An integrated, strategic cooperative approach at all levels is needed.
There is a call for more subsidiarity in part 5, with programmes "also as part of Cohesion Policy". Moreover "Programmes should be deployed on a decentralised basis, through local partnerships, so that financial support can best respond to the needs and challenges. Community Led Local development (CLLD) should be mandatory in all member states, including all European Structural and Investment funds (ESI)."
It is noteworthy that the Declaration points to challenges stemming from the natural environment as "the most significant, long-term and overarching" of challenges, urging "rapid and significant action" to tackle them.
The potential for rural areas to provide for energy needs in the move to zero carbon, is noted, as is the desire for "local people to have control over and be able to benefit from" renewable energies.
Interestingly, the Declaration ends with a critique of the economic paradigm of unlimited growth – which "cannot continue": instead, there needs rapidly to be a sustainable development model "beyond growth".
Experiences and Analysis
In this case, the ending is a good place to start. Calling out growth is quite strong language the Declaration is also strong in calling for "a genuine rural agenda" and spelling out some of what is needed. The emphasis on the natural environment, while naming both climate and biodiversity, will be welcomed by many.
However there has also been criticism of the reliance on voluntary work and the lack of "concrete steps and solutions" – such as how to localise the European Green Deal with the help of LEADER/ Community-led local development, Nina Klein of Ecolise remarks in its upcoming newsletter. The "ERP is an expression of the fact that democracy relies a lot – some would say: too much – on voluntary work. A proper representation of rural voices would merit – and need – even more efforts and resources, which is only feasible with a proper remuneration of care work."
As a young person, Agnese Janeka of Latvia, loved how involved rural youth were in the event, encountered "really valuable viewpoints" and was overall quite energised by the experience.
Donát Lanszki, a young person from Hungary, also found the experience enlivening, including "when we got the team together and worked out how we were going to communicate that we came up with during the workshop. It was a wonderful experience, the way the ideas and alternatives came, as well as the way we voted on certain things and argued for and against what, why, how or not to do it was also magical."
While he found the Declaration agreeable, but he personally has a different emphasis. Enabling the functioning of decentralised systems, using a theoretical approach, involving youth "as soon as possible and at the most serious level" are key to the kind of change-making that is required. A monitoring system could help in practical terms to empower young people.
There was however some consternation at how the Declaration had so little to say about rural youth – which contrasted sharply with the energy this group displayed in their sessions.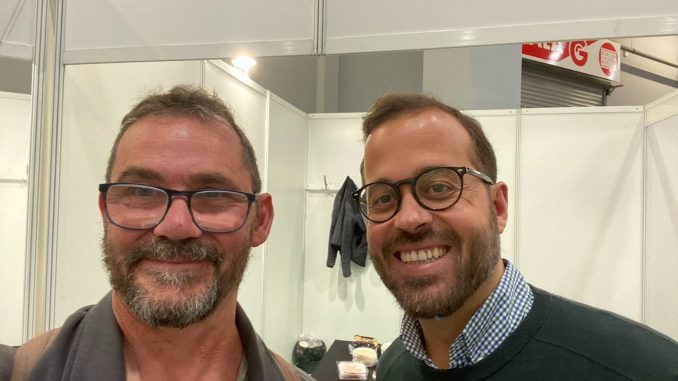 Others were concerned that the otherwise positive call for a real rural agenda "lacks detail on how we might do or achieve this" as Davie Philip of Cultivate (Ireland) added.
The Youth Conversation Cafe was a highlight for Philip. It featured "lots of important conversations on a range of topics including housing, work, climate, and community". The Scot, who has lived and worked in Ireland for 25 years, found it "refreshing to have an opportunity to engage in a participative and engaging way in a session designed and held by the youth delegates of the ERP".
It is somewhat unusual then, that the Declaration doesn't reflect the concerns or solutions of youth.
"Youth is not enough represented in this declaration" says Katrina Idu of Forum Synergies. "Some crucial aspects that they have brought to the table are missing"
"The message that we heard in World Cafe by Youth, in the youth final declaration on the last day of the reporting session and from panel sessions, is that (1) youth is the future, but it should not be seen as an entity apart – when we are speaking about youth it is about 18-30 aged young people with multiple local and/or international experiences, young people are entirely capable to take full part in decision-making processes and in policy and solution design and with their energy and "audace" they are often the origin of solutions, meanwhile, to be fully integrated (2) young people need some support from those who are more experienced – intergenerational exchange and mentoring systems are key here."
Loss of democracy, corruption of EU funds in some regions, cybersecurity, and degrowth – the latter a strong and specific term – were emphasised by young people. However in the case of degrowth, the phrase adopted in the Declaration was instead that of a "sustainable development model".
The weakness of the security references also concerned Idu, a Latvian: "we are facing real War now: what misses in the declaration is an acknowledgment of our vulnerability and the importance of cross-border cooperation, as well as access to information and the ability and capacity to use" it. Again there is an intergenerational dimension to this, which youth could play a prominent role in.
Idu is hopeful that the manifesto will be updated to incorporate more from the Youth's perspective.
Enrique Nieto of AEIDL, (Spanish, based in Brussels) found it important that ERP was able to function as "an example of solidarity with Ukraine and Armenia whose local rural communities are suffering the aggression, occupation and criminal acts by Russia and Azerbaijan. It reminded us that peace is the basis for prosperity, and Europe should act as a peace leader in the world positioning next to those that are suffering."
Overall the Kielce Declaration "mostly avoids getting to the root causes and is missing how we actually might make the transition and transform our rural territories without a business as usual approach" as Davie Philips puts it.
That said, it could also be said that a simple document mostly calling for changes is easy to work with, and can be adapted to the specificities of the local level.
General sum of people's considerations
Why are policies not responding to rural needs?

What are the concrete ideas to revitalize the LEADER approach so it can respond to modern challenges and opportunities ( of course beyond asking for ring fencing more money for business as usual)? How can LEADER demonstrate its added value so as to respond to the demands of citizens for efficient policy instruments?

How to solve the administrative complexity to support community led local innovation? If people, organisations or communities cannot access LEADER support, what rural supports can they benefit from?

These forums could be used to find solutions to improve policy instruments and reflect on how the policy framework should look in the future, to better support community and transformative action.

Business as usual risks supporting existing dynamics in a Europe where regressive populism can weaken the European project overall.
Imagine an ERP that energised local democracy at one end and acted as a policy hothouse for best ideas and strategies for actioning a real rural agenda to progress the EU Green Deal?
There is great work in, but also great potential for the European Rural Parliament to become a democratic cradle for Europe. As a European umbrella of a growing number of national rural parliaments it is a unique new democratic hub – so much needed in times of growing abstentionism in representative national parliaments – where populist and extremist leaders enter through the back door of people's frustrations and fears of the future. Yet the ERP needs to be fully realised and play a much stronger role as a springboard to animate a democratic agenda for rural action beyond the rather established framework of LEADER and even ELARD.
It will be not enough for the ERP to just join a new Rural Pact framework animated by services and controlled by the European Commission as one among many other rural stakeholders with many different specific agendas in well paid advisory work, research and academic circles. As a forum of rural citizens the European Rural Parliament should dare to take legislative initiatives to be suggested to the European Parliament and the Commission or suggest new budget lines which the European Parliament could propose to the European Council for rural development programmes. This then would stimulate the Commission to take ACTION for better integration of policies. There are also networking mechanisms, such as ENRD, and they play an important role. But is this robust enough overall, considering the challenges we face and the needs we have?
There is an unwritten regulation in our "Rural Europe Takes Action" book, which changes the priorities of an endless growth model of development. Our book – subtitled no more business as usual – also features many examples of inspirational social and ecological transition in the real world.
The elements of our book – an unwritten regulation, a framework, inspirational real initiatives – can itself be used to develop strategies for action, working with and through initiatives like the European Rural Parliament to actualise the best of what rural Europe can be.
More
Future of Europe at European Rural Parliament – Sufficiency, Integrated Policy, & Rural Action
Reversing Rule and Exception – Transformative New Integrated Policy for Rural Agri & Food presented in European Parliament
Rural Europe Takes Action | A Shared Space for Food Transition
Rural Europe Takes Action | CSA and the Building of a Food Commons
Rural Europe Takes Action | Regenerative Governance in Rural Spain
Rural Europe Takes Action | Creating Alternatives, Creating Community