Progress towards a CAP Communication is ongoing, with two events held recently. These have updated Minister and other stakeholders of the progress towards a making changes in the Common Agricultural Policy – CAP. They have also providing an opportunity to test the popularity of ideas and make the case for sector positions. Here's our July CAP roundup.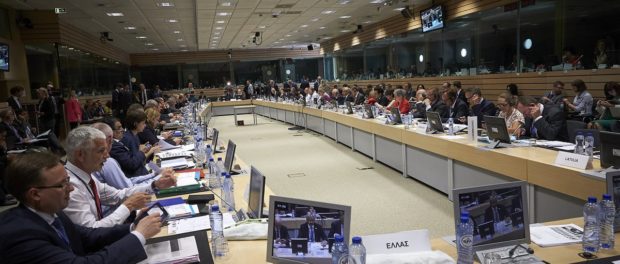 Earlier this week, Commissioner Hogan briefed farm Ministers on "simplifying and modernising the CAP". This informed Ministers on what was presented previously to stakeholders on the 7th July, at the CAP Have Your Say stakeholder conference.
Ag Commissioner Hogan said: "The process yielded a number of key results, including public recognition of the fact that additional EU action is needed to guarantee a strong and well-functioning CAP, maintain a fair standard of living for farmers, do more for the environment and climate change, and respond to a number of new societal demands in terms of food production and rural development."
The Commission suggested that progress towards simplification has been made in the areas of direct payments, including in the Integrated Administration and Control System (IACS) used by Member States.
Commissioner Hogan also cited the following as areas of progress towards simplification:
"greater flexibility for member state authorities in areas such as deadlines for declarations, spot checks and penalties; a raft of measures designed to improve the greening requirements and administration, in particular for ecological focus areas; clarification of the rules relating to payments for young farmers; an easing of the requirement for beneficiaries of rural development funding to publically display information about the funding; greater flexibility to allow national rural development programmes to be amended to respond to natural disasters; the merging of the two school schemes (milk and fruit & vegetables); new rules on the definition of producer organisations in the fruit & vegetable sector; and simplification of the rules governing support for the apiculture sector."
The previous stakeholder meeting 7th July saw a lively and robust response from the wide and varied NGO and farm organisation community to the event's structure, format and presentations.
What also transpired was a 'battle of the hashtags' with the Commission and others using #FutureofCAP, and the NGO and progressive farming sector using #CAP4All to critique what was presented.
Finally in our CAP round up, controversy has erupted over the Commission proposal of co-financing of Pillar 1: "The European Commission's suggestion that EU member states co-finance part of the Common Agricultural Policy (CAP), the biggest single consumer of the bloc's budget, has met with steady support in Germany and exasperation in France" EURACTIV France reports.
Others have chimed in with their critiques, including the Committee of the Regions, which suggests this would seriously disadvantage poorer Member States:
"The Committee rejects the idea of co-financing the first pillar of the CAP, as put forward by the European Commission in its discussion paper on the future of EU finances, which would amount to renationalising the CAP, placing a burden on the budgets of regions and disadvantaging the poorest EU Member States."
Presentations at Stakeholder Conference 7th July
Useful documents from Council Meeting 17-18th July