As the G8 meeting concludes in Northern Ireland, land and land tenure issues have come to the fore. The G8 initiative on food, called the 'New Alliance for Food Security and Nutrition' (NAFSN), has celebrity endorsment. A closer look at the details however, reveals some significant problems.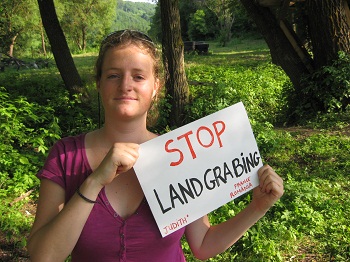 NAFSN has been implicated in land grabbing, a practice which as, Arc2020 reveals, also happens in Europe.
According to Friends of the Earth Northern Ireland: "Land grabbing is a major obstacle to food security and development. Estimates suggest that since 2009, between 80 and 200 million hectares of large scale land acquisition deals were struck, displacing thousands of local communities. There is overwhelming evidence that this has had negative impacts on the lives and livelihoods of people and their environment. G8 countries play a significant role in grabbing land. The G8's 'New Alliance for Food Security and Nutrition' is forcing African countries to change laws to facilitate corporate access to land. Furthermore, numerous land investors and land-grabbing firms G8 Summit 2013 originate in G8 countries."
They go on to cite examples involving HSBC, Barclays and Schroder's in Uganda as well as UK and EU development funds supporting land grabbing. Development NGO GRAIN cite numerous examples, stemming from behind-the-scenes Cooperation Frameworks, containing 15 policy measures, signed with six African countries in 2012 – Burkina Faso, Côte d'Ivoire, Ethiopia, Ghana, Mozambique and Tanzania.
Crucially, these six countries have their implementation of these policy measures tied to donor funding: "The 'performance' of African governments in implementing the policy measures they have committed to under the Cooperation Frameworks will be regularly reviewed by a joint Leadership Council of the G8 and Grow Africa, which USAID describes as a 'high-level accountability mechanism' to drive implementation," GRAIN says.
This contrasts starkly with 2012's Voluntary Guidelines on the responsible governance of tenureof land, fisheries and forests. This "historic breakthrough", according to Director General of the UN FAO José Graziano da Silva includes the "first-ever global land tenure guidelines".
Unlike the "consultative processes" of the Cooperation Frameworks, these Voluntary guidelines involved a broad platform of stakeholders from 130 countries including civil society groups.
According to the UN FAO: "The Guidelines were officially endorsed by the Committee on World Food Security (CFS) in May 2012. The CFS is the top forum of the United Nations for reviewing and following up policies concerning world food security. The text of the Guidelines was finalized during CFS-led intergovernmental negotiations, which were held in July and October 2011 and in March 2012.
The Guidelines were developed through a broad global partnership of international, regional and national organizations of different types that work together to achieve global changes in governance of tenure. The development followed an inclusive process involving a series of consultations and negotiation."
"Inadequate and insecure tenure rights increase vulnerability, hunger and poverty, and can lead to conflict and environmental degradation when competing users fight for control of the resources. The governance of tenure is a crucial element in determining if and how people, communities and others are able to acquire rights, and associated duties, to use and control land, fisheries and forests", according to the Guidelines. The document also recommends "that safeguards be put in place to protect tenure rights of local people from risks that could arise from large-scale land acquisitions", while also making the case for protection of "human rights, livelihoods, food security and the environment."
The guidelines address a wide range of other issues.
 Recognition and protection of legitimate tenure rights, even under informal systems
Best practices for registration and transfer of tenure rights
Making sure that tenure administrative systems are accessible and affordable
Managing expropriations and restitution of land to people who were forcibly evicted in the past
Rights of indigenous communities
Ensuring that investment in agricultural lands occurs responsibly and transparently
Mechanisms for resolving disputes over tenure rights
Dealing with the expansion of cities into rural areas
"Some of the issues addressed by the Voluntary Guidelines go back centuries even. The fact that these guidelines tackle those entrenched issues as well as newer concerns is what makes them so significant" said Graziano da Silva.
And yet, celeb global poverty campaigners like Bono have ended up fawning after the G8 rather than putting their time and energy into this inclusive, bottom up and historic approach.