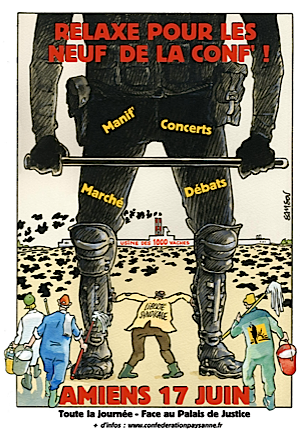 French peasant farming union la Confédération Paysanne (Conf') is mobilising on June 17 in Amiens. That day, a court will hear the appeals of nine Conf' members arising from events at the "1000 cows" factory farm in the Somme département. Thousands of supporters are expected to mobilise and converge on the centre of Amiens, with debates, music and a peasant market scheduled to take place outside the building.
The organisers are defending the right of Confédération Paysanne to act as an agricultural trade union: "It is unacceptable that union members engaged in symbolic and non-violent action as whistleblowers should have been treated in the way they were. This included heavy-handed arrests in the middle of Amiens station; being detained for 48 hours; disproportionate interrogation; a sham trial and unjustified penalties, not to mention criminal sentences."
Mille Vaches owner Michel Ramery has already applied for permission to increase the herd size to 880 milking cows.
In the light of accelerating climate change, the Conf' argues that agriculture should be a part of the solution and need not be a part of the problem: "It is a matter of urgency to change agricultural and food systems, setting in motion a transition towards peasant agriculture, which is the only food and farming model that can meet the challenges of climate change."
The Conf' is campaigning to get the cases against its nine members dropped, because: "…they have acted for humanity." For the Conf' membership, the industrialisation of agriculture has been symbolised by the "1000 cows" factory farm in the Somme valley, downstream from Amiens. The Conf' has already succeeded in forcing the 1000 cow factory to ship its milk over the border to Belgium after dairy dessert-maker Sénoble and then dairy co-operative Agrial refused to process milk from Mille Vaches at its new dairy dessert plant near Saint Lô.
Within six months of becoming operational, the French "1000 cow" methane and milk factory at Drucat is said to be suffering a high mortality rate. Tight-lipped farm manager Michel Welter told regional newspaper La Voix du Nord that mortality rates could only be based on annual figures and blamed the numerous deaths on the fact that a number of herds had been brought together. Welter also confirmed heavy losses in December calvings, without giving any figures.
On Tuesday, May 26, an administrative tribunal met in Amiens to discuss matters arising from the "1000 cows" planning application, while on May 30 Conf' members and campaign groups organised a march from Drucat to the Mille Vaches site and back, with a picnic lunch en route.
June 17 will start with a number of themed marches through Amiens converging in front of the court building, where a stage will be installed for speeches and music. As well as an alternative farmers' market in the adjacent streets, there will be an agora, or citizens' discussion space, and campaign group stands.
The industrialisation of agriculture threatens the livelihoods of Conf' members and only benefits stakeholders in corporate agriculture. The kind of agriculture that the Conf' wants to defend is in the interest of the whole of society, providing jobs, respecting the environment, biodiversity and the health of farmers and consumers alike. The Conf' is fighting for the right to produce food of quality, that is accessible, as a basic human right. It is acting for a future with thriving rural territories, in the interest of peasants and consumers alike.
Watch this video:
Regardless of whether or not you remember dial-up connections and pre-Windows operating systems, this ingenious video by French researcher Louis Rigaud makes a very simple and powerful statement about biotechnology and the risks of becoming intellectually alienated from the life around us.

More on the 1000 cow story on #Arc2020