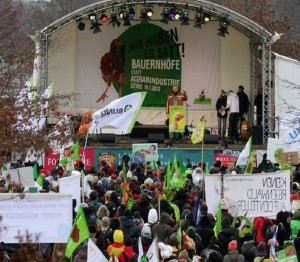 This year's International Green Week in Berlin brought little change in the attitude of Romanian authorities towards agroecology and its practitioners
At Romania's official tradeshow stall visitors were treated to "palinca," a traditional plum schnapps and to a variety of peasant food. These were tasted while listening to traditional Romanian folklore music. The reality back home however, couldn't be more different. Peasants, local producers are being forgotten as the government is leaning towards an agricultural model based on maximizing productivity, with multinational investors and speculators of low-cost land and workforce at its center.
The prestigious event was attended by observers organized in advance to give the stall a busy and important impression. These were occasionally tasting peasant dishes, products of a lifetime of dedication and the very expression of Romania's fertile soil. One of these "observers" was Daniel Constantin from Romania's ministry for agriculture, the lonely figure who refused to sign Romania's dedication for a GM-free future to serve the interests of the Danube Soya Cooperation. Once again this demonstrates that decisions taken by Romania's ministry for agriculture are ruled by other goals than the public interest.
Mr. Dacian Ciolos, the European commissioner for agriculture, was also present after holding a public panel discussion that looked at facilitating investments in agriculture. He underlined the importance of enabling smallholders to increase their productivity – in terms of access to land and to credit, but also in terms of stable economic and policy framework to encourage necessary investments.
It is not for the first time that Mr. Ciolos was speaking out for the interests of small scale farmers but his intervention could not have come at a better time. With a much clearer vision of the actual situation of Romanian agriculture, the European commissioner scored bonus points in front of the peasants and organic farmers attending the event. But there is still a lot to be done. Small producers need a reassurance that public policies will support them. Within the current CAP reform Mr. Ciolos is responsible for crucial decisions that will seal the fate of EU agriculture; sliding either towards a corporate and speculative one, or towards a green, social and fair one.
And then, there was the crowd: On several occasions, Mr. Ciolos encouraged Europe's citizens to openly express their opinions and demands. And thus no less than 25000 people gathered in Berlin, shouting out their demands for the future of agriculture. Their chants highlighted that they are fed up with the current power play that is holding hostage Europe's food and farming. Amongst them, were also Romanian activists and peasants proudly holding up a banner demanding "peasant agriculture." They were representing the will of 4.7 million Romanian peasants that are being ignored by their authorities back home and even here at the official round table of Berlin's Green Week.
"Our expectations from those who decide are to take objective decisions that are not influenced by the interest of agribusiness and biotech companies. We will continue to speak out aloud about the current situation of Romania's 4.7 million peasants and defend their interests. Our national and European decision makers have to respect and act according to the needs and interest of people; not multinational corporations", highlighted Willy Schuster from Eco Ruralis after addressing 25000 people in Berlin.