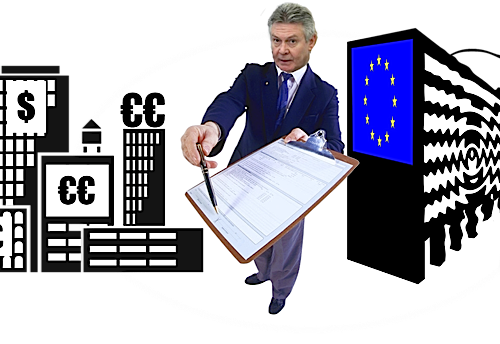 The European Commission's publication in March of a TTIP consultation document confirmed campaigners' suspicions that the process is a weasel-worded sham. From the opening sentence (1) it is clear that interests of foreign investors come before the citizens' or voters' interests. Given the secrecy that surrounds Investor-State Dispute Settlement (ISDS) proceedings, they have no place in any democratic system that claims to support accountability.
The Commission's consultation document sidelines this contradiction with the kind of gleeful anticipation usually associated with letters to Santa Claus: "…the EU aims to ensure a transparent, accountable and well-functioning ISDS system that reflects the public interest and policy objectives." For a start, there is no public discussion of how ISDS procedures are currently being implemented, still less whose interests they serve or the inherent conflict of interests involved in paying the arbitrators' fees directly from the cost of proceedings.
There is no way that any competent public body could knowingly sign up for such a skewed set of procedures that indulge corporate whims without calling its credibility into doubt. If ever was proof was needed that the fox is firmly ensconced in the henhouse when it comes to ISDS cases, there is no need to look further than the UN Commission on Trade and Development (UNCTAD) 2013 World Investment Report. This records that 2012 saw a further steep rise in new ISDS cases to 58. Even UNCTAD views parts of ISDS procedure as dysfunctional. The agency also notes that many existing bilateral trade agreements are due to be renewed over the coming months, at which point the way ISDS operates should be reviewed, too.
Campaigners from the Seattle to Brussels Network (S2B) have added their voices to the criticism of the European Commission's consultation, describing it as a "mock consultation."
"Those who reject the undemocratic and dangerous investor-state dispute settlement system will have no opportunity in this consultation to voice their opposition because the Commission's biased questions provide no option for that," explains Roos van Os, from S2B member Research on Multinational Corporations (SOMO). "The Commission should make itself available for a real debate, not a cowardly advertising campaign for its corporate agenda. … But the Commission's questionnaire only contains questions about its agenda for minor reforms to salvage the controversial investor-state dispute settlement system."
Marc Maes of the Belgian development organisation 11.11.11, also a member of the Seattle to Brussels Network, said: "The Commission's so-called reform agenda does nothing to address the basic flaws of the investor-state dispute settlement system. Therefore, foreign companies will continue to have greater rights than domestic firms and citizens. And international tribunals consisting of three for-profit lawyers will continue to decide over what policies are right or wrong, disregarding domestic laws, courts and democracy."
(1) "Investment protection provisions consist of a limited number of standards guaranteeing that governments will respect certain fundamental principles of treatment that a foreign investor can rely upon when making a decision to invest."