Guest blog from Juliane Haufe – initiator of Future Farmers in the Spotlight
While European agriculture continues to invests in large, capital intensive, fully specialised and industrialised farms, many farmers cannot and do not want to build a future under these circumstances. Currently more than 55% of European farmers are over the age of 55 and want to retire within the next ten years. On the other side only 7% of conventional and 10% of organic farmers in Europe are under the age of 35 (1).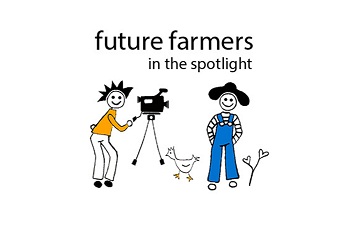 Even though there is a confirmed (2) increase of young people wanting to get involved in sustainable farming activities, it is still very difficult to start-up or take-over a farm. In this regard, the most frequently named struggles are access to land and capital, help with regard to juridical and social assistance, and to secure a stable income.
Despite the many of these difficulties that young starters face, there are success stories from all over Europe of a small number of young passionate farmers that have managed to set-up or take over ecologically sustainable farming initiatives.
Many develop innovative and viable concepts to market their produce, explore niche markets, diversify economic activities, start "new" relations with consumers or make use of innovative ways to get access to land and capital.
Future Farmers in the Spotlight is an initiative that aims to inspire and encourage the next generation of sustainable farmers. It strives to enable future agricultural entrepreneurs to build knowledge and to learn from each other's experiences regarding innovative and viable concepts, opportunities and difficulties when starting up a farm. Ultimately Future Farmers in the Spotlight aims to contribute in sowing the seeds for the set-up of many new young farmers' initiatives.
Since the start, they have filmed nine young inspiring farmers in Denmark, Ireland, The Netherlands, Germany and Norway.  Six of the short videos can already be seen on the internet: http://future-farmers.net. Watch for example the inspiring episode of three young Dutch women who have in the last years managed to set up a vegetable box scheme providing weekly more than 300 households with fresh vegetables. Or follow the young farmer Ask Rasmussen who delivers vegetables and flowers of all sizes and forms to many Michelin star restaurants in Denmark; among them Noma in Copenhagen. Or watch the young Irish farmer who because of a lack of capital started to grow fresh sprouts in truck containers.
For this year's summer and autumn Future Farmers in the Spotlight is looking forward to filming more young farmers all over Europe. If you would like to contribute to Future Farmers in the Spotlight or know a young farmer with an inspiring concept then get in touch!                                                                                                                                 
Notes:
[1] DG Agri 2010: Email communication, DG Agriculture and Rural Development, February 2013 & EC Eurostat. Statistics> Agriculture>Database>Number of agricultural holdings. Last updated 2012.
[2] Organic agriculture schools: University Kassel/Witzenhausen (DE), Warmonderhof (NL), Landwijzer (BE).