Here Frank Armstrong ponders how different the rural west of Ireland was – and can be again – through the medium of food production. A historical time traveling culinary snapshot is provided via family excursions, to the waters and the wild, of the north west of Ireland. Up there, a mid century self-help co-op movement, which used horticulture as a vehicle for change, is remembered too. Frank asks what could more family and small scale food growing do to revitalise the sparse lands and rural spaces of the rugged verdant rock out in the Atlantic?
Childhood summers would begin with us cramming into a Mitsubishi Spacewagon in the Dublin suburbs for the annual peregrination to the small estate my father grew up on, near Rosses Point, County Sligo, on Ireland's Wild Atlantic Way. In the 80s, before bypasses, traffic jams in towns like Mullingar and Longford ballasted our soaring delight, and the undulating roads invariably brought car sickness to one or other of us.
Pulling up the avenue we'd be greeted by barking dogs – companions for the months ahead – and then the warmth of granny's anthracite-fueled Aga blazing throughout the summer. There'd be eggs to gather in the morning – although she said 'every hen dies in debt', from the cost of the feed; then jaunts around a landscape of staggering peaks and an ocean in constant flux. Even to the eyes of a child this seemed blessed: 'Where the wave of moonlight glosses; / The dim grey sand with light, / Far off by furthest Rosses', as the poet W.B Yeats recalled of his own childhood spent there.
We'd have opportunities, also, to help our uncle with the cattle grazing the adjoining fields; like most farms around here, it remains a part-time occupation. This included vigorous days taking in the hay on neighbouring farms as the community coalesced. A timeless human-animal co-evolution seemed embedded in the landscape.
Four of my father's brothers built houses on the land for their expanding families, while my father's eldest sister and her family eventually moved into the ancestral home. The next generation brought vitality and fresh ideas – kite-surfing replaced sailing – although most have subsequently settled elsewhere, a story familiar across rural Ireland.
Nonetheless, advances in communication technology, first the full array of mainly British television channels, then the Internet, made Sligo seem much less peripheral; pioneer musicians and artists made use of improved roads, though not alas trains, to settle there. Despite its attractions, however, the county remains poor by national standards, and farming provides few jobs. Most food is imported and purchased in supermarkets. Overall, Ireland's trade deficit in fruit and vegetables was €149,848,000 (almost 63%) in 2016.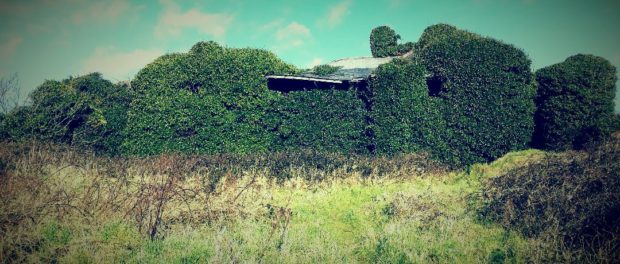 Small changes in land use could make a radical difference to this figure in a sparsely populated country. Ten years ago, led by a matriarchal aunt, the family joined up to install a polytunnel. Its arrival may be linked to a gastronomic awakening, associated with the likes of Jamie Oliver, which swept through Britain and Ireland, generating demand for warm-weather ingredients, especially tomatoes!
Success here was also linked to Granny Armstrong's pride and dedication to her flower beds, an aptitude for gardening that passed down the line. Soon this glorified tent was filled with a cornucopia of fruits and vegetables. Alongside outdoor beds it brought near self-sufficiency in fruit and vegetables for a few families for a fair portion of the year.
It is easy to imagine this being scaled-up through a small grant to create a labour-intensive business, or as a similar scheme that would save other families a considerable amount of money. Such 'grow-ops' could have health implications too for a nation with among the highest rates of obesity in Europe, and where trips to supermarkets are mostly by car. A grow-it-yourself approach increases what Michael Kelly, chairman of GIY Ireland, describes as food 'empathy', leading to healthier food choices.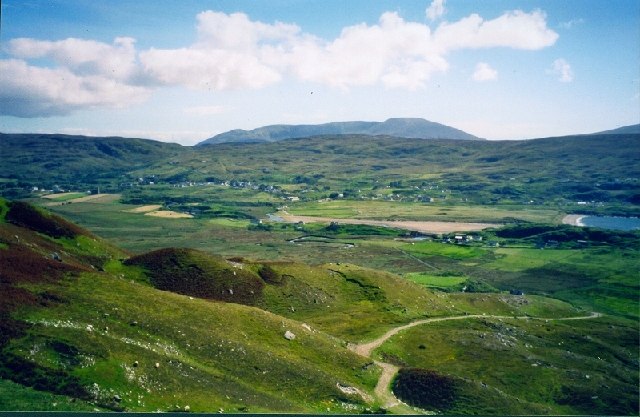 Glencolmcille © Copyright Ian Edwards and licensed for reuse under this Creative Commons Licence.
Reviewing the conservatism of the recent CAP reform proposals, my mind turned to a co-operative movement that began in Glencolmcille in 1963 in county Donegal, Sligo's remote neighbour to the north. The prospect of growing and processing greenhouse vegetables seemed to offer significant employment prospects to a depressed region.
Under the leadership of Father James Dyer, the movement changed its name in 1965 to the Committee for the Defence of the West. But it came up against an Irish state committed to a narrow idea of comparative advantage, which had identified cattle farming as the most profitable line; and had no time for apparently anachronistic schemes that would keep farmers on the land on low incomes, and even encourage subsistence.
What survives from this campaign is Father McDyer's Folk Village Museum in Glencolmcille, which is a cluster of several small cottages, known as a 'clachan'. Today each cottage is a replica of dwellings used each of the 18th, 19th and 20th centuries and is equipped with the furniture, artefacts and utensils of its particular period.
© Copyright Joseph Mischyshyn and licensed for reuse under this Creative Commons Licence.
Since the arrival of the CAP to Ireland in 1973, rural population drain has continued, right up to the present day. Dry cattle farming, dominant across the Atlantic seaboard, is an extensive system that depends on low labour inputs for profitability, in contrast to intensive tillage or horticulture. This has made a significant contribution to Ireland being the only significant country in the world with a lower population now than before the Great Famine in the 1840s.
European subsidies also drove up the price of land. Frank Mitchell and Michael Ryan wrote in 1997: 'In Ireland it is still next to impossible to rent land on a lease of sufficient length to make improvements and where land can be bought it is often in small parcels at too high a price'. The CAP regime creates an inflexibility that inhibits an 'alternative agriculture' beyond livestock.
Sadly, my aunt, who was the driving force behind the polytunnel, passed away last year. Before then she told me a revealing story about the house my grandfather purchased in the 1940s: during a construction job builders had discovered the original slate dating from 1847, the cruellest year of the Great Famine. This timeless pasture had, in all likelihood, once supported a community of small farmers, mostly growing for themselves. The big house represented the dominance of livestock farming.
Full self-sufficiency is unnecessary for a country such as Ireland, for the time being at least, but polytunnels and greenhouses increase the range of fruit and vegetables. Horticulture, in general, makes people healthier, reduces car journeys, provides potential employment, and emits less carbon than other sectors. A combination of old-fashioned gardening and gastronomic zeal could bring great benefits to a sparsely populated country.