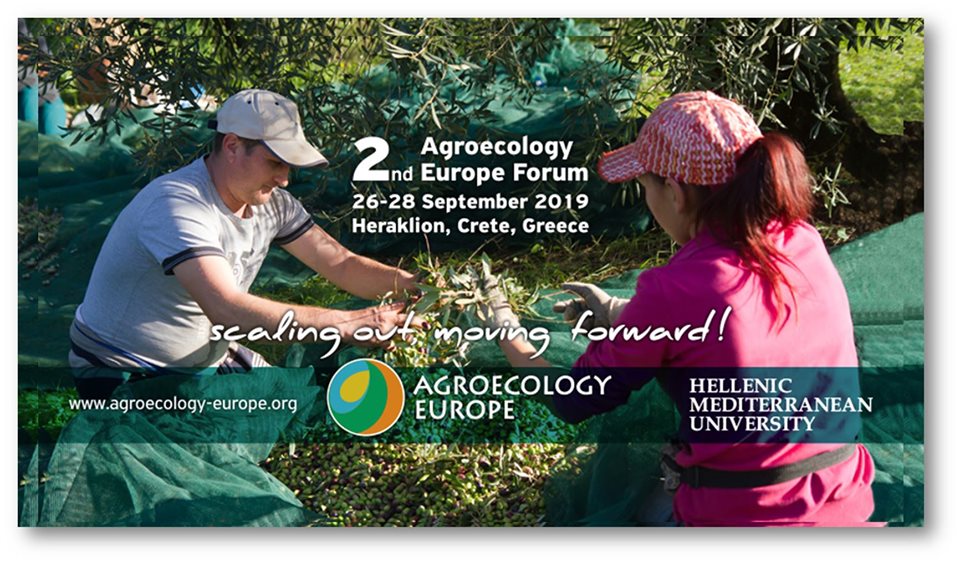 How should CAP support agroecology? Which local practices and policies exist in Europe that support access to land for young and first generation farmers? Which traditional and new knowledge is available on soil restoration and biodiversity enhancements?
These are the main areas of focus for the 2nd Agroecology Europe Forum, to be held in Create 26-28th September. As is fitting for an agroecology event, this gathering ins't just about presentations. Contributions will also be made by local farmers, universities, social movement organisations and non-governmental organisations over the three days.
ARC2020 will be there, so you can keep up with what's happening on our social media (twitter and facebook) as well as here on our site.
There will be a producer's corner and dedicated session. One of the featured producers will be the Taxidi Olive Farm. There, Christina and Antonis, two young farmers managing their family olive groves in Zakros, eastern Crete, bring permaculture and agroecology together for olive cultivation in their local community. The pair strongly believe that reconnecting consumers with their farmers and the whole process of food production is the key to a sustainable future.
NEW: Programme outline
The field trips too will spotlight some of the most inspiring local examples of agroecology.
Field trip 1. "Melitakes" Agricultural Social Cooperative and Farm
Melitakes (meaning Ants in local, Cretan dialect) is a social cooperative initiated in 2008 working on agroecological production, training and seed saving. The trip will include presentations and field visit.
Field trip 2. "Apo Kinou" Agricultural cooperative community
Apo kinou (meaning "Together" in Greek) started in 2013 as a small producer's cooperative community delivering ecological farming production, education and culture. The trip will include presentation and field visit, as well as a visit to their cooperative community place in Heraklion (The Chickpea). For more details on their work, visit:
Field trip 3. Projects "Life IGIC" and "Ecobreed": Field trip to olive orchards and project sites
The 3rd field trip will include a visit on multiple sites related to olive production, ecological infrastructure development and organic crop breeding, within the framework of the research projects Life IGIGC (Life+ programme) and Ecobreed (Horizon2020). Ancient olive groves, project sites will be visited, project work will be presented and some sites of archaeological and leisure interest will be approached.