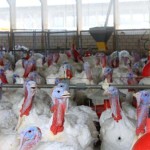 Germany – The Bundesamt für Verbraucherschutz und Lebensmittelsicherheit (BVL) – the Federal Office for Consumer Protection and Food Safety – has published a report following a nationwide investigation into the presence of infectious diseases in turkey meat. In particular, it studied the presence of zoonoses: infectious diseases that can be transmitted from animals to humans, or from humans to animals.
The results of the study found that Campylobacter, the most common cause of food-borne infections, was found in 17.3% of the samples of fresh turkey meat. Of these, 70% were resistant to at least one class of antibiotic. MRSA pathogens were found in 32% of the infected samples. Although less common, they present a greater concern due to the risks they present to human health.
Environmental groups frequently attribute the cause of contamination of meat to poor hygiene in large farms. The excessive use of antibiotics in animal husbandry is also held responsible for the inreasing resistance to antibiotics. These findings come after an investigation earlier this year revealed similar concerns for chicken meat. Read the story on the ARC site here. 
Read more (in German) here: