Despite failing to meet its environmental targets, the EU has cut funding for ecologically friendly farming measures by a billion Euros.
That's according to new analysis by two Brussels-based organisations, the European Environmental Bureau – a federation encompassing over 150 organisations – and Birdlife Europe.
These findings, based on research into the published Rural Development Plans of 19 EU countries and regions, including Ireland, were presented Monday 8th February in Brussels. They compare the current Common Agricultural Policy – 2014 to 2020 – to the previous one – 2007 to 2013.
14 of the 19 Member States or Regions have reduced their spending on agri-environmental measures, the organisations claim. Moreover "the quality of the measures was overstated in 79% of the cases we looked at" according to Trees Robijns of BirdLife Europe.
A factsheet issued by both organisations on Monday elaborates. More than 1/3 of ecosystems spending goes on basic income support "despite the fact that no environmental conditions are attached to these", it claimed. It also stated that only 17% of EU land will be under contracts that "meaningfully contribute to the EU's Biodiversity strategy".
Ireland does not perform well.The state of the Irish environment was described as "alarming" with 100% of extensive grasslands in unfavourable conditions – well above the EU average of 83%.
While "73% of total public budget in Ireland has been allocated to measures that should directly benefit biodiversity, water and soil", almost half of this actually goes to "basic income support instruments without any environmental conditions attached to it" the factsheet finds.
The analysis distinguished between generic and specific environmental measures, or what it calls light green and dark green measures. Dark green measures target specific species, habitats or known biodiversity problems, such as the lack of pollinator strips.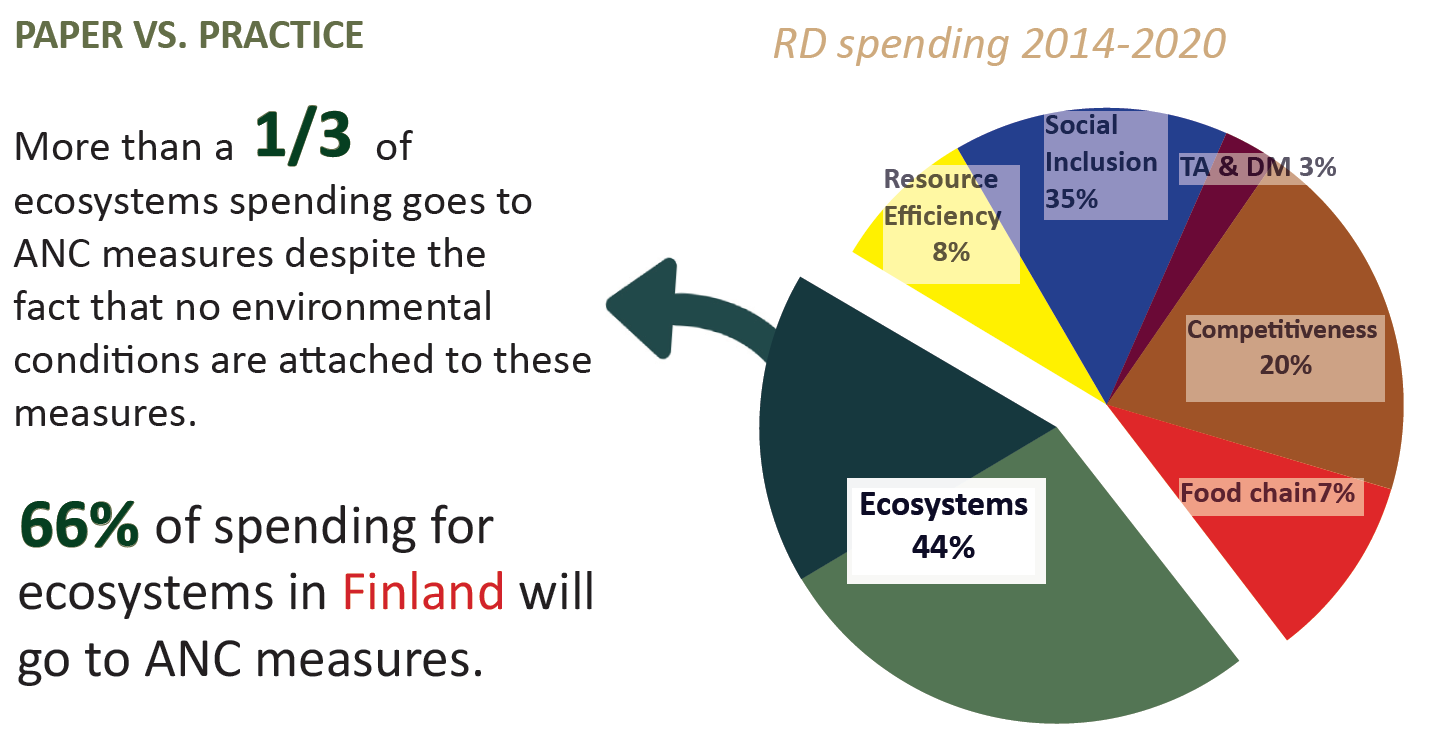 Just 1/3 of the 2014-2020 agri-environment budget for Ireland will be spent on these 'dark green' measures.
Ireland also sees a massive 40% drop in the agri-environment spending for the 2014-2020 period, when compared to 2007-2013.
"Only 14% of farmland in Ireland will be under contracts that directly address the objectives of the EU Biodiversity Strategy" according to the factsheet.
Recommendations for Ireland included a more targeted approach to wild and farm bird schemes, along with better support for targeted schemes already in place.
"If Member States want to be serious about their biodiversity commitments in farmland, they need to urgently put more money into the measures that actually deliver, whilst changing those that are currently just money for nothing" Trees Robijns concluded.
Having failed in its stated aim of halting biodiversity loss by 2010, overall EU performance has not improved.
While specific, targeted interventions have shown some successes, in January the European Parliament's Committee on the Environment, Public Health and Food Safety, was "crystal clear" in pointing out that "without substantial additional efforts, the EU will in 2020 again fail to achieve its agreed targets. The figures speak for themselves. The EU-28's ecological footprint is twice as large as Europe's biocapacity. Barely 23% of species and 16% of habitats have a favourable status". European farmland bird populations have decreased by over 50% since 1980.