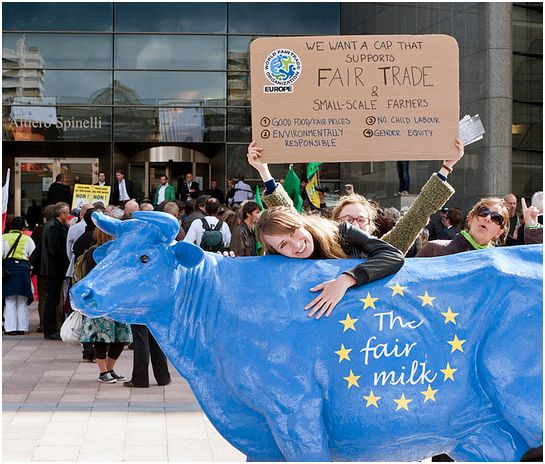 By Laetitia Nourry, Eco Ruralis intern on Food Chains Campaign
30 years after its setting up, the milk quota system is coming to its end. Europe is returning to unlimited production of milk where the benefits go to industrial farming. Another stab for the slowly disappearing peasant farmer.
Milk quotas were set up in 1984 by the Common Agricultural Policy, to regulate the supply and demand and avoid prices collapse. So why lift them now? The reason is for economic. As milk consumption is increasing, especially in Asia (the demand of milk should double by 2022), the European Union definitely wants to keep its first place as milk exporter to the world. To reach this goal, one solution proposed by the EU leaders says that "farmers should be more aware of the market signal". In other words, produce more milk, again and again, at the cheapest price.
Hyper-production, exports, economic growth…but what is the price ? The end of quotas will indeed enrich big producers. Industrial farms will be able to produce milk in impressive quantities without spending much more money. This relevant increase of production will for sure prevent any milk shortages but, above all, will make milk prices collapse, as the market is still unstable. While, small producers who have chosen quality and respect of consumers over quantity won't be able to overcome the production cost. Especially in the highlands, small producers will slowly give in to the unequal competition, and along with them, nature conservation and vibrant countrysides.
As Dan Cismas of Eco Ruralis, a local organic milk producer explains : "I produce organic milk and sell it directly on the market. I encourage local agriculture and short chain markets. But this kind of production has a cost… If milk prices start to collapse again and more consumers buy cheap competing Czech milk at the supermarket, I won't be able to survive anymore."
The new decision of the EU is aggravating even more the gap between peasant and intensive farming. We can remember the milk crisis of 2008 as an example of the disastrous effects of such a situation: not less than a third of milk farms disappeared between 2007 and 2010.
And as always, the consequences are not only social but ecological: the predominance of intensive milk farming with thousands of heads of cows leads to soil and water pollution and the destruction of our natural landscapes.
Moreover, the inequality between western and eastern EU member states will continue to intensify. Germany, France, United-Kingdom, Netherlands, Italy and Poland produce by their own 70% of the EU milk. According to some experts, the end of quotas will mainly give benefit to Netherlands (+16% of production excepted), France (+12%) and Germany (+20%). For Central and Eastern Europe countries, this unfair competition on the market will be devastating. Today, Romania is producing 900 000 tones of milk, or 50% below the current quota. Eastern Europe is not prepared to handle the end of milk quotas.
Once again, a whole part of EU members are put on a side. It is essential today to find fair solutions to balance milk prices all over the continent, if we don't want to live in a two-speed Europe.
Ecological disasters, industrial milk coming from cows pumped up with chemicals…Crisis after crisis, the European governance still seems to hold on a system which kills off its own farmers. The "one thousand cows farm" project in France is a sad illustration of this. All over Europe, peasant federation and communities gather to alarm European Union and find solutions. "A dynamic production governance, as a crisis prevention system must be initiated by Europe if we want to avoid disastrous effects of price volatility" suggests the Confédération Paysanne (French partner of Via Campesina).
More
the European Milk Board on the end of quota
Quota ending – the basics from the BBC
Cheers and dire warnings (Ireland)
More from Eco Ruralis