Across Germany this weekend, ahead of the summer action camp against factory farming taking place in Wietze, Lower Saxony at the end of the month, people will be coming together to celebrate good food, host debates on the future of agricultural policy and show that an alternative way of eating is possible.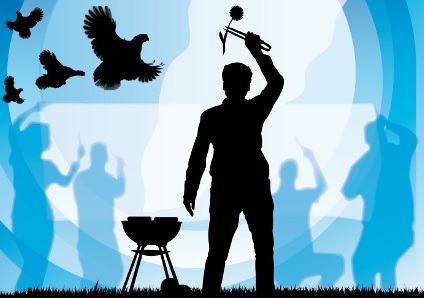 It is no secret that Germans love to barbeque; and with the season currently in full swing, now is the time to take action and think about the food on our plates and the meat in our markets and shops.
Rather than cheap mass-produced meat from factory farms, fed genetically-modified soy and pumped full of antibiotics, the organisations behind the barbeque action and next week's summer camp – Wir haben es satt – are suggesting a number of alternatives. Whether tofu sausages, vegetables, organic meat or cheese; there are many great options for people want to enjoy summer eating sustainably.
The barbeque action has been a huge hit: Over the past few weeks, over 900 barbeques have been registered via the official website. See the map here. All those hosting an event this weekend are invited to send in photos…watch this space!
Ahead of the weekend, Jochen Fritz, Head Campaigner at Meine Landwirtschaft said "…it is crucial for us that nothing on the grills comes from agricultural factories. We need to initiate a discussion on agricultural policy. A national debate on a sustainable agriculture without factory farms, and the consequences of high meat consumption for the world's climate is urgently needed."
The barbeques are the last event in the run up to the action camp taking place in Wietze, Lower Saxony from 29 August – 1 September.
Wietze is home to Europe's largest poultry slaughterhouse. Subsidised with €6.5 million of taxpayers' money, it aims to kill 430,000 chickens daily. It is a symbol of the kind of industrial farming that is destroying fair, green and local food and farming. The summer camp will see a huge demonstration take place on Satuday 31 August, including a human chain around the factory. Either side of the demonstration, at a site just down the road additional activities including workshops, movies, live music and open air cooking will take place. Find the full programme here.
The action camp comes a couple of weeks before the elections in Germany, and just before politicians head back to Brussels after the summer break.
More information