Food activists, curious eaters, harried, hurried producers and many more came together in Ireland to have food sovereignty proclamation meals. This date – 24th April – was also the 100th anniversary of the  1916 Rising – the start of Ireland's independence movement, and the day the Irish proclamation of Independence was read out. So what happened?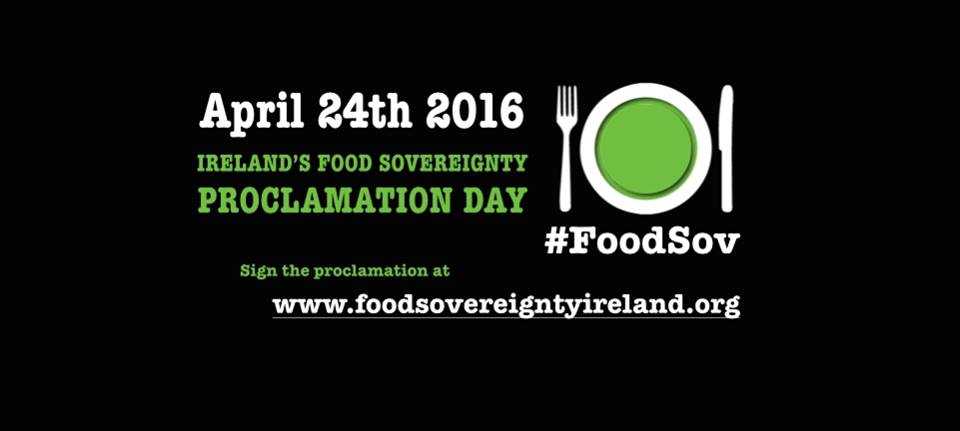 Food Sovereignty meals were held all over Ireland on 24th April last, to make the 100th anniversary of the reading of the Irish Proclamation of Independence. This initiative emerged from conversations held on line and in person by activists in the build up to last Sunday. Already, a wide ranging group of people had come together to write up a food sovereignty proclamation in 2015 – what was organised last Sunday was a way to come together, to enjoy the bounty and to tell the world about it.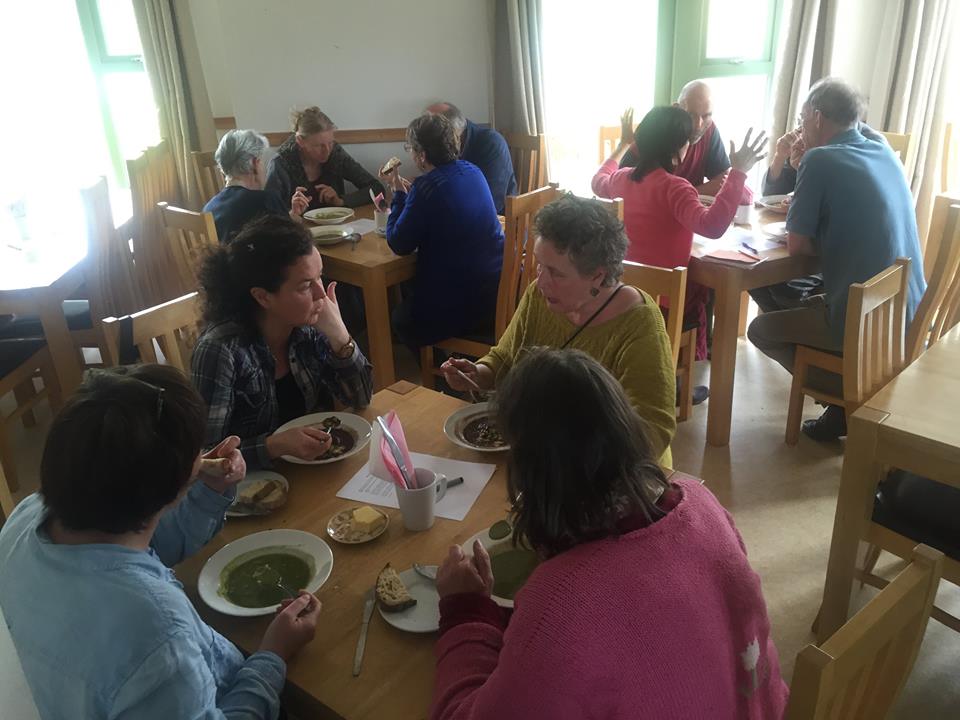 What's most inspiring about this event is that it was unorganised – it was a completely autonomous, self-arranged set of meals from the farthest tip of the island in Donegal to Kerry down in the south west and even further afield.
It was a way for people to connect up with each other- locally and globally – through a mass food solidarity movement and also through the simple act of breaking bread with friends, neighbours and kindred. It was civic engagement via food.
This was a meet, eat and tweet event, with social media connecting people up all over the place
Ooh yea….#foodsov #birr looking tasty! pic.twitter.com/8lmR1fKcNJ

— oliver moore (@oliver_moore) April 24, 2016
French Apple Tart made with local apples and Irish flour. #foodsov pic.twitter.com/7JAu1ZeANb

— The Urban Co-Op (@theurbanco_op) April 24, 2016
There were many expressions  of local, fair and environmentally aware, of traditional, embedded and made with care. This was a day for the broadest spectrum of agroeco meanings  – from seed saving and a farmers' right to a decent, stable living, to local access to safe, clean food  – to get to express themselves.  It was also just a great excuse to get together – for a chow down and a natter.
Many of the places that held meals are visioning and manifesting new ways of doing food better. The good folk of the Growery (a community food growing hub) in Birr and Hannah's Gardens; the Urban Co-op in Limerick (a community  owned grocery, buying from local producers) the Organic College in Dromcollogher  and the Community Farm in Cloughjordan (a member owned and operated CSA), the Mayo organic group and the East Clare Community co-op…and many more besides…
Other meals were smaller, more personalised affairs, but with the same key message – even this time of year (very early in the season for Ireland) its possible to connect with people and place via great, meaningful food. There was more foraged food than at other times of the year – plenty of nettle pestos, soups and even gnocchis – there were also salad tunnel crops, traditional and regional specialities (such as pigs blood puddings, local beers and cheeses), lots of fab veggies, many sourdough breads, homemade wines and lemonades, kale crisps and a veritable cornucopia to delight. Picnics were held on islands
National flags were made from the contents of people plates (and tweeted)
Local Manna meal in Kerry, all produce from our own farm. Thanks to everyone who joined us. #foodsov pic.twitter.com/x0RB2dWlb5 — Manna Organic Store (@MannaOrgncStore) April 24, 2016
  While far flung Irish  got in on the act too.
In Tasmania
Just finished our food sovereignty feast hear in #Tasmania! So much good local food. Enjoy the day! #foodsov pic.twitter.com/82u60glKiN

— Grace Walsh (@GW_1980) April 24, 2016
In France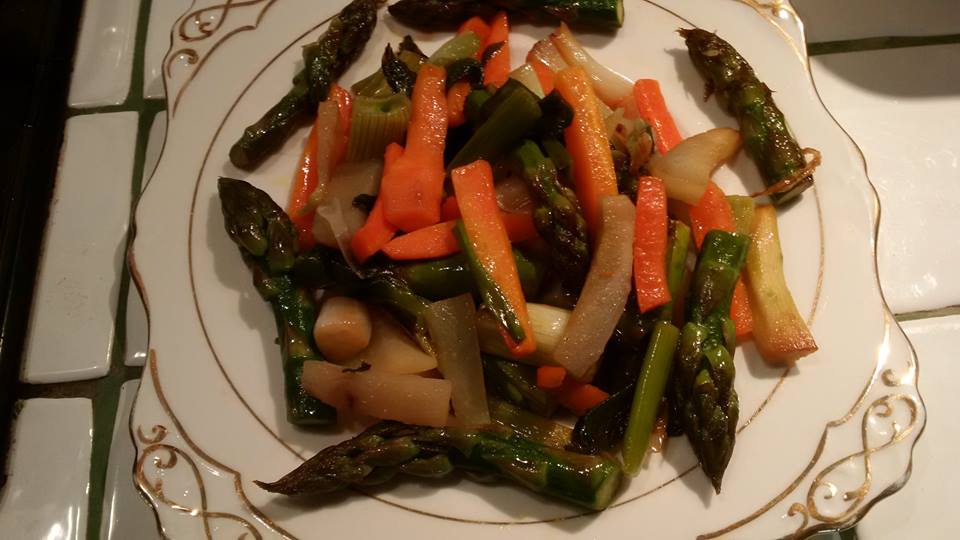 And in Peru too
  Some stood up on chairs and read aloud the food sovereignty proclamation. All came together to celebrate what right about food. Good food can be great.In total, it appears that people in 20 of the island of Ireland's 32 counties got involved – and some more than once – along with Tasmania, Peru and France.
Next year? the 101 anniversary? Who knows…maybe more!
To finish, check out these classic contrasting social media messages, from Caroline Hennessy and Bia Beo respectively – its a broad movement is food sovereignty…
My late #foodsov meal. Yesterday's homemade pizza lunch with local cheese & black pudding https://t.co/PzrQXDfYvo pic.twitter.com/M8UIJUekYI

— Caroline@Bibliocook (@Bibliocook) April 25, 2016
More
Many of the events were added to the facebook event page – see them here
The #foodsov hashtag performed really well – see it on twitter here
Here is the full food sovereignty proclamation which you can sign – go on do it now!
Here are all our previous articles on food sovereignty