ARC2020's Communications Director spend a week on the road in rural Greece recently, with the force of nature that is Pavlos Georgiadis – farmer, food producer, film maker, campaigner, social innovator and Community Manager with the exciting new GROW Observatory. Here's Oliver Moore's snapshot of their trip. #ERSG17
Having first attended the inspiring European Rural Sustainability Gathering (#ERSG17) in Karditsa, we were invited by some of the farmers and growers who attended to visit their farms. And so began a trips over two days, where we travelled 1500 KM, visiting five very different but also still connected locations. Each displayed elements of agroecology, in how the people, places, plants, products and more all work together. It was quite a revealing trip. Encountered was both a society in strife and a resilient, dynamic set of responses to this predicament.
The time before and after #ERSG17 was revealing. We saw the extremes of austerity and the depth and breath of resilience in equal measure.
Upon landing, I had a welcome-to-Greece moment as there was a national transport strike. I eventually car pooled from the end of a very long taxi queue with a Somalian woman and a Brazilian man. The heavily advertised flat rate to the city centre didn't apply on strike day, as we were charged a hefty fee. Greece was in the middle of trying to negotiate its fourth bailout, and those most impacted were resisting as best they could. In the city itself, there were riot police and their notably reinforced vehicles everywhere, closing off streets and piling into and out of big armoured dark blue buses. Their clear Perspex shields were massive and worryingly well worn, while their faces told a story of resigned confrontation, like boxers at the twilight of their underpaid careers, contemplating another fight out of necessity.
Every imaginable state service was being sold off, taxes hiked and laws tightened to squeeze the last drops of blood, sweat and tears from the Greek people, to try to garner another bailout the IMF still thinks is ridiculous.
After the #ERSG17, our road trip included visits to many of the most excting and innovative food engaged locations in Greece. The Trinity Farm — Greece's first large biodynamic farm; the aromatic herb garden at Efkarpia Farm; the urban community garden of PerKa, the Aetheleon oregano farm, and an organic hemp field of Kannabio Coop. In each place, much more was going on than mere production.
Trinity farm is Greece's first large biodynamic farm, specialising in cereals. Biodynamics however demands mixed farming and the recycling of nutrients, while it also encourages the production food products on the farm. Alexandra Tsiadi, a former chemical engineer, may seen an unlikely candidate for a very cosmological version of organic farming.
However, she took the plunge, having informed herself of some of the excesses of the conventional food system. She also visited biodynamic farm in Germany, where she fell in love with the holistic style of production on the farms. Now, she produces her own flour and a range of other food products. She has planted over 2500 trees on her land as a kind of large hedgerow – something not seen typically in Greece as the fields are typically monocultural and large with trees sparsely planted on farms. The sounds of wildlife are everywhere on this biodiversity haven. Increasingly, she is bringing visitors onto the farm to show people how the farm works.
Biodynamic farms typically integrate animals into the system – in her case sheep. This allows for the production of top quality fertility on the farm.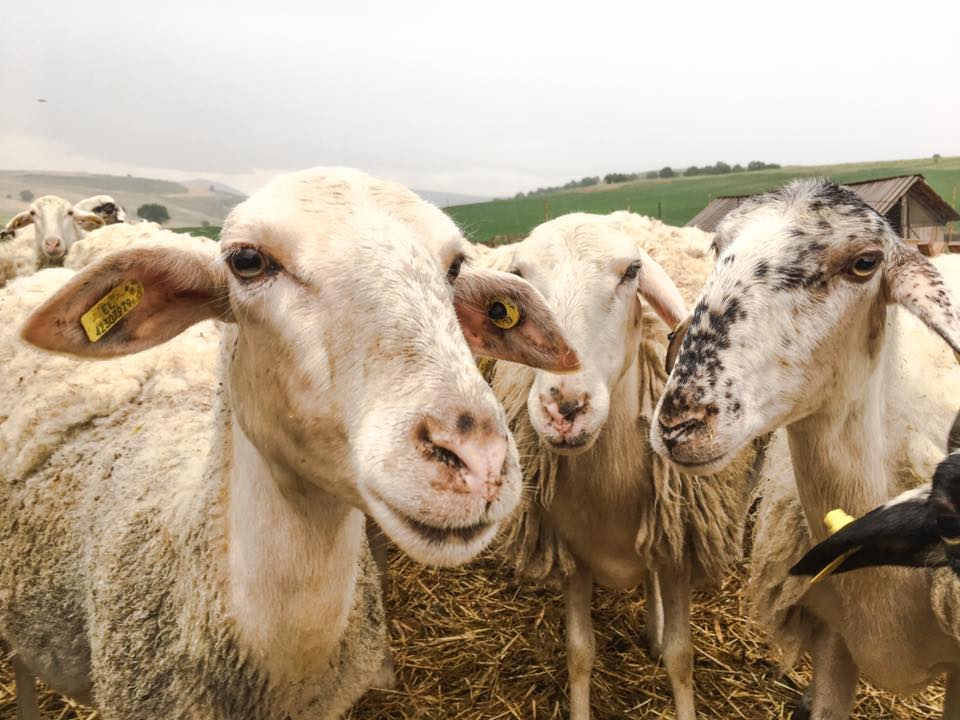 Next, we traveled onto a very distinct, aesthetically thoughtful herb and herb product farm, Fotini Bliatsou's aromatic herb garden at Efkarpia Farm. This place, down a dirt track near electricity pylons and a train line, stands in stunning contrast to the quite industrial and dusty landscape that surrounds it. It is literally a work of art – art is everywhere, the buildings spacious and distinctive, the process of herb processing hyper clean, spacious and immaculate. It is a place of living – there are rooms of various styles spread out all over – and unexpectedly so: the house, for example has no standard walls, no real angles, no glass, and lots of space. If Willy Wonka did herbs and not sweets – he do them here. Both Alexandra Tsiadi – who travelled with us – and Fotini Bliatsou are women farmers producing their own high quality certified organic products.
The following morning, the team visited PerKa urban garden, in contested land – that formerly of the army. Seized during the height of the crises, there was in fact an army jeep there ready to greet us at the entrance – there is still tension over ownership, with the police and army trying on four occasions to re-take this public land.
Now however, rather than the army, dozens of local families in Thessaloniki have found a haven, a refuge, a place to share and build community through food and the outdoors.
We heard of how important the urban community garden of PerKa to residents of Thessaloniki, many of whom live in apartments with little access to green spaces. There are nine different community garden spaces spread out over 70 hectares of land. While growing food is important, its certainly not the only thing that happens here – following the shattering hardship of imposed austerity, local people are picking up the pieces and gluing them back together – in creative, community-orientated and novel ways. Their steadfastness and vision is inspiring.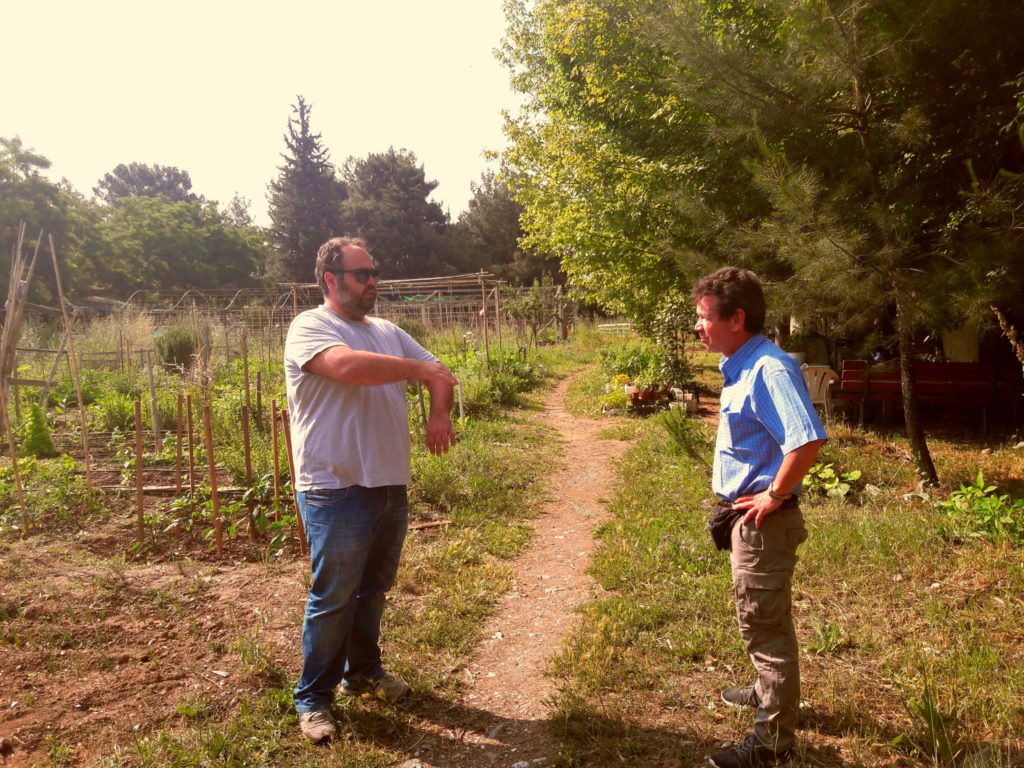 We travelled on, past the huge irrigated fields, even in the rain, past massive John Deere factories with rusty left over shads out back, past field after field of monocultural flatlands, and again found an oasis. We next encountered the Aetheleon oregano farm, where Anastasia Vasileiadou and Michael Georgaras produce essential oils from their own herbs, in particular oregano. Anastasia was one of the organisers of #ERSG17, as a member of seed saving and sharing organisation Peliti.
Interestingly, Anastasia and Michael do compost trials and use sensors, in partnership with the National Agricultural Research Foundation and the Aristotle University of Thessaloniki. Three different composting styles are trialed over seven plots, totaling 21 trials, to establish which works best on their own land.
This farm brings together the best in agroecological methods with cutting edge partnerships with researchers, using appropriate technology. Simple practices like companion planting to attract away insects form the herbs were visibly working on the site. As was the case with all of the farms, products come from the land too, maximising the earned output for the farmers. In this case, a range of essential oils but also flower water and dried herbs are produced. (Aetheleon on facebook)
Our final stop on this mini Greek Odyssey was at the first commercial hemp plantation in Greece. Here, Kannabio have planted the first hectares of legal, commercial hemp (cannabis), following 60 years of prohibition. This will be used for a range of medical and food products, to be produced by the Kannabio cooperative and collective.
We saw sesame made into tahini growing alongside the fledgling hemp crop.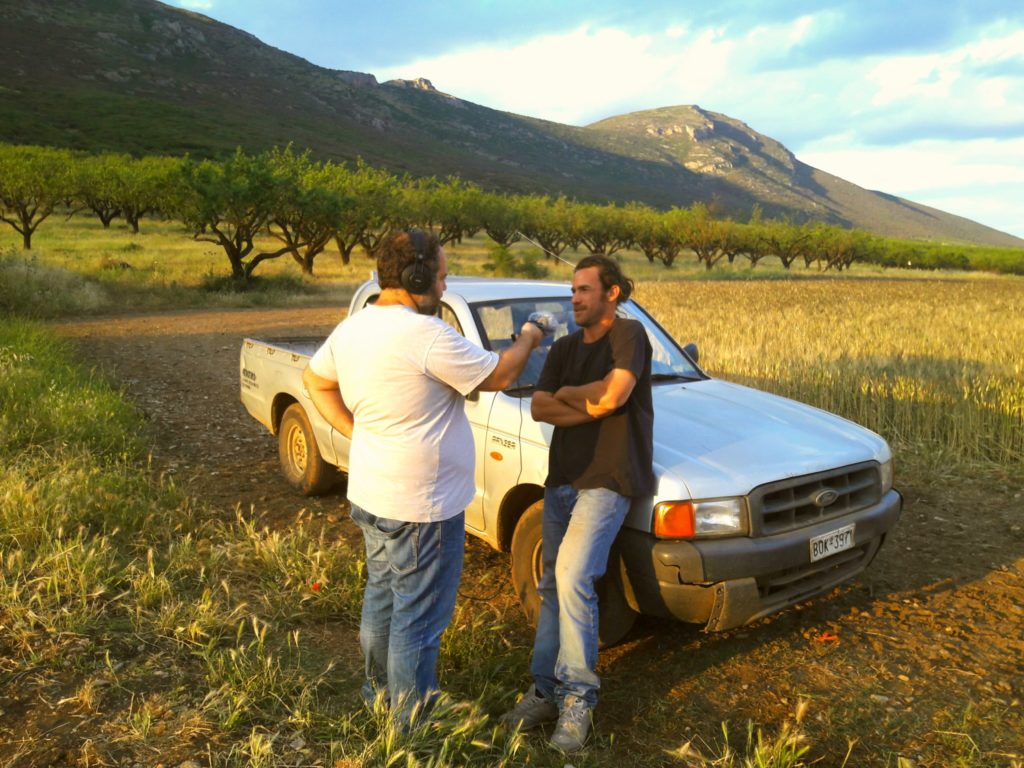 In all of the places we visited over these two days, we saw real innovation- social and economic. We saw growers and farmers coming up with new ideas, new crops, new products, new organisational structures, we saw engagement with ideas and technologies, we saw a resilient people.
As we entered the final phase of the drive, back towards Athens, Mount Olympus appeared from among the bright, cotton wool clouds – and its suitably massive and magnificent – seemingly imperious and impervious. It was all stark vivid white blue shapes, folding and sloping unto and into each other. Its so imposing, it seems to move location, closer in different ways, as if your eyes are adjusting focus.
As we got closer, more dimensionality appeared again, and green tree-deep hills form its base. Deeper dimensionality develops again as hollows, perspectives, spaces between the mountain shapes emerge, still the streaks of snow sheen on peeks in the bright warm sun.
And closer we get, its above us now, we enter…. a new, very long EU funded tunnel and we are through her in a few abrupt minutes. She's behind us now. Fading away fast into the distance. Yet another toll arrives suddenly in front of us. No free lunches on the road in Greece.
And yet, I get the feeling, having spent a week there, at the #ERSG17 and visiting the inspiring farmers and growers who invited us to their places afterwards, that there are seeds of hope – and of system change – in the ground in Greece right now. Let's help them grow, flourish and blossom.