Paula Dragomir in Romania, Eco Ruralis
Last month, I was strolling through the central food market "Leul" in Cluj-Napoca and was astonished by the rapidity with which the new Romanian food market law 145/2014 has been applied. Indeed, as the law specifies, the food producers had a notebook on which they were struggling to make calculations while scratching their heads, and resellers had visible cash registers on their market stands – a huge and rapid change.
The new law was explained in more detail during the last Rural Development National Network – RNDR multi-stakeholder meeting in Cluj-Napoca on the 26th and 27th of May 2015. It stipulates that any physical person with "agricultural producer" status needs to have a "certificate of producer" (also known as "attestation") and a commercial record notebook for selling products. It was possible for producers to use these new documents since the law passed in November 2015 but now it has become mandatory since May 2015.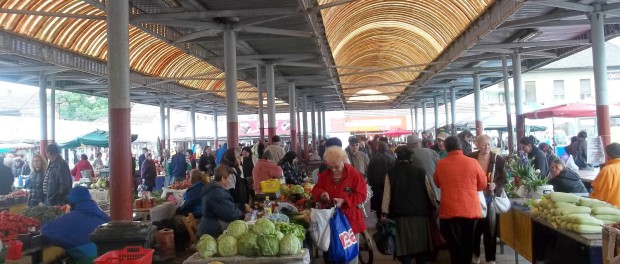 In theory, the certificate should be delivered by the City Hall to the producer within 5 days following a "consultative note" granted by some agricultural structures (professional associative, patronal or union structures), such as the Agricultural Chambers and Directions or producers' associations. However, in practice, the process will most likely take much longer due to bureaucracy. Moreover, the fee for this certificate is decided by the Local Councils which means that the flat price for all producers (the basic price is 2.59 RON; or 0.53 Eurocents) can vary greatly from place to place. In some areas, it could reach up to a hefty 40 lei (€8.90) or even 100 lei (€22.30) in some cities, as was mentioned by some participants at the RNDR meeting. When the producer finally does get the certificate, he or she must write all the products desired to be sold at the market on a list that must be stamped by the City Hall a few times per year. And this certificate only contains 11 lines, so if a producer has more than 11 types of products, the producer has to pay for another certificate. In case the producer also wants to sell processed products (e.g. cheese, jam), these need to be checked by the Sanitary-Veterinary Direction (DSV) and accompanied by another document – stamped by the DSV this time – in order to be on the list.
The commercial record notebook should also be delivered by the City Hall 5 days after verification of the certificate, the existence of the listed products and paying the notebook fee (the basic price is 12.5 RON, around 3 euros). The name of the person who owns the certificate and the names of family members who sell products have to appear on the notebook. For retail in public spaces – food markets, occasional markets and fairs – there is a section which has to be filled in daily with the list of products brought to the market and the quantities sold. One of the problems is that this section only contains 5 pages – which could be entirely filled up in a few weeks and then the producer must buy another. Moreover, it does not contain a column for unsold products and if someone sells at two different markets, two notebooks are required.
On the surface, this new law seems to favor small food producers in local markets. It requires that at least 40% of market surfaces must be dedicated to authentic producers. Therefore, there will be more space in the markets for them and resellers (non-producers) will be easily identified by consumers because they are required to have a cash register. Yet another advantage claimed by the Ministry of Agriculture and Rural Development is better integration of small producers in the fiscal system. But, here is a consequence that was well summarized by a participant in the RNDR meeting, "even madam Floarea from the village who sells three piles of parsley needs to pay taxes"!
This market law is creating for the moment only dissatisfactions for the farmers. Besides the extremely variable price of these mandatory documents, many farmers say that these kinds of laws "are forced and have almost nothing to do with the reality of the situation." The truth is that producers already pay taxes on agricultural lands and some even pay for animal regulations so they are afraid that this new law will mean another additional tax. Another worry is that resellers will try to buy more peasant products to resell so that even though 40% of the people in a market will be producers, they will have less food to sell and therefore will receive less profits. And this is probable because peasants sell at low, fair prices and would always rather be working the field than selling in the market.
In the opinion of Eco Ruralis, peasants need to be supported with special designated places in the markets that are easy for consumers to view. There should be less bureaucracy for peasants and more controls over the resellers, who ruin bigger operations. Mr. Pisti who sells at a local market, and is a member of Eco Ruralis, claims that "this law is complicating our work", and other producers' associations say that the fiscal system imposed by the new law is "making farmers lose their minds".
So, was the new market law 145/2014 imposed for its claimed advantages for producers or to push them to disappear from the markets? The future will show us if the small producers will be able to survive the gauntlet of this new local market law.
All photo's (c) Dana Cizmas taken at a farmers' market in Arad, Romania (her hometown). Dana is originally from Arad, Transalyania. She runs the Simply Romanesco food blog.